On Saturday 21st October, around 300,000 people marched their way through the streets of central London raising placards and their voices against the atrocities happening in Gaza.
Organisers believe that this was the biggest pro-Palestinian march they have ever witnessed in the history of protests in the country.
Come rain or wind, demonstrators were seen raising placards passionately and chanting 'Free, Free Palestine' as they made their way through some of the most visited sites in the capital.
Tweeting about the protest, the Palestine Solidarity Campaign said, "Thank you to the 300,000 of you who took to the streets for Palestine today! The largest pro-Palestine demo in British history and one of the 10 largest protests in British history."
Starting from Marble Arch, the protest made its way to Whitehall and Parliament Square. With many people Palestinian flags and placards with a wide range of messages about solidarity, the hope was to demand the oppression to come to an end.
Whilst many demonstrators were from the UK, others were from Gaza and still had family living within the occupied area. According to Reuters, Belal Stitan, a 22 year-old student, said he was fearful for his relatives in Gaza.
"No one in Gaza is OK. My family are all in Gaza and none of them are OK," he said, adding he wanted to get back to being able to speak to his cousins about normal things such as soccer and how they were getting on in school.
The organisers hope to get back out onto the streets this coming weekend.
"We are making history! We go again next Saturday!"
Demonstrators are scheduled to assemble and protest again on Saturday 28th October at 12 PM beginning from Victoria Embankment. Click here to find out more.
The Power of Public Opinion
Since 7th October 2023, the Israeli apartheid regime has killed over 4000 Palestinian civilians in Gaza. More than 2,000 of them were children. In Israel, 1,400 people have been killed.
The first shipment of aid only arrived in Gaza on Saturday 21st October and more is planned to make its way in the forthcoming days and weeks.
Thanks to the immense support and solidarity shown online and offline, the power of public opinion is massively influencing decisions made by politicians. With many posting and sharing content on Palestine and solidarity, the narrative is being challenged and many are seen rethinking what is really happening.
Thanks to public opinion, social media posts and protests of this size, Human Rights Watch and Amnesty International are now calling the Israeli Regime an apartheid regime. What's more, the word apartheid is now being used on the congress floor when it was never used before.
"DO NOT STOP TALKING ABOUT GAZA, expose the crimes of Israel. Be the voice for those who are silenced."

Maha Hussaini | Gaza-Based Journalist
Perhaps because of messages like this, many worldwide are continuing to raise their voice to make a difference.
Main Image Credit: Reuters/Al Jazeera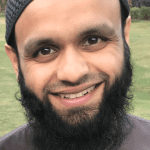 Juber Ahmed is our Digital Editor and travel enthusiast with a keen interest in Islamic history and heritage. He travels with his wife to various places around the world and writes about his experiences.
 
Juber's favourite Quote...
"The World Is a Book and Those Who Do Not Travel Read Only One Page" [Saint Augustine]