Discover the ultimate well-being overhaul in Whitby, one of North York Moors' most prominent areas that offer an array of experiences within the moorlands for nature- lovers to discover.
Words Tahira Khan
Discovery of The North York Moors
The North York Moors contains one of the largest moorlands in England that covers one-third of the National Park. With over 700 historical monuments and around 3,000 listed buildings, the North York Moors is also known for being a specially protected area by Europe for Merlin and globally recognised as a haven for birds of prey and ground-nesting birds.
The Area of Whitby
Located in the North York Moors, River Esk is the only river in Yorkshire known to contain freshwater pearl mussels. It takes about 4-5 hours to get here by car from London, but we promise that it's worth the drive. Whilst it is also accessible by train to Whitby Station, visiting by car is highly recommended as most of the key places to visit are approximately ten minutes driving distance from each other.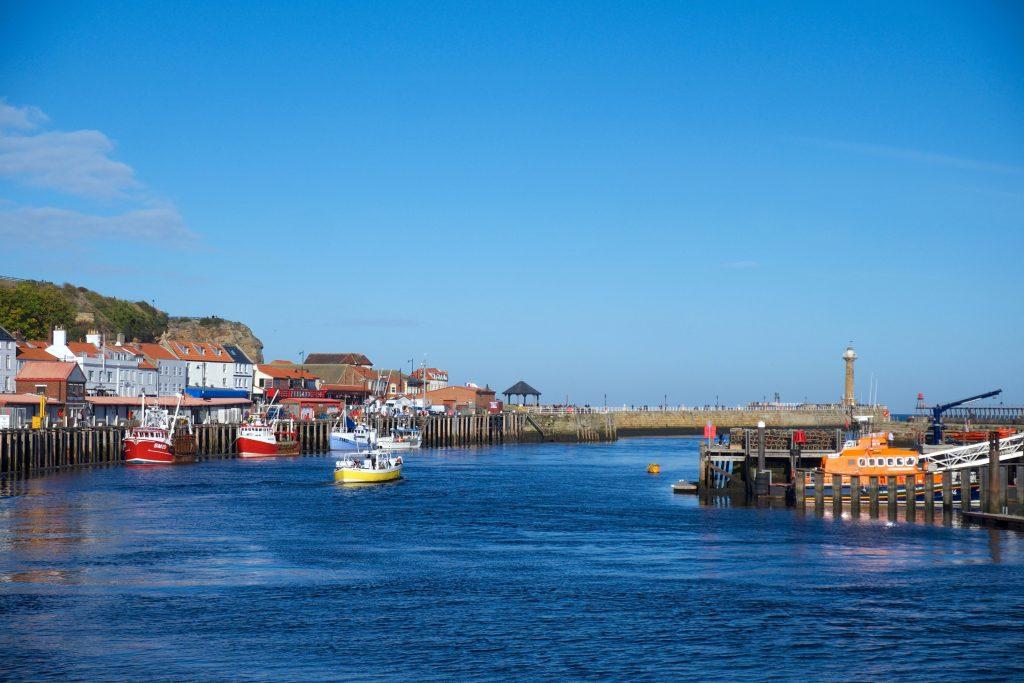 Whitby is a special, charming and picturesque town that has a little bit of everything you could ask for. With beautiful coastlines, scenic nature, wildlife, a stunning hidden waterfall, deliciously made fish and chips, a bustling town centre with trams running through and boat rides operating from the harbour into the deeper waters, this quaint town seems to have it all. Whilst everything is within walking distance from one another, we recommend comfortable hiking boots to enjoy those scenic walks as there are some uphill pathways.
Glamping in Coast and Camplight
Connecting to raw nature and living the simple way should be experienced once in a while. There simply isn't anything better than some glamping that gives you bare necessities with some comfort. The Coast and Camplight is a family-owned campsite located between Robin Hoods Bay and Whitby and it is located approximately ten minutes from the seafront and town centre.
The drive through the North York Moors before arriving at the destination was a crucial highlight as we arrived at the time of sunset. The moment was magical as we witnessed a beautiful sight of the skyline setting on the horizon, giving an amazing sense of euphoria whilst driving down the hills. 
The campsite offers a selection of three self-catering campsites and 'The Northern Skies' eco-lodge has a fully equipped glamping tent with an Al-Fresco kitchen and luxury bedding accommodating up to four people. As we listened to the sound of raindrops hitting the roof, we turned in for the night and managed to get a good and cosy night's sleep.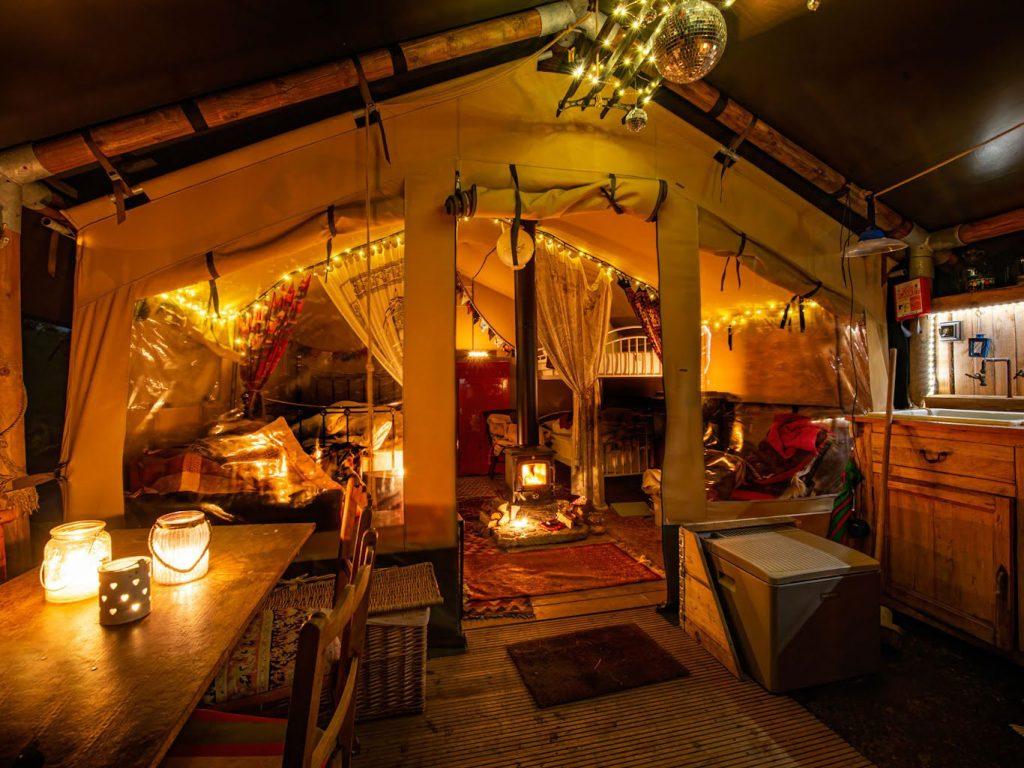 The lodge is lit up with twinkling fairy lights and candles that set a certain mood. The main feature was the campfire where we toasted marshmallows, drank hot chocolate, and watched the sunset turn into a beautiful night sky, with lots of stars slowly appearing whilst the owls began to howl. We also spotted a flock of horses running down and a curious baby deer gazing at us from the distance – a site that remains remarkable and cute regardless of how many times you witness it. The peace and tranquillity of this place are the ultimate reasons why visitors need to come here, as it's a place to go off-grid and zone out from everyone and everything.
We managed to get a decent signal and 3G connection, but I found it more delightful to switch off and be in tune with nature. There is a fridge to store any food, so it is ideal to bring food to avoid an uphill walk out of the campsite. On the evening of arrival, we just wanted to settle in and chill by the fire. After a day on the beach and being covered in sand, the outdoors eco-shower system gave me the ability to have a decent hot shower with fresh air breezing through my face.
The Picturesque Town and Harbour
Building up an appetite after my surfing lesson, we drove down to the town centre to look for some halal places to eat. After searching around, we eventually found the best Fish and Chips from Hadley's. However, we were also recommended to try Robinson's, which is classified as the safest halal option, as they use separate oils in the frying process.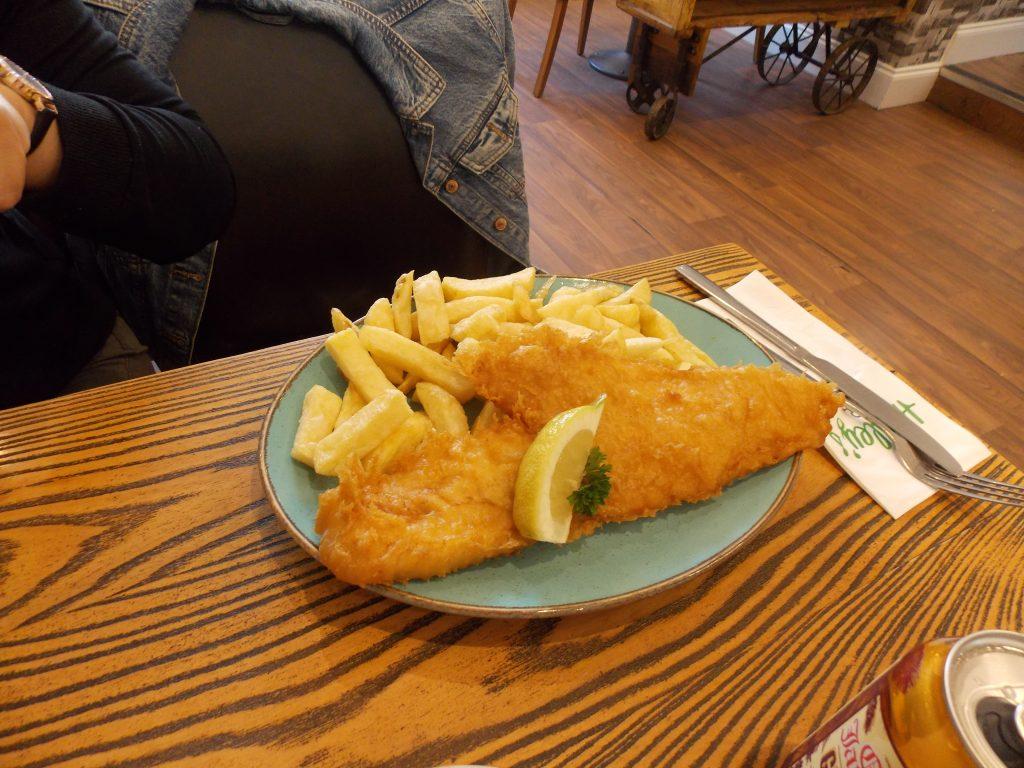 With a selection of quintessential high street shops on the rising cobbled streets, you'll find the harbour, which is a bridge where visitors can take a boat ride through the North York Moors.  Operating regularly throughout the day, this is a wonderful opportunity to experience a more breathtaking cruise of the sea and scenery.
The Falling Foss Waterfall and Enchanting Woodlands
The Woodland and forests cover 23 per cent of the National Park and it has one of the largest concentrations of ancient and veteran trees in northern England. If there was such a thing as a magical woodland walk, this is it. We took the trail through the trees on a two-mile circular route that passes an idyllic woodland tea garden to the thirty-foot Falling Foss waterfall. Strolled on the rocks of a running stream, we stopped off for tea and clotted cream scones at an isolated gamekeeper's cottage, which was used as a tea garden in the 1930s. However, the abandoned cottage has been restored to life by new owners and is now a unique part of the woodland heritage.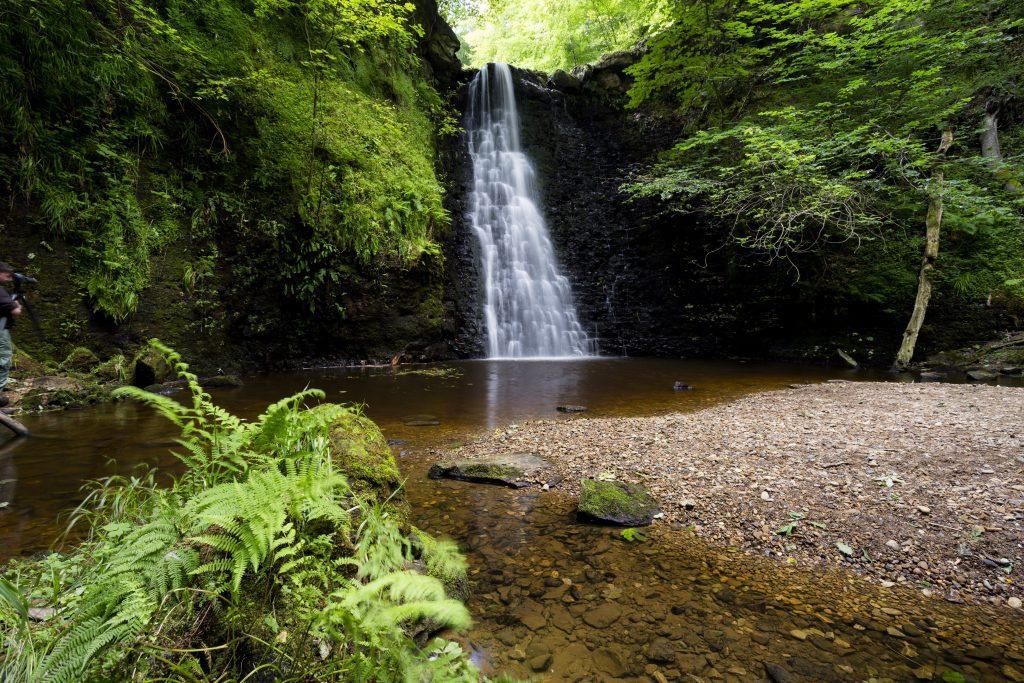 Strengthen and Detoxify Through Surfing
Studies show that this sport has grown its popularity over the last few years. Since the pandemic, people are more eager than ever to connect with nature in all forms. Popular water-related activities such as cold-water swimming, sailing, wild swimming, paddle-boarding, tubing, river rafting and surfing have grown in popularity in England from 652,600 to a million between 2017-2018 according to a Sport England survey. The reasoning behind these studies is that this connection with water induces feelings of happiness and tranquillity and this has been evidenced by Neuroscience studies that have proven that being in water such as the ocean, lakes, rivers, streams or even a home salt bath has the positive effect of lowering our stress hormone named cortisol, which then produces a refreshed feeling of wellbeing. According to some Muslim scholars, the use of salt therapy to eliminate negative energies is encouraged, and what better way is there than immersing oneself in the natural element of water?
There are many popular surfing hotspots in England and Wales such as Cornwall, North Devon, Tynemouth, West Sussex and South Wales. However, Sandsend Beach is a lesser-known location in Whitby that offers twenty- six miles of sandy coastline and clear blue waters.
I experienced my first two hours of surfing at 10 am. The surfing school on the beach is great as it offers individual and group sessions. It was an experience to remember. Yes, it was hard work, and you need resilience, but once you get into it, it sure is a lot of fun.
The weather and tide were perfect to take the lesson. We learnt about the different types of waves, the safety aspect, handling the surfboard, surfing etiquette, positioning, timing and techniques that were all covered during the lesson. I felt like I was a professional from Aussieland and my first glide over the smooth waves lying down on the surfboard felt amazing once I got the technique right. It did take a few attempts to get it right and in those attempts, I will not deny that I got bruised and battered by the surfboard and the waves. I went down under too and ended up with seawater in my nose, ears, and throat. However, after taking a few moments to breathe, I was back into the sea. Now that the worst bit was over, I regained my composure and simply went with the flow, as I rode the waves and enjoyed every moment. But that first glide with the wave to the shore was awesome as I felt like I was flying on the water.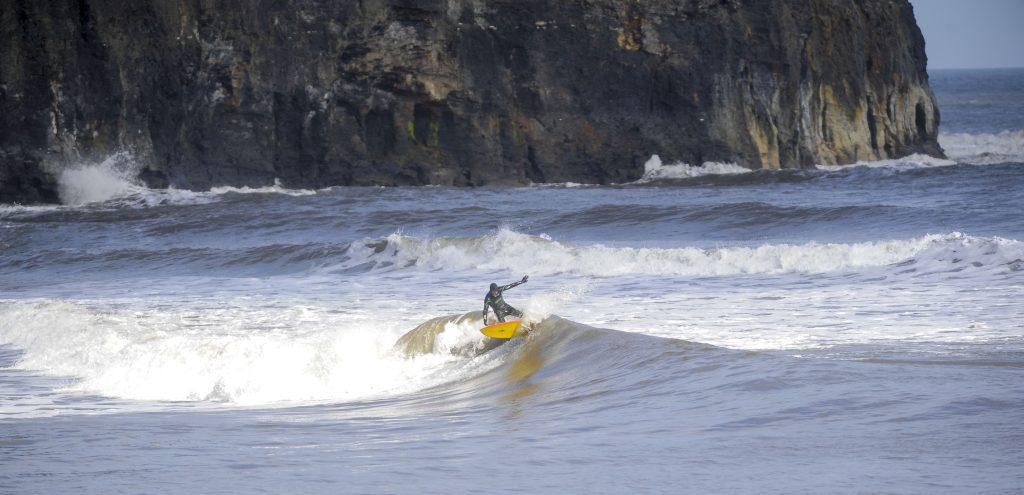 Surfing is an experience to be tried at some point because you will love it once you get the hang of it.
At the end of the session, I felt as if I had a boxing match with the sea because you have to use the core of your body and arm and leg muscles for this sport. Exhausted physically yet exhilarated mentally, with the feeling of bathing in natural seawater with its stress-reducing and wellness properties, it felt like an all-around body workout, renewing detox whilst having child-like fun.
Relaxation, Spa and Wellness at the Raithwaite Sandsend Hotel
Situated in the fishing village of Sandsend, between the sea and the North York Moors, our final stop was at The Raithwaite Hotel. This was just what we needed after an exhausting couple of days in nature as it was time to relax and restore before returning home. For those of you who prefer to stay in luxury accommodation, this is the hotel for you. With its beautiful view as you drive through the North York Moors, you can easily get splendid views of the beach from here. 
'The Serious Detox Treatment' lives up to its name as it sure is very serious. I was already feeling the detox vibe having been battered by the powerful sea, but this treatment was the answer for me. I wanted to feel cleansed, detoxified and energised again, so my therapist began the treatment with a sea salt scrub to exfoliate the body followed by a detoxifying massage, using targeted techniques over key areas of the body. This was then followed by a stimulating marine and earth mud wrap and finished with an energising full head and body massage, whilst using lymphatic drainage techniques to complete the desired detoxing effect. I was completely drained throughout my journey back home and slept most of the way. I would recommend you also try the Turkish Delight treatment which is a hammam scrub and wrap. For the guys, I highly recommend The Go Guy Male Executive Facial which also includes a blissful shoulder massage.
This destination is also becoming very popular for groups of people, especially families coming for hiking activities with a recent group of Muslim hikers visiting the North York Moors. This place has many routes for scenic walks, an array of wildlife and lots of birds of prey to marvel at. The Magical Moorlands is one of the main attractions, yet there are plenty of rocky cliffs, enchanting woodlands, coastlines, and beaches to explore.
One of the most scenic and prominent natural attractions is the River Esk, which flows through the North York Moors to the North Sea. This part of England has been treasured with history and heritage with the origins of Robin Hood and the formation of the Industrial Revolution – a period when the North York Moors played a huge role. You will discover interesting stories, ancient castles, ruins, historical imprints and remains left from various historical moments ranging from the Ice Age to the Iron Age.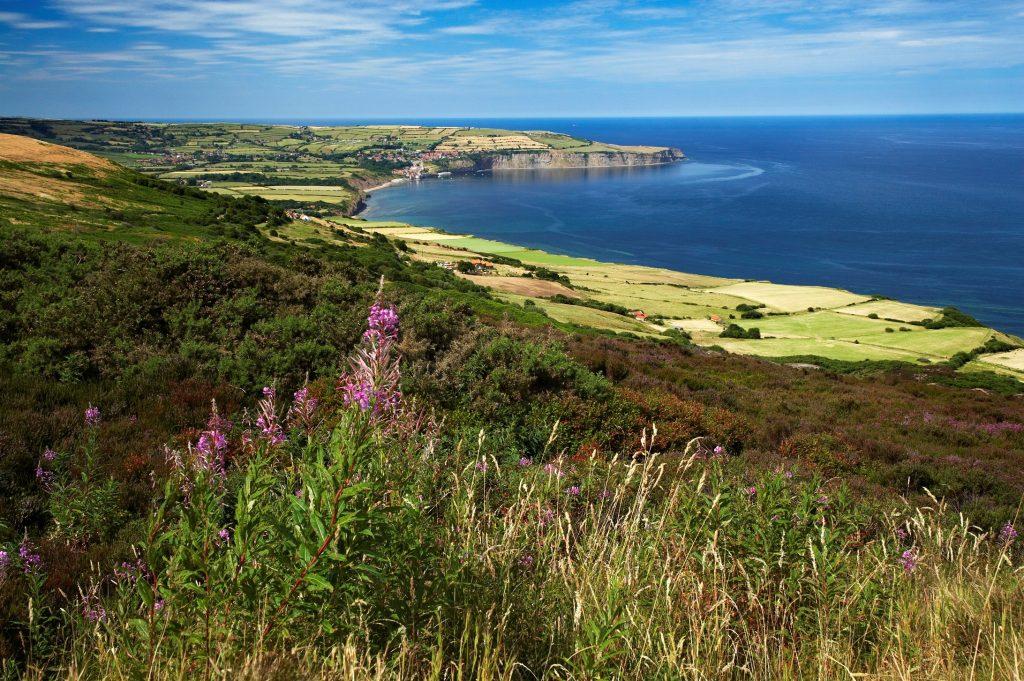 The North York Moors was also designated an International Dark Sky Reserve by The International Dark-Sky Association in 2020, which makes it one of the best places to see the stars out of 19 places in the world. The Dark Skies Festival is also taking place between 27 October and -5 November 2023, with some wonderful activities like night- zip rides, starlight walks, bike rides and lots of star-gazing opportunities.
So, what are you waiting for? Now is the time to start planning your trip to the North York Moors. Whether you're a solo traveller, visiting as a couple or visiting with family and friends, you won't run out of things to do and see in this gorgeous part of Yorkshire. 
12 Must-Do experiences in The North York Moors
Glamping at Coast and Camplight
Stargazing in the North York Moors and The Dark Skies Festival in October
Surfing in Sandsend Beach
Spa and Wellness treatments at The Raithwaite Hotel
The Falling Floss Waterfall and Magical Woodland Trail
Exploring Ancient Historical ruins and sights
The Castles and the history of Robin Hood
The Boat Trips to the harbour in town
Fish and Chips at Robin's
Hiking in the North York Moors
The array of wildlife including Deers and Barn Owls
The Birds of Prey
Beauty Essentials for your trip
Austrian brand Ringana has launched some amazing vegan travel toiletries that came in handy thanks to their practical miniature size which is perfect for a weekend. The sunscreen face SPF 15 has been specially developed with the traveller in mind, providing intensive lightweight protection, anti-ageing, coral-reef friendly, and offering even greater protection against UV-A rays.
Visit www.ringana.com for more information.
For detailed information about this destination and full experiences please visit: northyorkmoors.org.uk
Main Image Credit: Mark Denton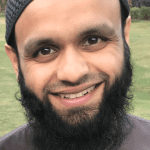 Juber Ahmed is our Digital Editor and travel enthusiast with a keen interest in Islamic history and heritage. He travels with his wife to various places around the world and writes about his experiences.
 
Juber's favourite Quote...
"The World Is a Book and Those Who Do Not Travel Read Only One Page" [Saint Augustine]