Beef Boti is a very popular south Asian dish that is loved globally. Although there are many recipes on the Internet, which promote different versions of making beef boti, we've worked with Chef Zubda Malik to show you how to make the best Chatkhara Beef Boti this autumn season.
The real taste of Beef Boti comes from the spices.
Ingredients
Beef; 1 & 1/2 kg
Ginger paste; 2 tbsp
Papaya paste; 2 tbsp
Green Chillies paste; 1 tbsp
Yogurt: 1 cup
Diced Onions; 2 medium
Salt; 1 tbsp
Chilli Flakes; 1 tbsp
Black pepper; 1 tbsp
Smoked Paprika; 1 tbsp
Cumin powder; 1 & 1/2 tbsp
Coriander powder; 1 & 1/2 tbsp
Garam masala; 1 tsp
Lemon juice; 1/4 cup
Oil; 50 ml
Pomegranate molasses; 1/4 cup
Chopped parsley; 1/2 cup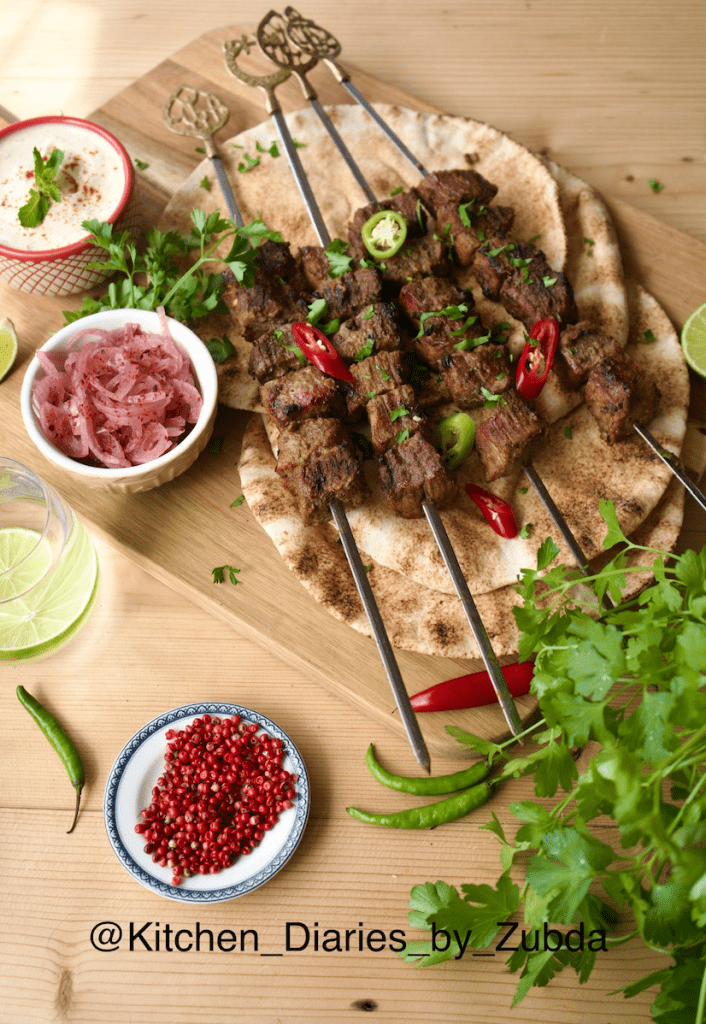 Method
Take the boneless part of beef , slice, and dice the meat.
Add all diced meat in a big bowl.
Add ginger garlic paste, papaya paste and green chilies paste.
Mix everything well together and leave to marinate for 2 hours.
For the second marination of beef boti, grab a small bowl.
Add yogurt, salt, chili flakes, black pepper, cumin powder, coriander powder, smoked paprika, garam masala, oil, pomegranate molasses, lemon juice, and chopped parsley.
Now you just stir until well combined. Add diced onions and mix again.
Bring first marinated meat back, and just add your second marinate onto your meat.
Give it a good mix, and leave it in the refrigerator overnight.
Next day, use metal or wooden skewers and thread marinated meat on skewers.
Place same-size pieces of marinated meat on the same skewer. This will ensure that all of it is cooked at the right time.
Set one prepared one aside and continue skewering all.
Place on bbq grill or in the oven.
BBQ or grill will take a little long time to cook. So keep flame low.
Rotate all skewers at the same time then it will be cooked evenly.
Spray / Brush oil on meat after every few minutes.
Once meat is fully tender. Remove from grill.
Serve hot straightaway with raita, dipping sauce or chutney. Enjoy!
Follow Zubda for more delicious recipes
@kitchen_diaries_by_zubda