Saudi Arabia's Ministry of Foreign Affairs recently launched the new Electronic Visa Waiver (EVW) for citizens of the United Kingdom of Great Britain and Northern Ireland. This means that British nationals who intend to visit Saudi Arabia will no longer be required to obtain a visit visa in advance of travel and they can stay for a period of up to six months on a single entry.
According to the ministry, the waiver is granted to British nationals, who intend to visit Saudi Arabia for a variety of purposes such as business, tourism, study and treatment. And yes, this does include visiting the holy cities of Makkah and Madinah to perform Umrah.
"This is great news! Every time my family and I wanted to visit Saudi Arabia in the past it had always been such a hassle for my husband and took months sometimes just to see whether we can get an Umrah visa or a visitor one, but now that you can visit the entire country, while visiting Makkah and Madinah, is the most amazing thing ever," Saba Aftab, a UK citizen from Manchester told The National.
It should be noted that whilst the EVW allows UK cities to visit Saudi Arabia without the need for a visa, this is done on a single entry basis for a stay of up to six months only.
How Do I Apply?
According to Saudi Arabia's Ministry of Foreign Affairs, the waiver can be obtained by filling out the designated application form on the Unified National Visa Platform at the Ministry of Foreign Affairs. It's important to keep in mind that the application can be submitted between 90 days and 48 hours before the date of travel to Saudi Arabia. Once the application has been filled in, approval will be sent via e-mail within 24 hours of applying.
EVW Launched For Saudis Visiting UK
Introducing this EVW is a huge step in allowing more Britons to travel freely between the UK and Saudi Arabia, but this isn't entirely new.
Interestingly, the UK introduced a similar EVW process for citizens of Saudi Arabia back in June 2022. This means that Saudi citizens who wish to visit the UK are not required to obtain a visit visa anymore before travel. There is also no requirement for applicants to provide biometrics, attend a Visa Application Centre or hand in passports in advance of travel for an EVW. However, things are a little different if one wants to visit the UK to work, study and live in the UK permanently.
Why is Saudi Arabia Introducing an EVW?
The EVW and many other processes to ease travel between foreign countries and Saudi Arabia have mainly been put in place as part of Saudi Arabia's Vision 2030. With an aim to increase tourism within the Kingdom, the country is doing what it can to reinvent the country as a tourist magnet. With the three themes of Vision 2030 being a vibrant society, a thriving economy and an ambitious nation, Saudi Arabia has only gone from strength to strength in establishing itself as a popular tourist destination. With diverse landscapes, holy cities and mouthwatering cuisine, it is becoming more and more common to see the Kingdom on people's wish list.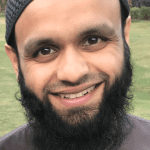 Juber Ahmed is our Digital Editor and travel enthusiast with a keen interest in Islamic history and heritage. He travels with his wife to various places around the world and writes about his experiences.
 
Juber's favourite Quote...
"The World Is a Book and Those Who Do Not Travel Read Only One Page" [Saint Augustine]