This weekend, thousands of Muslims gathered in Trafalgar Square as well as Westfield London to celebrate Eid al-Fitr and share the joy with their many non-Muslim neighbours.
In what can only be described as 'Europe's largest Eid celebration', many took part in shopping, art, eating scrumptious street food and being inspired by the variety of entertainment.
The London Eid Festival and the Eid in the Square event both took place on the same day (Saturday April 29), which is why London experienced a burst of people from all walks of life.
With free admission, both events experienced crowds unlike ever seen before, with many families taking part in cooking demos, henna makeovers and many other creative activities.
As the London Eid Festival took place in Westfield London, many stalls were set up selling all sorts such as perfumes, clothing and Islamic gifts.
What's more, the Eid in the Square festival was hosted by Ali Official and it began with a reading from the Holy Quran by famous Quran reciter, Hassan Rasool.
Speaking to ITV, Ali Official mentioned, "British Muslims often feel quite neglected from the media limelight so to have an event solely representing us right in the heart of London and Trafalgar Square means so much."
Referring to the perfect timing of the event just before the royal coronation, Ali Official also mentioned, "I think that mixed-up blend of being British and being Muslim, and not having to choose which side you're on is really represented here today."
Can I Still Attend The London Eid Festival?
Yes, of course! The London Eid Festival is ongoing till Monday 1st May. If you can make it, pop down for an awesome experience!
What Other Events Are on in London?
There is the Annual Eid Al-Fitr Celebration and Bazaar which is due to take place on May 7. This one-of-a-kind event celebrates the best of Indonesian street food and is due to take place at Minang Cuisine. If you're interested in far eastern street food, click here to book your spot in this unique event.
You can also attend the Islam Channel Eid Gala Dinner. The reputable TV channel will be getting people together in May to host its annual Eid Gala Dinner event. Running for the fourth year now, the event will include fine dining, networking opportunities and inspirational speeches. If you would like to take part, click here to find out more about ticket prices and timings.
Main Image Credit: London Eid Festival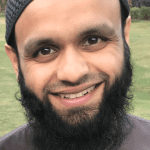 Juber Ahmed is our Digital Editor and travel enthusiast with a keen interest in Islamic history and heritage. He travels with his wife to various places around the world and writes about his experiences.
 
Juber's favourite Quote...
"The World Is a Book and Those Who Do Not Travel Read Only One Page" [Saint Augustine]