Kazi Abidur Rahman always aimed to be an entrepreneur – and it has proved the perfect career choice.

Just over 10 years since setting up the fragrance brand Sunnamusk with his brother Shafiq, he is responsible for a multi-million-pound organisation. Not bad for a business that started as an East London pop-up market stall!
The business concept began in 2009, on the back of the 2008 credit crunch, using just £600 capital raised by Abidur and his brothers. The money allowed him to invest in their first collection of fragrances, working shifts selling from car boots and market stalls.
"My second brother is a massive perfume fanatic. I was also interested and he had a collection of fragrances, street, fresh and woody fragrances that we knew we could sell."
In 2010, they began trading on Whitechapel Market, taking £200 in their first full day's trade. A few months later, they moved to Ilford Shopping Centre, before taking on a permanent retail shop in Westfield Shopping Centre, Stratford in 2011. It was a breakthrough for the company, establishing Sunnamusk as a desirable consumer brand.
"Sunnamusk is middle eastern inspired. The brand image has developed over time. When we started it was very Arabic. When we saw the potential to reach a wider market, we added a British Contemporary edge to move it into the mainstream. It is clean looking, but still reflects its roots," comments Abidur.
In 2013, a Sunnamusk flagship store opened in Aldgate, clearly identifying the company as the leading Arabian fragrance company in London. The chain continued growing, using pop-up stores to expand its brand image, explore customer behaviour, and see how it could be adapted to a mainstream audience. It quickly became clear that Sunnamusk had massive untapped potential.
For Abidur, the period from 2008 to 2016, had been one of steady business development in which he constantly honed his skills. Over the years he worked in all aspects of operations, sales, marketing, PR, and HR as well as being responsible for the development of new products and overseeing the national expansion of the company. In 2018, when his brother Shafiq decided to step down from his role as CEO to pursue dreams in aviation, Abidur was the ideal choice to take over. At 22 years old, Åbidur was CEO of a multi-million-pound company.
"I had always dreamed of being an entrepreneur. I gained an A* in business at GCSE and always liked the idea of creating things. I am achieving what I wanted to do. It didn't happen by luck, it was hard work. I had to prove myself. I had to learn a lot, marketing finance, negotiation, and relationship building. As a person, it taught me a lot. You have to be responsible, more disciplined, and lead by example," Abidur says.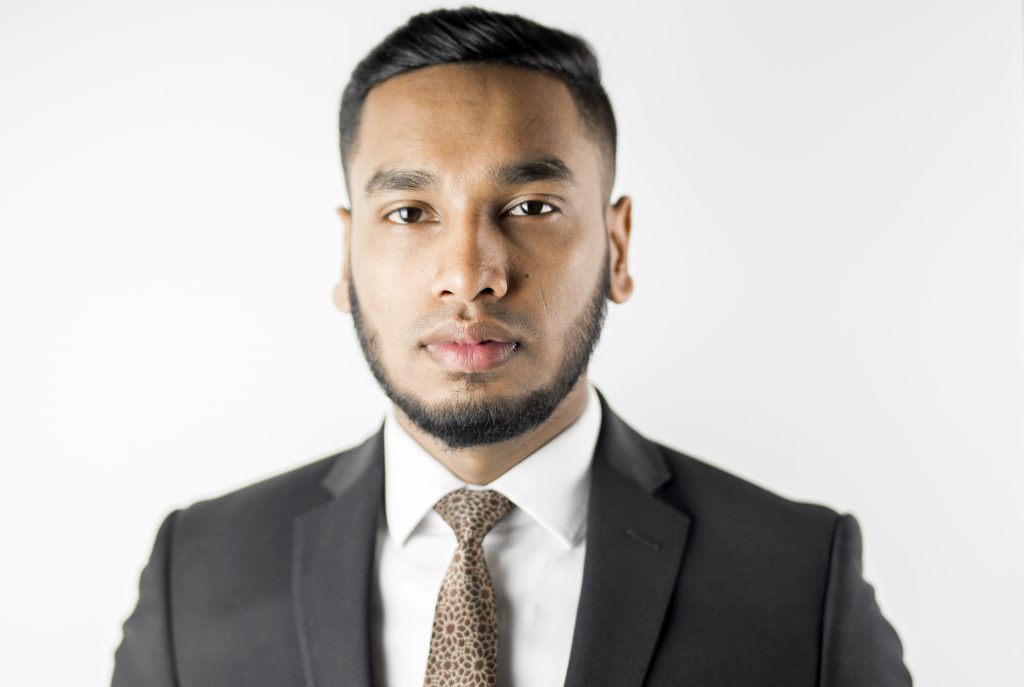 Covid meant a major upheaval for the business as Abidur indicates. "Before Covid, we were focused on retail through our store network.

Then Covid hit. The first week my brother and I sat down to discuss what we could do. If we couldn't open the stores, then we stood to lose the brand. We had got to find a way to keep us going."
"We created an oud-based sanitizer and had it available within a week of lockdown starting. We were sold out even before delivery. We also improved our social media engagement so that we could sustain the business online. We got a new team in to revamp our digital marketing strategy to allow us to trade and maintain the business."
Abidur and his brother also noticed an unmissable opportunity as he indicates. "Retail space became available during the pandemic.
Landlords were prepared to work with us.
We knew the stores we wanted to get so we used the time to our advantage. At the start of Covid we had 7 stores – now we have 19."
Sunnamusk has become a perfume house in its own right. No longer does it buy perfumes from other companies, it creates its own as Abidur explains.
"When we started the business, we brought in fragrances. We have now developed relationships with top fragrance houses, and the people who work with brands like Penhaligons. Our product development specialists in-house create an idea, and then we go to fragrance houses to develop it. There is a lot of backward and forward discussion until we get the fragrance we want.
When we began trading, the popular fragrances were mainly fresh and zesty. Over time these have been replaced and we are now selling perfumes with more vanilla, and woody notes. The Oud culture has become fashionable, creating more long-lasting scents. We use quality ingredients such as raw ambergris, oud, and musk. Our perfumes are 20% concentrated oils, long-lasting perfumes that are unique."
These are perfumes that reflect the heritage of the Sunnamusk brand, inspired by the Middle East.
50% of its customers are Muslim, 50% non-Muslim with its core customer base being 20-35-year-olds although it does have a universal appeal.
So what of the future?
Abidur has a clear plan.

"Sunnamusk will remain a family-owned business. All five brothers are shareholders although only two work in it. We plan to expand the business, opening in the Netherlands and Germany. It will be organic growth via our cash flow. Our goal is to be a global fragrance brand. By 2030, we would like to be operating with over £100m per year.
The success of Sunnamusk has not gone unnoticed. Abidur has become a role model within the community, frequently being invited to schools as a motivational speaker, encouraging young people to get involved in business stressing,
"We live in Tower Hamlets. We come from Bangladesh. If we can do it, so can you."
"You have to climb the ladder, it doesn't come automatically. I've had to do jobs that take me out of my comfort zone, to get me into the position I want to be in. You have to see everything as an opportunity. Don't look at the negatives, instead, look at the positives.
You are the captain of your ship."