Whilst Azerbaijani food is most definitely one of the lesser-known cuisines in the world, it is perfect for those looking for something different. Make no mistake though; the dishes of Azerbaijan are far more popular than you think and for good reason!
Due to its strategic location, Azerbaijani food has been heavily influenced by cuisines in Iran, Turkey, Central Asia and the Mediterranean. With meat dishes taking up a large portion of the table, Kebab is usually the go-to choice for locals once you head out of Baku! Meat is king here and with a mix of juicy vegetables, diverse spices and wonderful herbs, Azerbaijani food might just become your favourite once you've taken your first bite!
But there's more to it than just kebabs! With rice, lentil soups and the famous vegetarian dolma, vegetarians will be spoilt for choice when it comes to options.
If you're thinking of giving Azerbaijani food a try, here's a list of ten foods you simply have to try!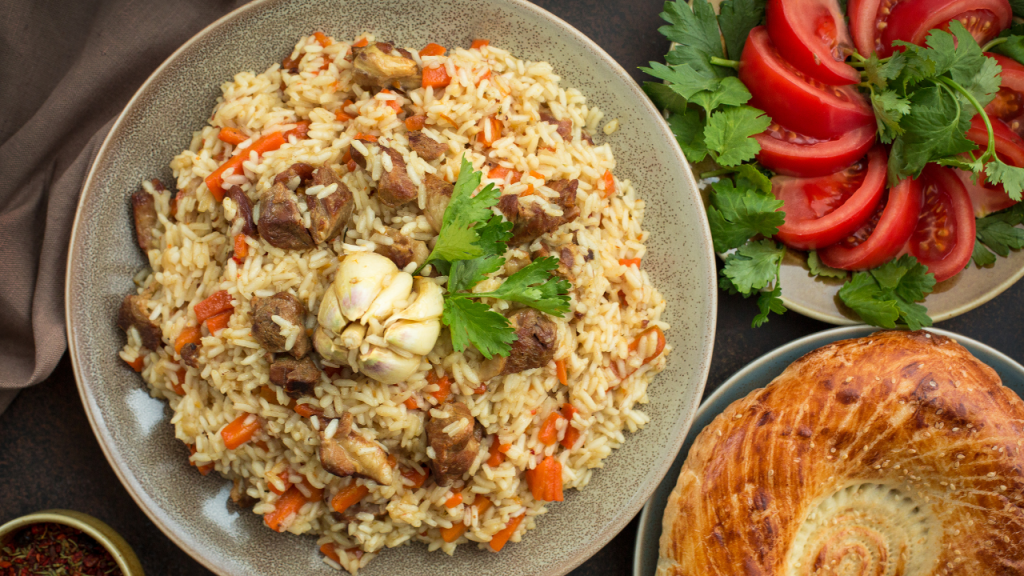 Azerbaijan Plov
Pronounced Plov, or Pilaf, this is a staple Azeri food which is served throughout the country. It's a rice-based dish and comes accompanied by dried fruits, beans, fish, meat or even chicken. The rice is steamed with saffron which adds to the splendid aroma. The dish is then finished with a gazmag, which is a nice layer of golden crust! You could go for the Shah Plov which is the perfect dish for those looking for a mighty meal. It consists of a rice base with meat on top and coated with a crust of fried dough! How about that for a meal?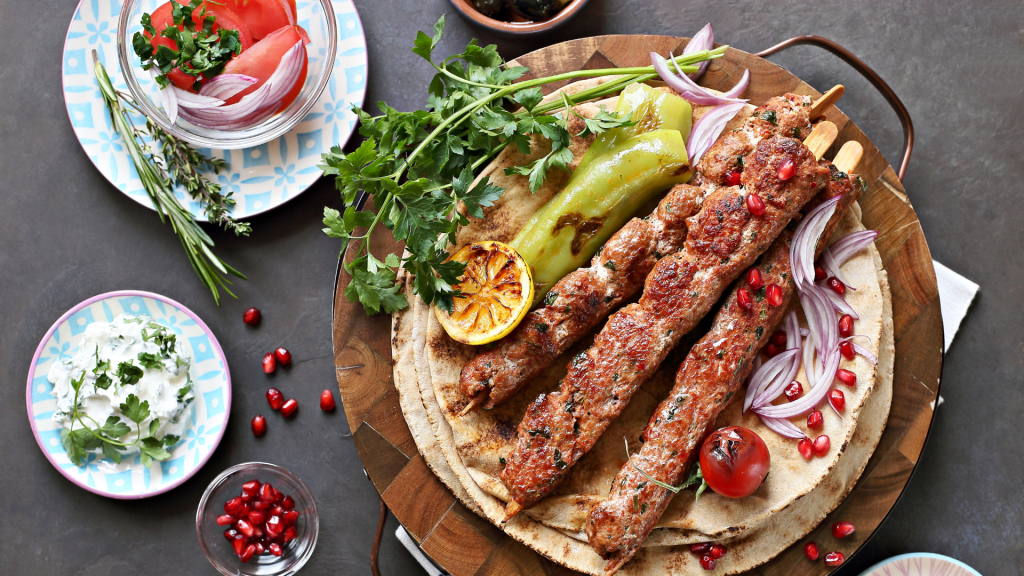 Kebab
You've not truly eaten in Azerbaijan unless you've had a kebab! Some may even argue that no trip to the country is complete without satisfying yourself with the world's juiciest kebabs! Seasoned with organic spices and herbs, the kebabs are then skewered and chargrilled out in the open! What makes kebabs so great in Azerbaijan is that like in other countries nearby, the meat is kneaded for a very long time. This adds to the quality, flavour and taste, and helps keep the kebab in place for you to eat. There are many types of kebabs, but the most recommended is Lyulya Kebab which has been around since the 2nd century! It's basically a chargrilled minced lamb kebab that has been combined with finely chopped onions and seasoned with salt and black pepper.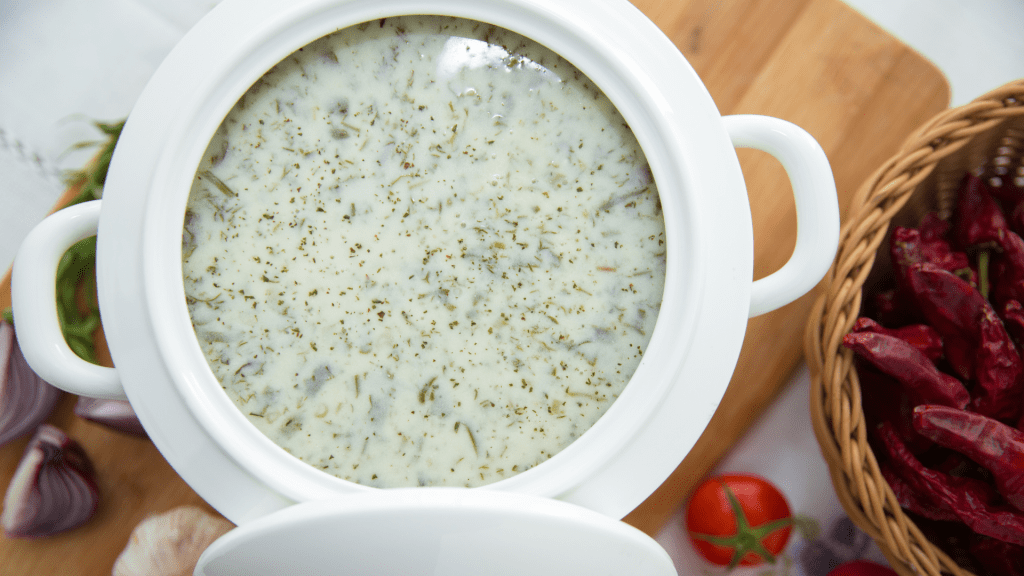 Dovga
Another traditional dish in Azerbaijan, Dovga is a type of yoghurt soup made with chickpeas, rice, coriander and dill. You can have it cold or hot, depending on the season and some say it's similar to Ayran. Others argue that it's so much better! If you want, you can enjoy Dovga as a drink in between your kebabs, as it's known as a digestion booster. It's a popular choice of soup/drink in the country and can be found in weddings not only in Azerbaijan but also in Iran, Armenia and Turkey. The soup is usually perfect for vegetarians, but it is recommended to enquire from beforehand if there are any traces of meat.
Lavangi
This is loved by the locals and tourists! If you love your chicken dishes, you'll be sure to enjoy this one. With onions, dried fruits and walnuts stuffed inside a chicken, fish or duck, the dish is then baked in the oven. Stuffings can range from dried cherry plums, vegetable oil and even raisins. Originating from Lankaran, which is in Southern Azerbaijan, the dish fast became popular throughout the entire country. Known for its range of flavours and diverse herbs and spices, Lavangi is the closest thing to that Thanksgiving turkey!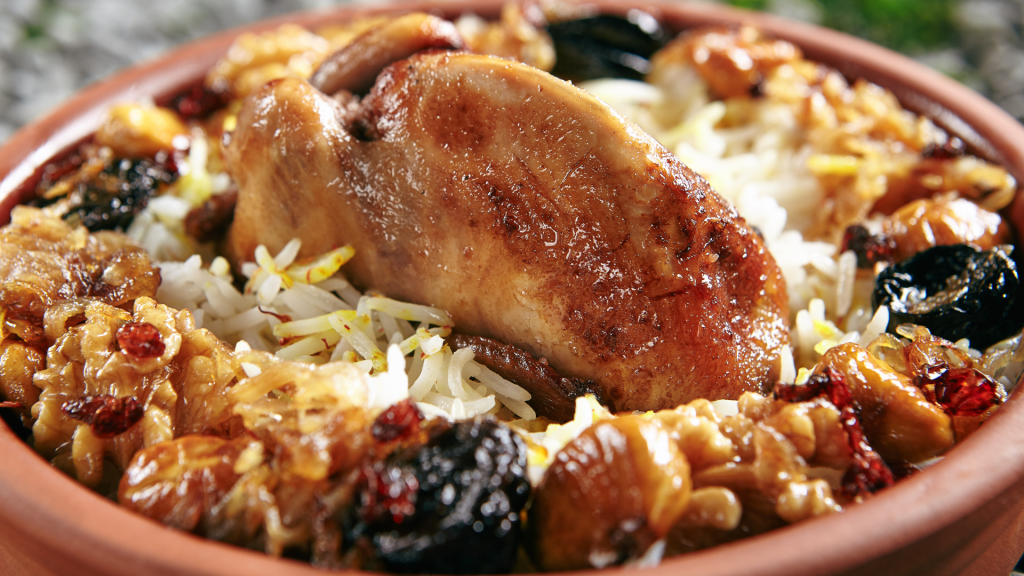 Kufta Bozbash
This dish consists of a mouth-watering broth filled with a rather large meatball, potatoes, mutton bones and peas. What's great is that it's perfect for those cold days in the winter and the hot days in the summer when you need to stay hydrated. The dish is renowned in Azerbaijan and is known to be somewhat of a delicacy. It's no wonder that this soup dish has claimed the title, of the National Soup of Azerbaijan. Rich, hearty and spicy, Kufta Bozbash can be eaten as a main or side dish.
Piti
The small but splendid Azerbaijani town of Sheki is popular with tourists, thanks to its history, heritage and cosy atmosphere. Yet there's something else luring all those visitors to come here! Whilst some may say that Sheki is the quintessential Azerbaijani town, it also happens to be the birthplace of Piti. A rich and aromatic soup, Piti is a lamb stew cooked with vegetables in a clay pot for 5-6 hours. Yes, that's right! It's all about slow cooking when it comes to Piti which is how the lamb and chickpeas get their intense flavour. Dive right into the soup with some flatbread and follow that with a bite of the most tender and juicy pieces of lamb meat.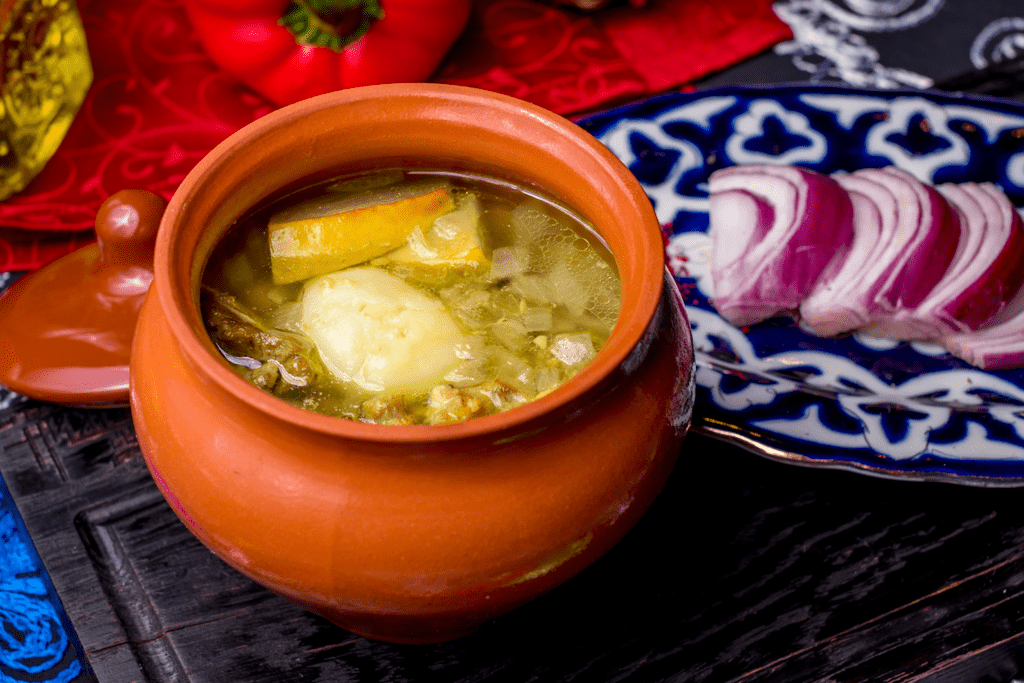 Azerbaijan Dolma
Originating from the Azerbaijani verb 'doldurmag' (to stuff), this dish is all about stuffing and wrapping! Starting with cabbage or vine leaves, minced meat and rice are stuffed into them and then finely wrapped. With over twenty varieties of dolma, you can sample it with aubergines, peppers and cucumbers and even apples and quince. Aside from the minced meat and rice, you'll also be treated with aromatic herbs and spices, all of which come together to give you a burst of flavour in your mouth. If you choose to have it with meat, it's usually hot. But if you go for the rice dolma, it can be hot or cold.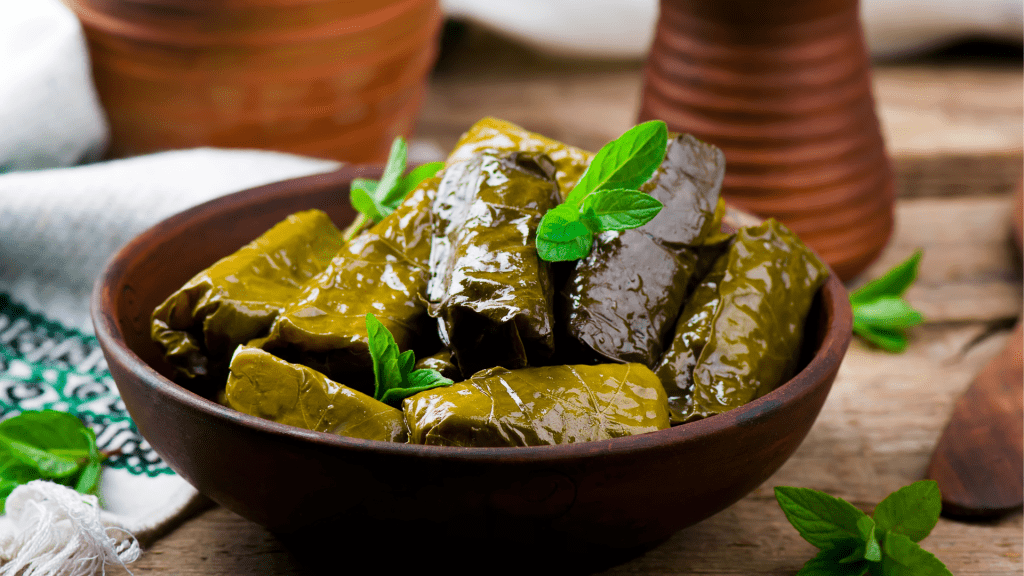 Gutab
The best way to describe Gutab is by saying that they are essentially stuffed flatbreads. But don't let the simplicity undermine its popularity. Also referred to as a pancake, it's filled with all sorts of meats such as chicken, lamb and even camel. What's more, you'll also find cheese and spinach inside, which only adds to the remarkable taste. Served in the shape of semi-circles and easy to hold with one hand, Gutab is a very popular choice for those on the go! If you can grab yourself a seat though, try dipping the Gutab in yoghurt sauce to bring out the best of all the flavours.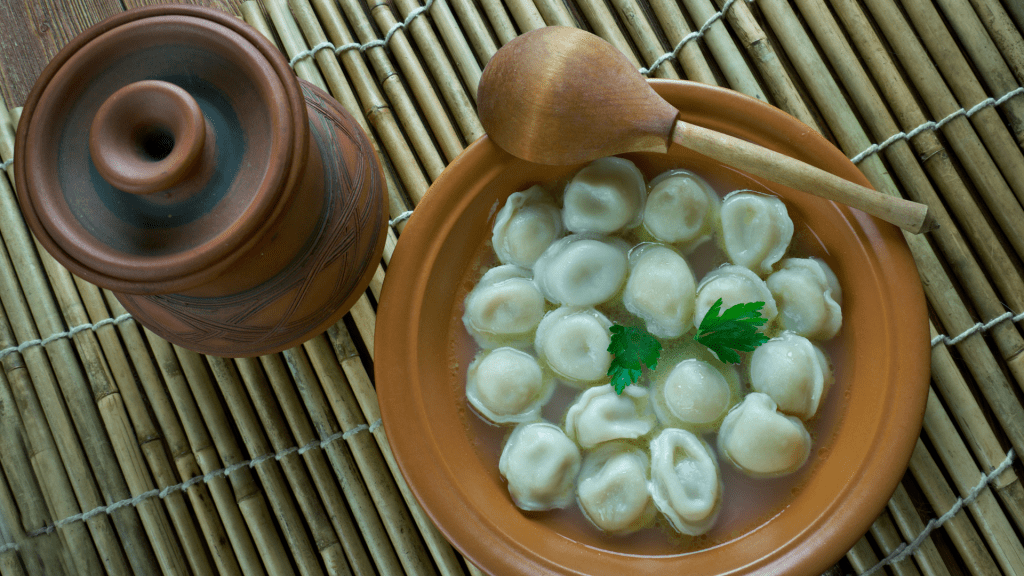 Dushbara
If you like dumplings, you'll love Dushbara. In fact, Azerbaijani dumplings are probably the closest thing to what you'll find on the streets of China. Consisting of ground meat, spices and herbs in a flat dough, it is then wrapped and boiled. Whilst Dushbaras can be eaten alone, it's best when they're drowning in a lamb broth! That way you can keep them soft, juicy and tender.
Azerbaijan Pakhlava
While Azerbaijan offers desserts such as Shekerbura, Shekerchorek and Badambura, there's no doubt that Pakhlava is a common choice. Originating in the Middle East, Pakhlava is very similar to Baklava which is found across Turkey. The layered pastry dessert consists of nuts, honey or syrup. Topped with saffron or saffron, Pakhlava is found in every bakery and restaurant across Azerbaijan. Due to its extremely sweet taste, locals recommend washing down your Pakhlava with some strong black tea.
Main Image Credit: Azerbaijan Tourism (Twitter)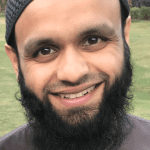 Juber Ahmed is our Digital Editor and travel enthusiast with a keen interest in Islamic history and heritage. He travels with his wife to various places around the world and writes about his experiences.
 
Juber's favourite Quote...
"The World Is a Book and Those Who Do Not Travel Read Only One Page" [Saint Augustine]