It's quite common to see anything other than modest clothing when it comes to big and bold adverts about sportswear and fitness. But for Gymshark, this narrative is about to be challenged!
For the first time ever, Gymshark has launched a modest billboard after collaborating with influencer and fitness enthusiast, Leana Deeb. With a whopping display size of 16x10m, Gymshark has presented this artwork as part of their Every Strong Belongs campaign which aims to promote that "strength isn't one size fits all."
Whilst it is referred to as a billboard, it is actually a gigantic mural that has been kept minimal and promotes a wonderful message.
Deeb, a Muslim fitness influencer who works with Gymshark believes that faith and fitness are synonymous with one another. With millions of followers across Instagram and TikTok, the passionate athlete is constantly reminding others like her of the importance of both modesty and fitness.
The brilliantly designed mural has been created by Global Street Art. Whilst paint has been used for the large part, it is impressive to see that real fabric has been used for the headscarf. This has all been done to create a 3D texture that makes it stand out even more.
Commenting on the design of the billboard, Gymshark said that this ad is "the first of its kind to celebrate the millions of women that wear modest clothing each and every day."
They also added that this includes "the huge community of Muslim women in the conditioning community that are putting in the work to improve both their physical and mental health."
Excited about the display, Deeb mentioned, "To be the face of the world's first modest billboard in such an iconic location here in London is a huge moment and responsibility."
She also added, "I truly believe impactful initiatives like these will empower more women to feel confident in their own skin and embrace their individuality."
Deeb went from strength to strength with her fame and popularity growing rapidly after she posted videos in October 2022. Impressed by her work and message, Gymshark's global partnerships director Calum Watson said: "Leana's journey has been nothing short of remarkable. She's one of the most important and inspirational athletes in the world today."
He also added, "She lives and breathes everything we believe at Gymshark, so it's amazing to have her on the team. We wanted to do something to not only celebrate Leana, but also her audience and everything she stands for. And, in typical Gymshark style, why not with a world first? Leana, we salute you"
The mural will be on display until the end of September on Whitechapel Street close to the East London Mosque.
Main Image Credit: Retail Gazette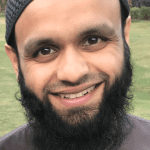 Juber Ahmed is our Digital Editor and travel enthusiast with a keen interest in Islamic history and heritage. He travels with his wife to various places around the world and writes about his experiences.
 
Juber's favourite Quote...
"The World Is a Book and Those Who Do Not Travel Read Only One Page" [Saint Augustine]