The common recommendation is to start packing as early as possible. Hajj is a BIG deal as it's a journey that requires one to be prepared not only when it comes to logistics but also with things like knowledge, understanding and spiritual preparation.
We've done the research for you and have listed below everything you need to pack!
Whilst the thought of packing for Hajj can be rather worrying, that's only the case until you've sat down and had a think about things, and we're here to help!
So, let's get into it!
Travel Documentation
Passport
Visa documentation
Proof of vaccination (check if necessary)
Passport-sized photos (just in case it's needed)
Photocopy of your passport and visa
Airline tickets
Travel itinerary
Money
We recommend taking some cash with you. The currency is Saudi Riyals and 500 Riyals in cash is the amount we recommend. This is around £105. This will be super useful if you need cash immediately upon landing. Once you're settled in, feel free to use any cash machine to withdraw money or simply take GBP with you and exchange it at any of the currency shops.
On this point, we recommend budgeting carefully and taking enough money to last you. This is of course subjective and will depend on your finances and spending habits. It will also depend on how much your package covers.
Worship
Small pocket Quran
Prayer Mat
Hajj Guidebook
Dua book
List of Duas either as a PDF copy or as a physical book
Tasbeeh
Tawau counter
Notebook to record progress
Toiletries
Toothbrush
Toothpaste
Miswaak
Shampoo*
Shower Gel*
Soap*
Vaseline
Hand Sanitizer
Towels (small and large)
Wet wipes (useful for after meals )
Comb
Razors
Ittar
Nail cutter
Scissors
Sanitary pads
Cotton Buds
Tissues
Clothing
Ihram x 2: we recommend buying a good quality Ihram as you will be wearing this over the course of a few days. What's more, be sure to take a second set just in case you need to change the first set.
Waist pouch for storing money, documents and any other valuables
Loose clothing as the weather is very hot. Saudi Thobe for men and Abaya for women is the best.
Sandals and slippers – take a few pairs just in case you lose one.
Comfortable trainers for walking once Hajj has been complete
Shoe bag
Sunglasses
Hats and scarves
Plenty of clean underwear
Shoe covers
Medication
Please be sure to take all necessary medication with you. General medication can also be taken such as:
Cold and flu medication
Paracetamol
Ibuprofen
Dust Allergy medicine
Diarrehoa Tablets
Constipation Tablets
Lip Balm*
Throat Lozenges
Any supplements
Plasters
Sun Block*
Antibiotics
Mosquito and bug repellant
Electronic
Power bank
Extension Lead
Travel Adaptors
Saudi Sim
Mobile Phone
Phone charger
Headphones
Travel iron
Digital Travel Scales
Travel Accessories
Travel pillow
Ear plugs
Eye mask
Face mask
Water bottle
Wudhu bag
Snacks/food
Protein Bars/Energy Bars
Carrier Bags
Umbrella
Sewing Kit
*A point to mention about all the creams, toiletry products and other products which you will use throughout Hajj: it is important that all these products are unscented as it is impermissible to use anything scented whilst in the state of Ihram. If you do take anything scented with you, this can be used only prior to entering the state of Ihram and once you have exited the state of Ihram.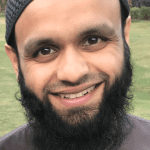 Juber Ahmed is our Digital Editor and travel enthusiast with a keen interest in Islamic history and heritage. He travels with his wife to various places around the world and writes about his experiences.
 
Juber's favourite Quote...
"The World Is a Book and Those Who Do Not Travel Read Only One Page" [Saint Augustine]