Whilst the summer break is over, the fun continues with a one-of-a-kind halal food festival in London this month! Get ready for a special and memorable weekend as the World Halal Food Festival returns to London between Saturday 23rd and Sunday 24th of September 2023.
Known as the biggest and longest-running halal food festival in the world, the jam-packed weekend will be taking place in London Stadium, Queen Elizabeth Olympic Park.
Commenting on the festival, Graham Gilmore, CEO, of London Stadium, said: "We are delighted to welcome back this incredible food festival for its third year at London Stadium! Our venue is an ideal fit for this event, which brings together the food, music and culture of the Muslim community for all to enjoy in the heart of East London."
Previously, the festival was titled London Halal Food Festival. However, with so many culinary experts attending from around the world and with worldwide cuisines showcased, the name has changed to World Halal Food Festival. To us, this feels better as it's only befitting to appreciate and recognise the immense joy experienced by diverse cuisines from around the world.
It is hoped that the festival will be a melting pot of cultures, people and foods, with over 200 international halal food and shopping stalls.
There will be so much to do aside from just eating – unless of course that's all you want to do, which is fine! From live cookery demonstrations at the Cookery Theatre to Halal Eat-Off competitions, there will also be an expanded Kids Zone and VIP Lounge! In other words, there's something for everyone!
The event has been organised by Algebra Festivals who are notably known for their big and exciting Muslim consumer events. Their previous events include the London Muslim Shopping Festival as well as the London Eid Festival.
Commenting on the eventful weekend, Waleed Jahangir, Managing Director at Algebra Festivals states: "We're excited to be returning to the iconic London Stadium, right in the heart of the community for the world's biggest halal food event of the year. The World Halal Food Festival is an opportunity for members of all communities to come and experience the flavours of the world all under one roof with family and friends."
If you're interested in attending, you can buy your tickets by clicking here!
Main Image Credit: London Stadium and London Halal Food Festival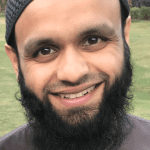 Juber Ahmed is our Digital Editor and travel enthusiast with a keen interest in Islamic history and heritage. He travels with his wife to various places around the world and writes about his experiences.
 
Juber's favourite Quote...
"The World Is a Book and Those Who Do Not Travel Read Only One Page" [Saint Augustine]