The city of the Prophet PBUH is on the bucket list of every Muslim and it is so for good reason! Having spent a large portion of his life here, the Prophet Muhammad PBUH is also buried here along with a great number of companions. What's more, Madinah is also home to some of Islam's first mosques and the legendary Mount Uhud which marks the spot of one of the most important wars in Islamic History. It's for this reason that Madinah is known as the second holiest city in Islam and was importantly regarded as the birthplace of the Islamic civilisation.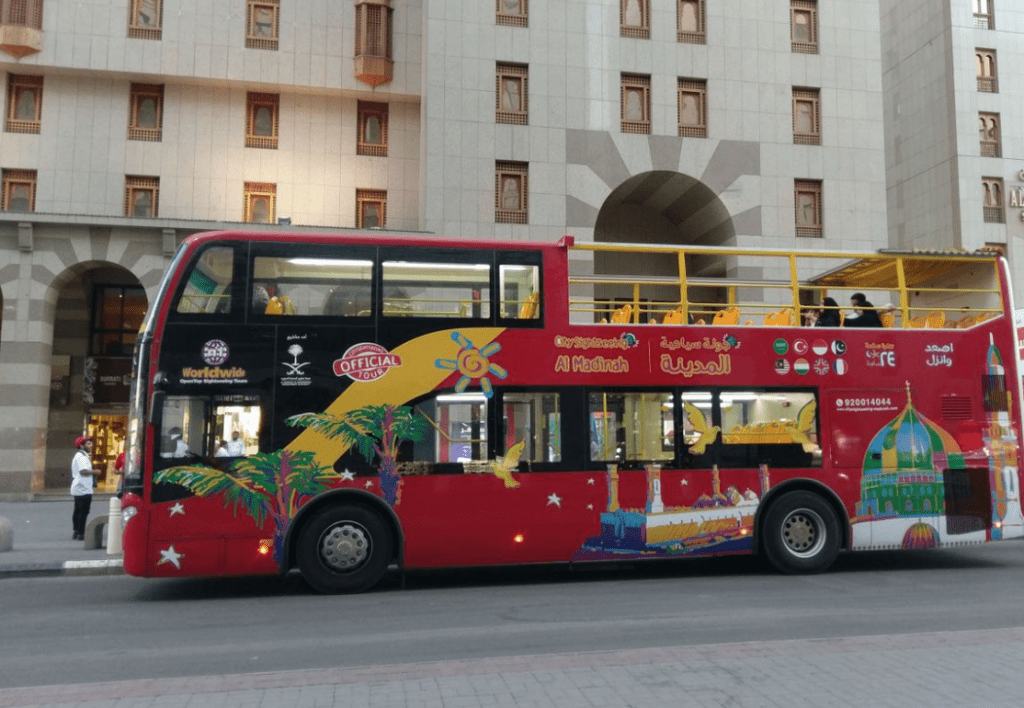 For those looking to explore all that the blessed city has to offer, the red double-decker buses, offered by City Sightseeing, takes visitors along two different routes whilst making stops at some of the city's most famous sites. With free wifi on-board and buses available from 06:00 to 22:00, the service has proven a huge success for the city's many visitors.
With tickets being valid for 24 hours, visitors can stop at each and every stop whilst travelling at their own pace. With audio commentary in multiple languages, you'll be well informed about the sites before you reach them.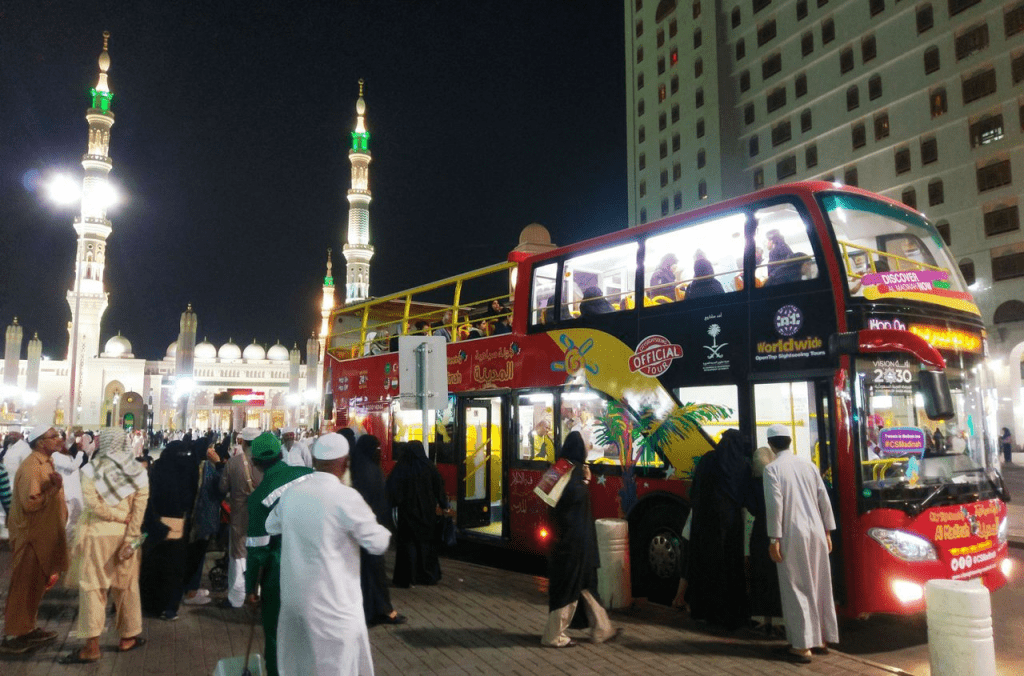 Where Does The Bus Stop?
The bus makes a total of eleven stops which includes:
Masjid al-Nabawi
Al Baqee Cemetry
Al Manakha
Al Salaam Gate
Mount Uhud
Al Noor Mall
Sultanah Street
Masjid Qiblatain
Seven Mosques (Location of the Battle of the Trench)
Masjid Quba
Hijaz Railway Station
Wherever you decide to stop, make sure you prioritise four attractions! The first and foremost is the blessed Al-Masjid an-Nabawi. Here you can admire and marvel at the grand architecture as well as pay your respects to the Prophet PBUH via the Al-Salaam gate. Be sure to pray in the Riadhul Jannah section of the mosque as doing so is better than one thousand prayers in any other Masjid except Masjid al-Haram.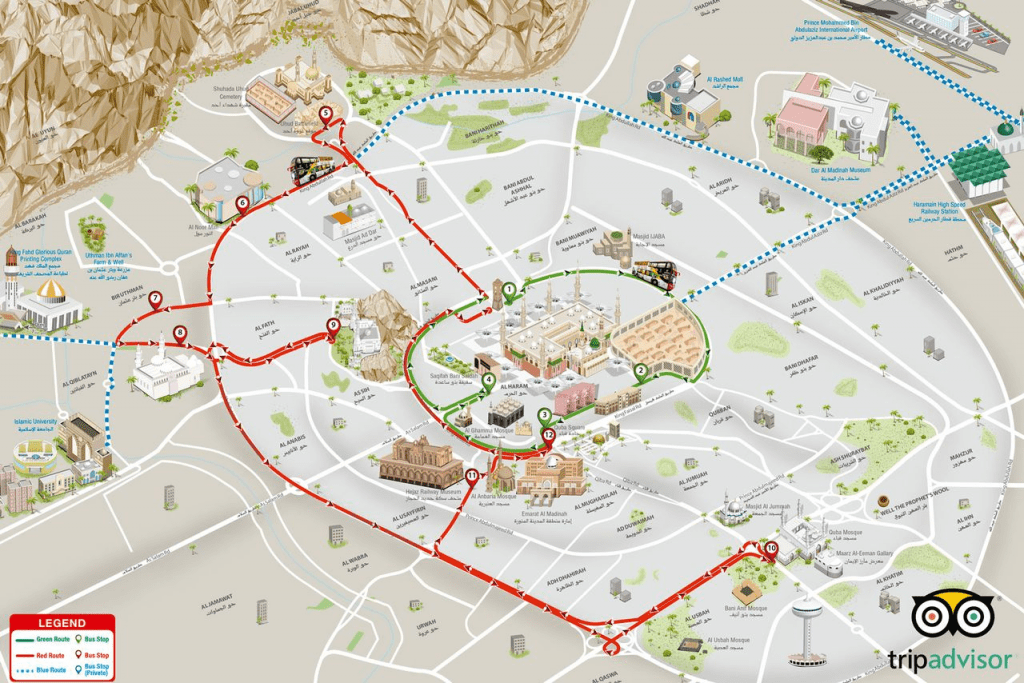 We also suggest you stop at the site of the Mount Uhud Battlefield. The notable war that took place here was led by the Prophet PBUH himself and it was a fight to protect Madinah from being invaded.
We also suggest stopping for a moment at Masjid Quba which is known as the oldest mosque in Islam. With the foundational stones laid by the Prophet PBUH, the mosque has now developed to become one of the most beautiful in Madinah.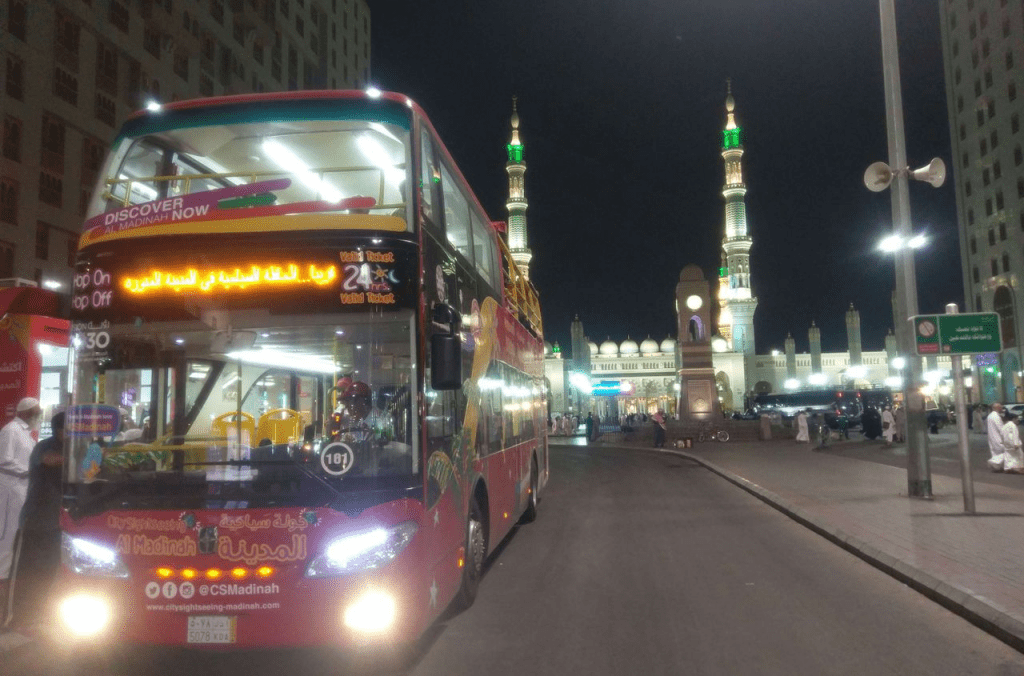 Lastly, be sure to stop Masjid Qiblatain which is known as the mosque of two qiblahs. It was in this mosque that the Prophet PBUH turned away from facing Bait al-Maqdis mid-prayer, to face the Kabah after he was instructed to do so via revelation. Today, visitors will see two mihrabs; one facing in the direction of the Kabah in Makkah and the other towards Masjid al-Aqsa in Jerusalem.