Muslim Hikers have teamed up with Wiggle and Adidas Terrex to create a special kind of prayer mat for Muslims when outdoors. What's more, all three have come together to install – for the first time ever – signs pointing to Makkah on one of the most popular hiking routes in the Peak District.
This could not have happened at a better time. With plans to make the outdoors a more inclusive place, the revolutionary prayer mat and the new signs in the Peak District stand to do exactly that. What's more, the announcement of this new prayer mat comes after the Muslim Hikers received racist online abuse following a Christmas Day hike in 2021, and an appearance on BBC's Countryfile in September 2022 where the group was accused of not being 'proper walkers'.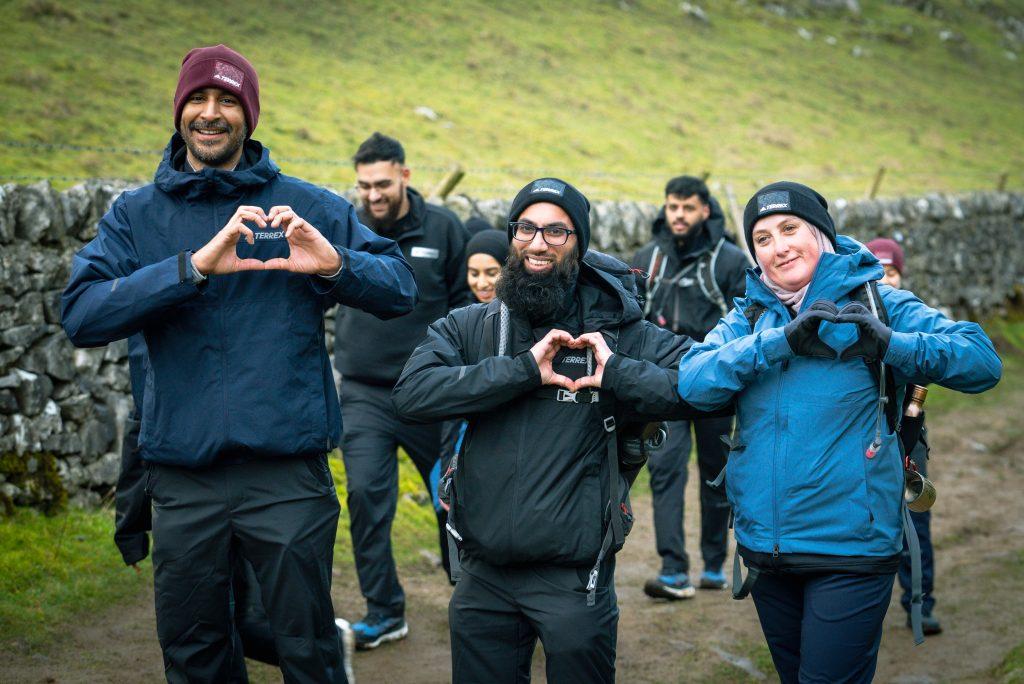 Huw Crwys-Williams, CEO at Wiggle said "At Wiggle, we are committed to making exercise a welcome and inclusive environment for all. We were disappointed to hear reports of abuse that the Muslim Hikers received and back the group's goal of bringing the community together through hiking. By partnering with the Muslim Hikers and adidas TERREX, we aim to bring awareness to the fact that any form of exercise is for everyone and will strive to improve accessibility for all communities."
Wiggle and Adidas Terrex have worked closely with Muslim Hikers in creating this new prayer mat. Part of this included discussing the many concerns and barriers Muslims face when wanting to pray when outdoors. The aim was to facilitate prayers as well as make Muslims feel comfortable when wanting to pray outdoors. It is therefore hoped that the creation of the bespoke prayer mats and first-of-their-kind signs will empower more Muslims to get outside and celebrate everything nature has to offer.
Qiblah Signs in The Peak District
Muslims from around the world pray five times a day towards the direction of Makkah, also referred to as the Qiblah. In order to accommodate the many Muslim hikers that pass through the Peak District, signs have been placed along Cave Dale, which is one of the most popular hiking routes in the Peak District. As well as pointing Muslims in the right direction for their prayers, the new signs stand to symbolise that the outdoors is for everyone.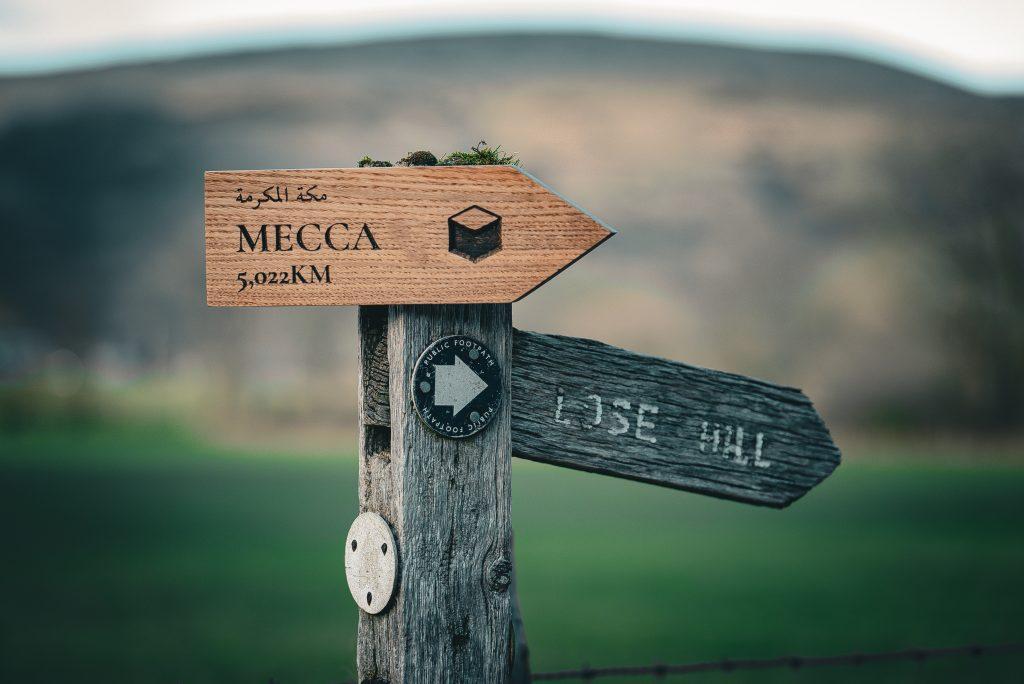 The Prayer Mats
So far, 100 prayer mats have been created and donated to Muslim Hikers as part of the partnership. Further mats are scheduled to be available and ready to buy on Wiggle's website in April 2023. They will cost £20 each and all funds from sales will be going to Wiggle's charity partners.
Haroon Mota, Founder of the Muslim Hikers said "Working with Wiggle and adidas TERREX has allowed us to take a huge step in the right direction when it comes to promoting inclusivity in the outdoors. Everyone should feel empowered to get outside and enjoy nature, and the prayer mats and signs have made it easier for us within the Muslim community to do this without having to worry about the practicalities of prayer."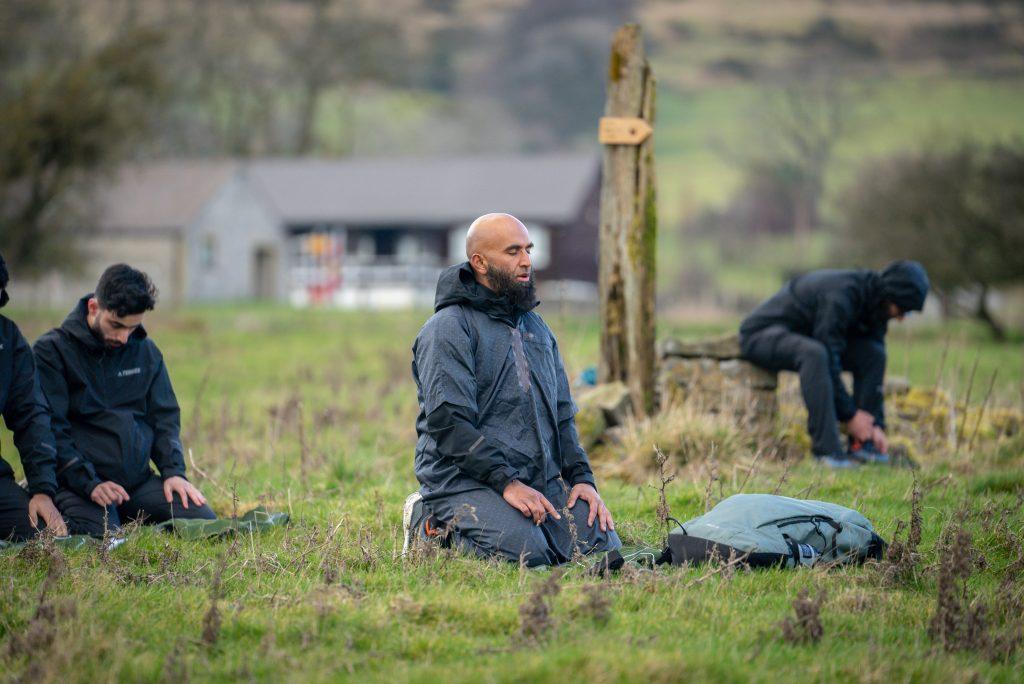 The prayer mats' design depicts topography – used on maps to represent contours – and was created in partnership with QM Design; a 7th generation Islamic craftsman.
Unlike many other prayer mats, these new mats have pockets in all four corners, used to insert rocks or weights to keep the mat flat during prayer. The prayer mat can also be rolled into a compact size, making them ideal when wanting to pop them back into a bag or rucksack while exploring the outdoors.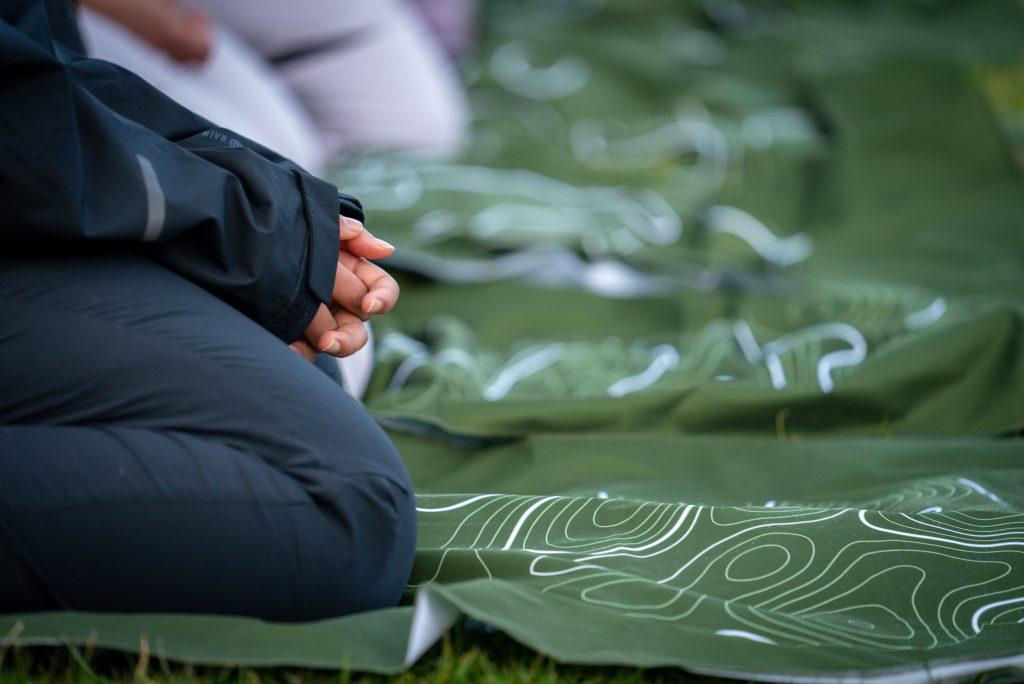 Unique in their very own way, the prayer mats are lightweight, waterproof, designed to withstand the elements of the outdoors and are made using 100% polyester. Previously, Muslims have had to resort to makeshift alternative or use their jackets, which is why the instalment of these signs and the creation of this revolutionary prayer mat are both remarkable moves in the right direction.
Justin Cader, Senior Brand Marketing Manager at adidas TERREX, said "adidas TERREX wants to ensure that everyone has access to nature. Our partnership with Wiggle and Muslim Hikers demonstrates our commitment to making the outdoors more inclusive. Through products and activations, we continue our aim to remove the barriers that prevent some people from enjoying the countryside".
Main Image Credit: Patrick Williams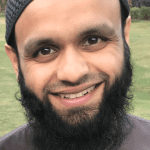 Juber Ahmed is our Digital Editor and travel enthusiast with a keen interest in Islamic history and heritage. He travels with his wife to various places around the world and writes about his experiences.
Juber's favourite Quote...
"The World Is a Book and Those Who Do Not Travel Read Only One Page" [Saint Augustine]