Thousands of years ago, the nomadic Saka people roamed the vast Steppes of an area we know today as Kazakhstan. As centuries passed they were all but forgotten apart from occasional references in ancient literature – until now. The rediscovery of this amazing culture has resulted in a stunning Gold of the Great Steppe exhibition now on view at the Fitzwilliam Museum, Cambridge.
Entering the exhibition is positively breathtaking. Massive images showing the vastness of the Steppes provide the backdrop to amazing golden artifacts hinting at a civilization that was more sophisticated than might be imagined for a nomadic people. These are objects that are intricate, detailed, and awe-inspiring.

Wafer-thin gold was used to create items to ornament clothing for the dead, both humans and horses.
Symbolic costumes were used to turn the horses into shapeshifters and bearers of messages.
This is the first time that any of these items have ever been seen outside Kazakhstan, some of which were unearthed by archaeologists only weeks before the exhibition opened in September. Even sections of fabrics had been preserved in the deep permafrost, but unfortunately, problems resulting from climate change and looting are placing such artifacts at risk. What makes these discoveries so unique is the fact that they come from totally intact burials, enabling archaeologists to not just uncover items but to study every aspect of the culture that is being revealed.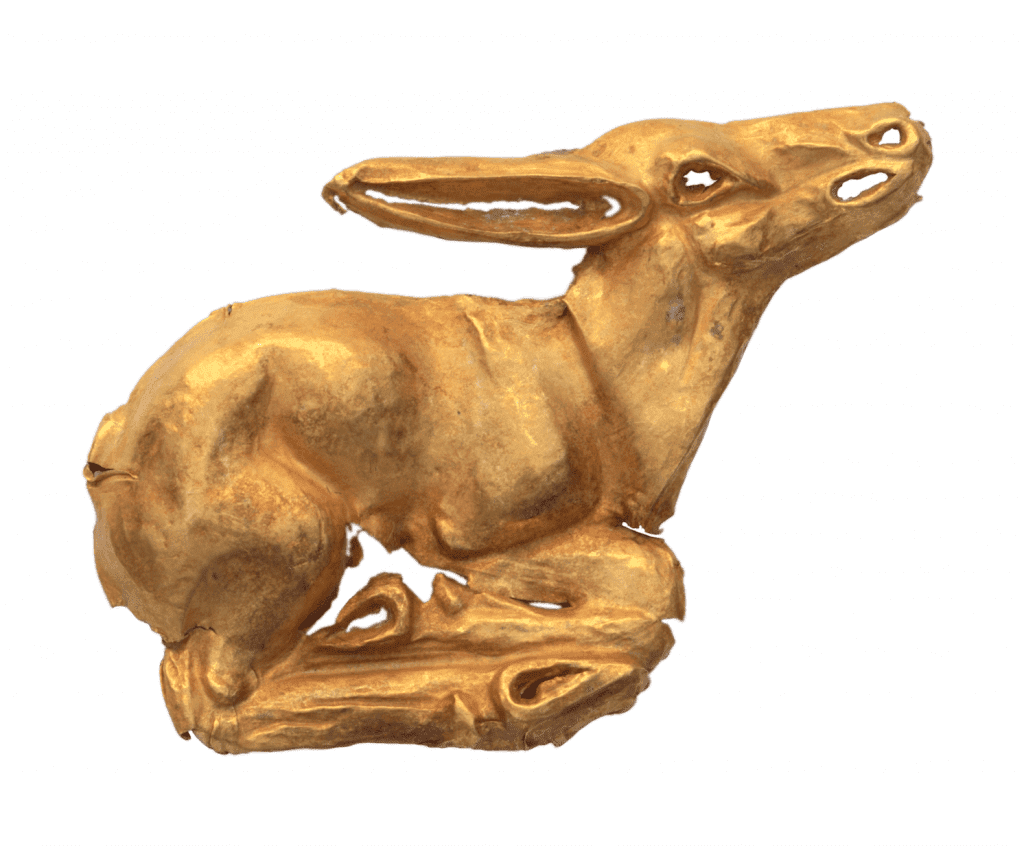 "The Government of Kazakhstan and the archaeologists are delighted to be presenting these items in a Western museum. All the objects on display have direct context with the archaeology and their locality. This is rare for this type of material as the kurgans have usually been looted. Everything on display is complete, and it has given us great research value," commented Dr. Rebecca Roberts, curator of the exhibition.
The excavations only began five years ago, as part of a large-scale research program in East Kazakhstan. Dozens of new sites have been discovered and studied providing a vast array of information about the Saka culture, in which family relationships were a dominant feature.
What comes across as you explore the exhibition is the sheer uniqueness of the Saka people at this time in history. These were not barbarian warriors on horseback. They were also potters, stonemasons, herbalists, and weavers capable of a very high standard of skill in all that they did. It was a very distinctive, complex society, involving people who possessed an advanced understanding of design, intricate engineering, and technology produce incredible artifacts such as thousands of decorative gold micro-beads, just one millimeter in diameter for use on clothing, as well as sophisticated weapon-belt attachments that were hinged to absorb the movement of weaponry when on horseback.
The Saka culture began to rise to prominence some four hundred years after Tutankhamun ruled in Egypt.

The burial of a young teenage archer is the undoubted highlight of the exhibition. Around his neck, he wore a gold torc, and intricately decorated gold plaques were sewn down the jacket and along the sleeve edges. The archer's ornate dagger had been ritually broken at the hilt, while the scabbard contains images of deer twisting their heads alert. Feline predator halts, turning its snarl towards them, and lines of stags with exaggerated antlers line the shaft. . His shoes and trousers had been ornamented with over 40,000 tiny golden beads, each individually sewn onto the clothing. Exactly how these beads were made is unknown, and a Cambridge Ph.D. research student is now preparing to spend over a year trying to find out!
Close by is a model wearing a replica of his costume, created by the Museum of Local History in East Kazakhstan using typical fabrics, colors, and materials.
Animals played an important role in Saka art, reflecting their respect and understanding of the natural world. As a result, there are stunning stylized motifs of both real and legendary creatures such as hippogriffs and griffins, rams, and elks. Intricate, detailed tiny Elks and Rams stand on clouds, while collections of antelope images were sewn on clothing to evoke the impression of a herd roaming across the vast Steppes. The intricate detail on each item even highlights muscles, showing animals running and leaping. Tiny bears stand teeth bared and ears alert on tiptoe, above strands of leaflet bells that would have been used on horse harnesses. A gold stag with inlays of turquoise and lapis lazuli can be seen galloping into eternity, with massive antlers that stretch back, touching his hindquarters.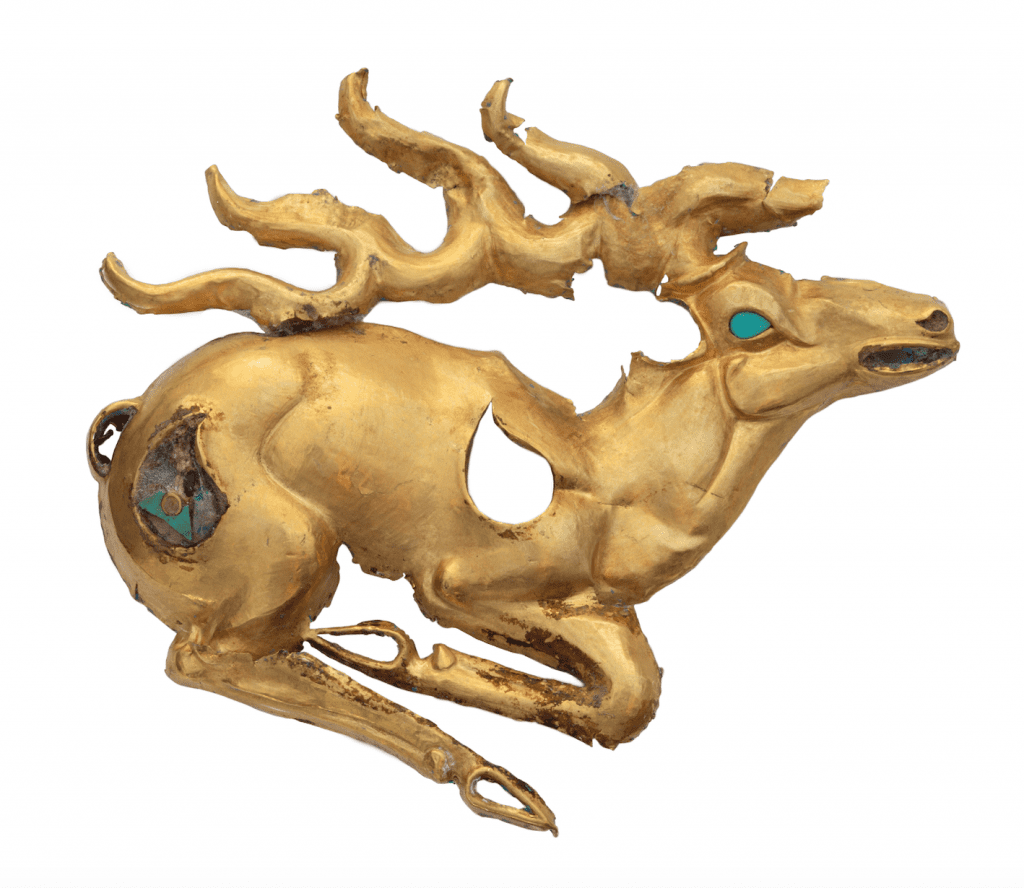 Women played a major role in Saka society and were held in high esteem. Reconstructions of the burial of an Urzhov priestess and a noblewoman who is shown wearing an impressive headdress depicting birds of prey, mountain goats and griffins, are surrounded by grave goods relating to their work and lifestyle. The noblewoman also wore a cloak decorated with gold and was accompanied by two horses in full harness. Interestingly the grave at Altai, Pazyrkhyh also contained finds of cannabis seeds complete with burner. Their use of cannabis had been previously been hinted at in ancient literature – the Persians called the Saka 'haomconsumers' referring to an unknown plant with an intoxicating effect.
It is not just gold that was the focus of the Saka craftspeople. They were equally good at carving antler, wood, and iron. A wooden deer carving complete with a gold overlay raises the question as to whether there were one or two craftspeople involved, likewise a gilded iron knife found at Berel.
Organising the exhibition was not easy, as Rebecca Roberts revealed. The Fitzwilliam Museum had been in contact with the archaeologists for some time, and Rebecca was actually in Kazakhstan discussing the potential for an exhibition in March 2020.

Needless to say, she had to leave Kazakhstan rather abruptly due to the onset of the global Covid-19 pandemic, and was actually on a plane that had just left the airport in Kazakhstan when borders were closed everywhere!
She comments," since then everything had to be done remotely via zoom. It was impossible to get conservation-grade packaging and packing materials in Kazakhstan so we had to build the packing cases in Cambridge, place the conservation-grade materials inside and send them to Kazakhstan. We painted the cases Cambridge blue – why not!

We then used zoom to work with the people on the ground in Kazakhstan to identify and package the items.

We would normally have gone out there for several weeks to supervise it ourselves but in circumstances that were not possible.

It is a testament to the openness and willingness of our colleagues that this collaboration has succeeded so well."
Gold of the Great Steppe is on display at the Fitzwilliam Museum, Cambridge until 30 January. Entry is free, but tickets do have to be rebooked. This exhibition has now been archived online.
By Angela Youngman