Morocco is where you can explore Islam's cultural and spiritual traditions while experiencing delicious food, medinas, riads, and souks to more adventurous activities like surfing, trekking and camping in the Sahara.
There are lots of famous destinations where travellers visit to experience Islamic culture, art, design and architecture: Istanbul in Turkey, Samarkand in Uzbekistan, and Grenada in Spain, to name a few.
Morocco may not always spring to mind when it comes to exploring centuries of Islamic heritage, but Islam is one of several influences that have shaped many of the country's traditions. Morocco's location made it a crossroads of culture between northern Africa, the Arab Islamic world and western Mediterranean countries like Spain and Portugal.
Intrepid Travel's range of over 30 small group tours to Morocco makes it easy to seamlessly explore this country by immersing you in authentic experiences alongside a local trip leader. Plus, you can connect with people from around the world while enjoying the spiritual, emotional, and mental benefits of responsible travel.
Local Intrepid leader Hamid Abassir explains, 'Morocco is one of the African countries that embrace Islam, but our Amazigh roots give us a distinct culture that's different from other Arab Muslim countries.'
You don't have to go looking far for Morocco's distinguished Islamic heritage. Turn a corner and you'll see it in the domes and minarets of yet another grand mosque. Look down and you'll find it in the geometric patterns of a palace floor. Then, there are rare places like the sacred city of Moulay Idriss and the spiritual city of Fes, where you can dig a little deeper into Morocco's personal Islamic history.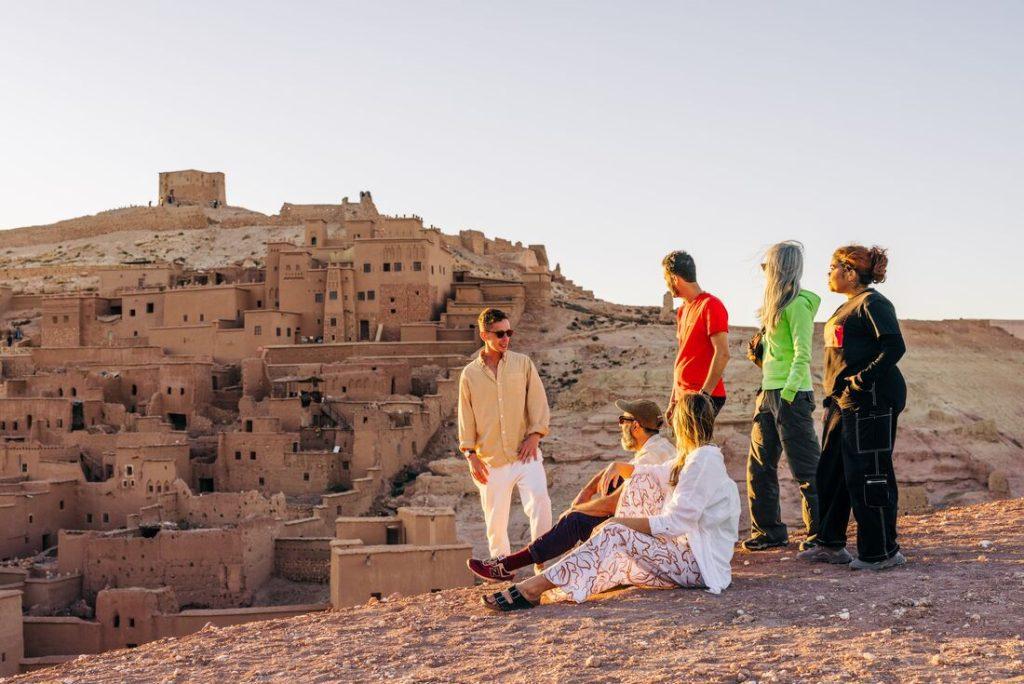 "I've done many trips with Muslims from other countries," says Hamid. "They like Morocco because of our landmarks and monuments, but also because our people are friendly, and we are happy to share our knowledge, accept differences and learn from others – all over a cup of tea."
Here are five places you can explore Morocco's Islamic heritage on an Intrepid trip.
Casablanca
Most Intrepid small-group adventures begin in Casablanca, and this seaside city is the place to get your feet wet. After getting your bearings, you often have the day to do as you please. Casablanca is home to Hasan II Mosque, one of the largest mosques in Africa, and it's quite a sight.
Located on a piece of coast that sticks out into the sea, the mosque features a standout 210-metre-tall minaret that towers triumphantly over the waves below. It took 6000 Moroccan artisans to craft the mosque's stunning mosaics, stone floors, columns, plaster mouldings, and wood ceilings. The mosque's exterior is finished with titanium, bronze, and granite.
Hasan II Mosque is well worth a visit, if only to hear the call to prayer with the sound of the Atlantic Ocean crashing in the background.
Moulay Idriss
"Morocco is distinguished by many Islamic landmarks, but Moulay Idriss is my favourite place to take travellers," says Hamid. "When you visit, you don't feel like you live in this time anymore because of how everything in the town is preserved."
Found in the foothills of the Zerhoun Mountains of Middle Atlas, Moulay Idriss is one of Morocco's sacred cities, and thanks to its surroundings and white-washed walls, among the most scenic too. It's also the final resting place of Moulay Idriss, Morocco's first Islamic ruler and a great-grandson of Prophet Muhammad. For these reasons, the city is a revered site of pilgrimage.
Surprisingly, Moulay Idriss is still considered somewhat off the beaten path despite all this. You won't find droves of tourists cramming the narrow, winding streets. Instead, you'll find peaceful respite as you get a taste of daily rituals, food, and hospitality.
With Intrepid, you won't just wander around taking pictures of all of it. The curated experiences here – staying with a local family and participating in a traditional mint tea-making ceremony – will give you a chance to engage with the local traditions.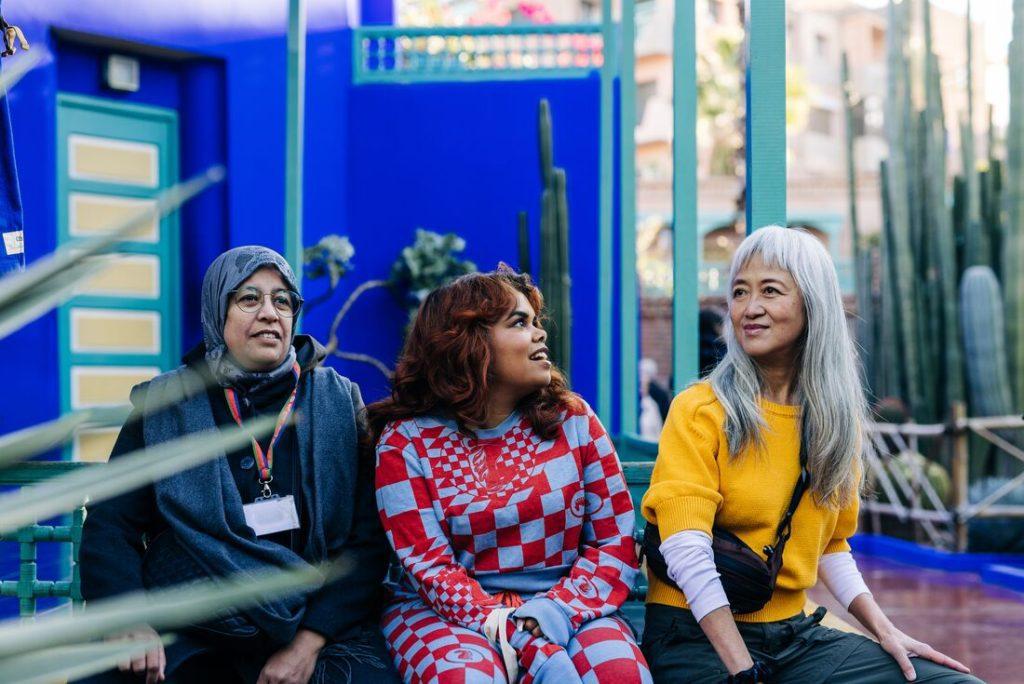 Fes
Welcome to Morocco's spiritual capital. Fes earned this title because of its influential political and religious history. 'As a trip leader and ambassador for Morocco, I have the honour of explaining our Islamic heritage to travellers and sharing it with them,' explains Abbassir.
The city was once a thriving hub for some of the greatest minds of the time and garnered much significance for scholarship, culture and heritage. And it's here that many Sufism movements – the mystical branch of Islam – have their origins.
As a result, Fes is a captivating place to connect with spiritual roots and explore centuries of Islamic history alongside local Moroccan customs. The city is a maze of mosques, tombs, tanneries, palaces, riads and the most elaborately-designed medersas. Medersa Bou Inania and Medersa el Attarine boast some of the finest craftsmanship of the era. Both are a highlight on many Intrepid trips and a must-see for anyone seeking to deepen their understanding of the Islamic world.
Tamegroute
With its historic buildings, colourful ceramics and thousands-of-years-old books, Tamagroute is an unexpected destination to learn more about Morocco's Islamic heritage. This small village on the edge of the Sahara is home to the famous 17th-century Zaouia Naciria Library. This treasure trove houses ancient manuscripts of science, literature and a 300-hundred-year-old Qur'an.
For centuries, the library was a renowned venue for Islamic scholarship. On Intrepid trips going through the village, there's a chance to come and see Zaouia Naciria's old-world texts for yourself. You'll also visit an underground kasbah and sit down to a lunch of medfouna: Amazigh pizza.
Tamegroute is also known for its emerald green pottery – so keep an eye out for it on your visit. This traditional craft has been produced in the village for centuries and the vibrant colour is achieved through a glazing process known only to a few families.
Marrakech
Morocco's capital, Marrakech, is the final stop on many Intrepid trips. For centuries, this city played a role in global politics, commerce, and culture, leaving its mark on the Muslim world spanning from North Africa to Andalusia.
A UNESCO World Heritage Site, Marrakech is steeped in Islamic heritage and spiritual landmarks. Ben Youssef Madrasa, built in the 14th century, is a testament to Islamic architecture and design. The Bahia Palace, with its inscriptions, geometric patterns and arabesques, gives visitors a chance to walk through Islamic art. Although the 12th-century Koutoubia Mosque was affected by the recent earthquake in Morocco, it remains a symbol of reflection for the city.
There is something even enchanting about being in the city's medina – a labyrinth of tiled madrasahs, souks, tea houses, riads, and hammams that you could explore for days – as the call to prayer rings out.
Trips: North Morocco Adventure, Essential Morocco, Morocco Encompassed, Morocco Real Food Adventure, Epic Morocco
Explore Intrepid's 30+ small group adventures in Morocco at intrepidtravel.com/morocco