On Saturday 28th October, over half a million people united to march through the streets of London in solidarity with the victims of Gaza.
This is the first time London has seen such a turnout and it only portrayed the extremely strong support many are showing for the occupied Palestinian people.
From Algeria to Lebanon and the Dagestan to Columbia, people from around the world came together to call for a ceasefire.
The highlight of the event was a speech delivered by Jeremy Corbyn where he addressed protesters in Parliament Square, saying: "It's not much to ask, a ceasefire, when children are being killed by weapons coming through the rooms of their homes. It is an eternal stain that the British government abstained on that vote."
On the night of the 27th of October, the world received news that there was a communication blackout in Gaza, making it impossible for those within to make contact with the outside world. Whilst the protest displayed to the world the urgent need for a ceasefire, it now has become a concerning matter as many of us are left in the dark about what is actually going on within the Gaza strip.
Protestors made their way from Embankment to Parliament Square whilst chanting "Free Free Palestine" and "From the river to the sea, Palestine will be free". With an eccentric atmosphere and a diverse crowd, the demonstration was one of the most remarkable protests in British history.
"The superpowers at play are not doing enough at the moment. This is why we're here: we're calling for a ceasefire, calling for Palestinian rights, the right to exist, to live, human rights, all our rights," protester Camille Revuelta told Reuters.
"This is not about Hamas. This is about protecting Palestinian lives," she added.
London was not the only place where we witnessed hundreds of thousands of people marching. In Malaysia, a very large group of demonstrators spoke up outside the U.S. embassy in Kuala Lumpur. We also witnessed over one million protestors on the streets of Istanbul, Turkey. Iraqis also marched through Baghdad and many took to the streets of Copenhagen, Rome and Stockholm. In New Zealand's capital, Wellington, thousands of protestors were seen marching to Parliament House holding Palestinian flags and placards reading "Free Palestine".
Alongside all of this, the world has witnessed a huge shift in the narrative, as many content creators are now utilising their platforms to show another side.
Main Image Credit: REUTERS/Susannah Ireland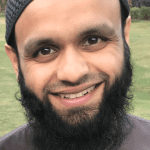 Juber Ahmed is our Digital Editor and travel enthusiast with a keen interest in Islamic history and heritage. He travels with his wife to various places around the world and writes about his experiences.
 
Juber's favourite Quote...
"The World Is a Book and Those Who Do Not Travel Read Only One Page" [Saint Augustine]