Escaping the war in Somalia, Jawahir Roble – also known as JJ – arrived into the UK when she was only 10 years old. After many challenging years, JJ became renowned as a trailblazer in football as she became the UK's first ever female Muslim hijabi referee.
At the age of 10, JJ was unable to speak English at all. But since then, she has worked hard to become a part of British culture and hopes to one day officiate games in the Premier League.
JJ's interest in football is rooted in her childhood. She could be seen playing since she was four years of age, and it was her mission to challenge the status quo by helping to shift paradigms of Somalian society.
"I began playing football in Somalia when I was young and loved it," she mentioned in an interview with iNews. "I knew deep in my heart I wanted to be involved in sports, especially football. Then when I came to this country, I thought: 'Girls actually play sports here. People are free and no one cares or is judging them.' "If I had stayed in Somalia, I think it would have been difficult for me to pursue my passion."
This year, JJ was awarded an MBE for her ongoing contribution and services to football. Not only was she the first hijabi to become a referee in the UK, but she was also the first British Black Muslim to become one. 
She mentions on Twitter, "I'm feeling very humbled & honoured in receiving my MBE in the Kings first New Year Honours list for my services to football and charity work." She also added,  "I want to thank everyone who has helped and supported me along the way."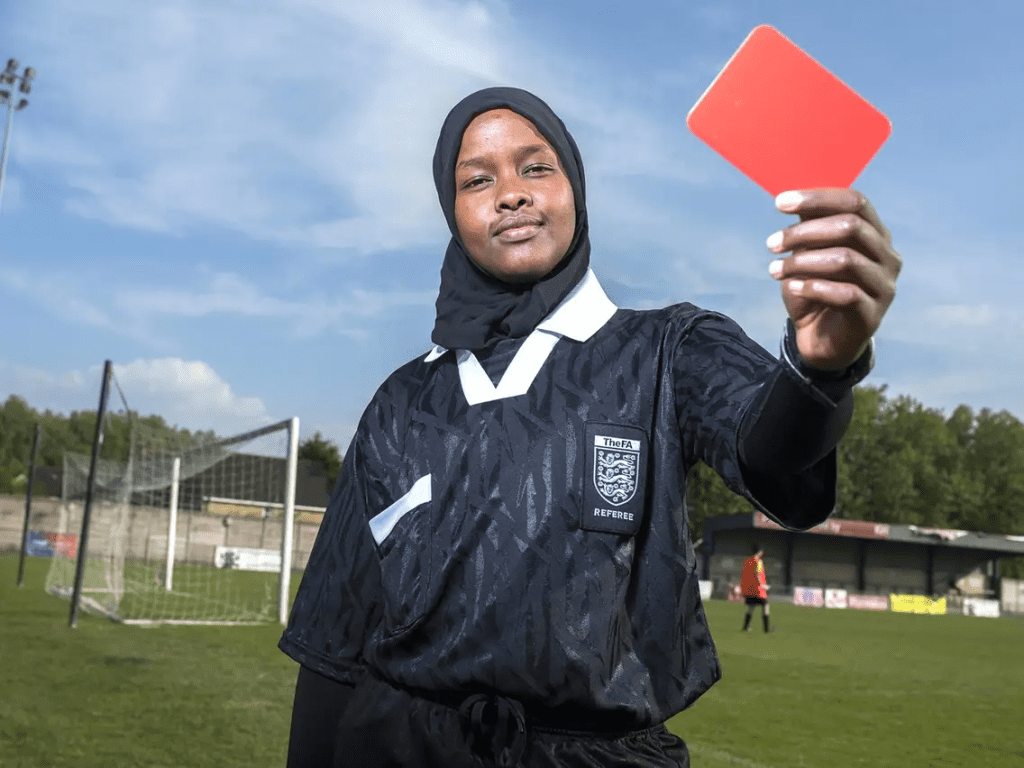 Proud Parents
Whilst her parents were initially embarrassed with the choices she made, they fast realised the impact she was having on other young women.
In her interview with iNews, she told them the following regarding her parents.
"My parents would ask: 'Do you see a single girl wearing a hijab playing football or representing England?' They said I couldn't be part of it because of the amount of abuse I would get. "At the end of the day, they were just looking out for me. But I had to educate them and tell them how sports helps with your fitness, your mental health and has so many benefits and that you meet so many people through it."
Vivid Memories of The War
Despite her many accomplishments, JJ will always remember the war. Her memories have not faded and they remind her to be grateful for all that she has achieved. Arriving to the UK from war-torn Somalia was both a delight and a tragedy, as the family had escaped to a better place yet had to start from scratch. It is perhaps this tragic memory from childhood that keeps JJ grounded and humble despite reaching new heights in football. 
Main Image Credit: BAME Referees Support (Twitter)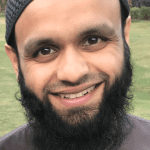 Juber Ahmed is our Digital Editor and travel enthusiast with a keen interest in Islamic history and heritage. He travels with his wife to various places around the world and writes about his experiences.
 
Juber's favourite Quote...
"The World Is a Book and Those Who Do Not Travel Read Only One Page" [Saint Augustine]