The Blue Mosque (Called Sultanahmet Camii in Turkish) is an historical mosque in Istanbul. The mosque is known as the Blue Mosque because of blue tiles surrounding the walls of interior design.Mosque was built between 1609 and 1616 years, during the rule of Ahmed I. just like many other mosques, it also comprises a tomb of the founder, a madrasa and a hospice.Besides still used as a mosque, the Sultan Ahmed Mosque has also become a popular tourist attraction in Istanbul.
The design of the Sultan Ahmed Mosque is the culmination of two centuries of both Ottoman mosque and Byzantine church developments. It incorporates some Byzantine elements of the neighbouring Hagia Sophia with traditional Islamic architecture and is considered to be the last great mosque of the classical period of Ottoman Empire. The architect has applied the ideas of his master Sinan, aiming for overwhelming size, majesty and splendour.
At Blue Mosque lower levels and at every pier, the interior of the mosque is lined with more than 20,000 handmade ceramic tiles, made at Iznik city (Nicaea) in more than fifty different tulip designs. The tiles at lower levels are traditional in design, while at gallery level their design becomes flamboyant with representing flowers, fruit and cypresses.
More than 20,000 tiles were made under the supervision of the Iznik master potter Kasap Haci,and Baris Efendi from Avanos, Cappadocia. The price to be paid for each tile was fixed by the sultan's decree,due tile prices in general increased over time. Result is, the quality of the tiles used in the building decreased gradually. Their colours have faded and changed and the glazes have dulled. The tiles on the back balcony wall are restorated tiles from the harem in the Topkapı Palace, when it was damaged by fire in 1574.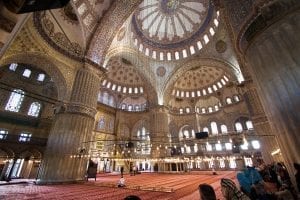 The Sultan Ahmed Mosque is first one of the two mosques in Turkey that has six minarets.Second one is the Sabancı Mosque in Adana. When the number of minarets was revealed, the Sultan was criticized for being presumptuous, since this was the same minarets number as at the mosque of the Ka'aba in Mecca.He overcame this problem by ordering  a seventh minaret to be built at the Mecca mosque.