Vast open spaces and beautiful countryside make North Yorkshire one of the prettiest of all English counties.  Less well known is the fact that it is a fantastic cycling destination, perfect for both novices and experienced cyclists.  It has been described as one of the best-kept secrets in UK cycling. There are even countless cycle friendly cafes, B&B's and even a hotel devoted to the needs of cyclists whether seeking a leisurely touring holiday or a long distance endurance run.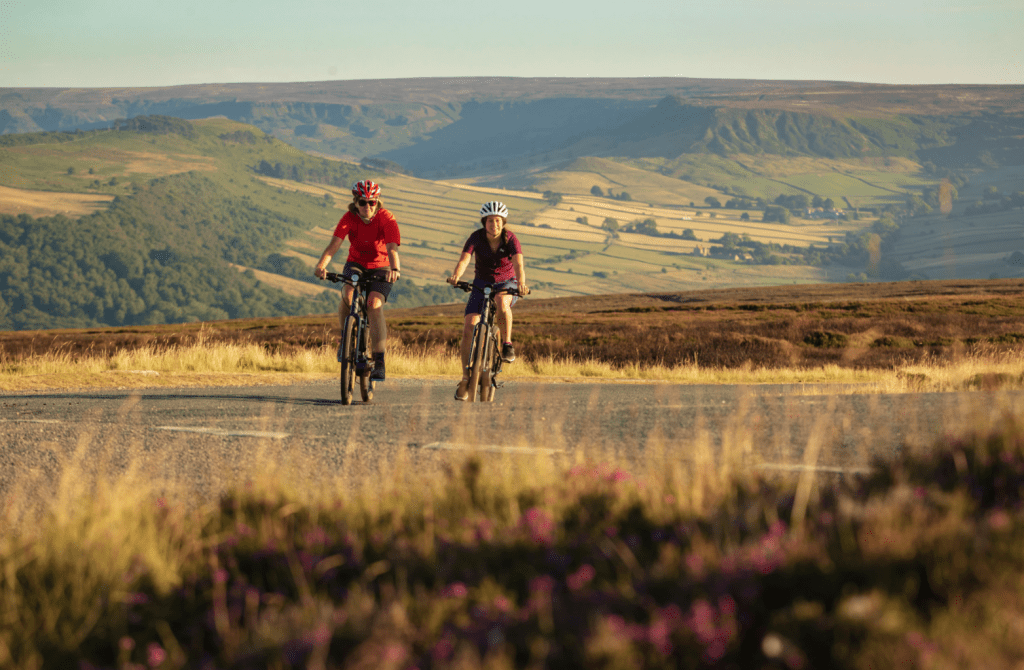 New this year is the spectacular 200-mile North York Moors cycling route covering the length and breadth of the national park from mountains to moorlands, beaches and coastal paths to forests and pretty market towns.
As part of the Cycle England project created by Welcome to Yorkshire, the route developed in conjunction with the North York Moors National Park and local cycling guide Mike Hawtin is already attracting a lot of attention. Gone Mountain Biking's Mike Hawtin says,  "It has been designed as a figure of eight combining an east and west loop. Much of the route is on rural paths and quiet roads through the countryside. The aim is to provide flexibility so that people can choose their route length, stay longer in some places or take longer cycling periods. This is an undulating route – there are hills, but it is worth it when you reach the top and see the view in front of you."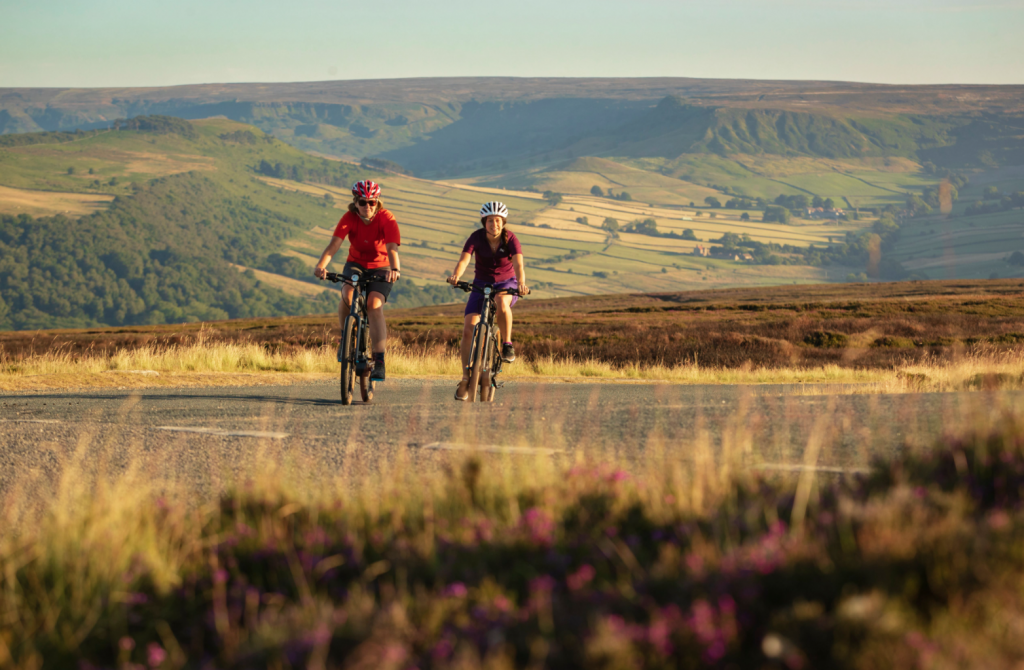 A typical route might start in Pickering, an ancient market town complete with medieval castle and a heritage steam railway (best known for its Harry Potter links as its Goathland station was where the Hogwarts Express delivered students en route to Hogwarts).  Cycling eastwards leads through beautiful tree lined tracks within Dalby Forest, down deep valleys and through country estates en route to the magnificent coastline.  A short detour into Scarborough brings you into a traditional coastal resort with a unique hotel dedicated to walkers and cyclists! 
The Bike and Boot Hotel, Scarborough is definitely different to any other type of hotel. Extremely relaxing, the accommodation ranges from standard rooms to suites.  There are facilities for bike maintenance, safe storage as well as a surf and body board store for those who want to combine cycling with water sports. Electric bikes can be hired to explore the adjoining areas, and with one charge covering return journeys of around 100 miles it gives plenty of scope for travel.  Come tea time, there are free hot drinks and cake on offer. 
While in Scarborough, take a stroll along the lovely sandy beaches, and watch the fishing fleet in the working harbour while in the pretty Northstead Manor gardens, you can relax on one of the oldest seaside miniature railways en route to the Sea Life Centre.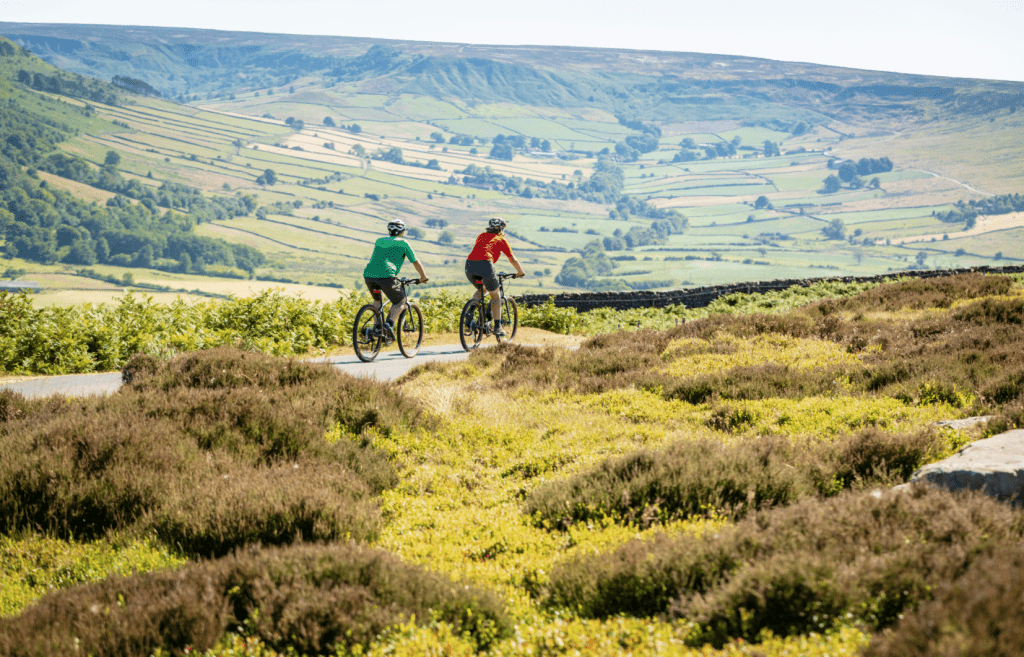 Take the coastal Cinder Track trail past Robin Hood's Bay and Whitby, before heading inland using quiet country lanes to reach the stunning heather bedecked moorland. In the autumn, it turns golden in colour but in summer is a brilliant carpet of purple. The route takes you through Glaisdale and the idyllic villages of Egton, Lealholm and Danby before passing through the amazingly named Fryup Dale. Enjoy the challenge of more open moorland scenery in Gillamoor with undulating twisting routes around the valley leading into the market town of Helmsley with its medieval castle.
The next section of the route involves passing through farmland, pretty villages complete with thatched cottages and historic houses before climbing high up Sutton Bank to reach open moorland again. Explore the birthplace of Captain Cook, responsible for the discovery of Australia and the iconic mountain known as Roseberry Topping rearing out of a landscape full of myths and legends. Heading downhill there are reminders of a past era when mining and furnaces served the ironstone industry appear in Rosedale, before the serene tree-lined route heads back to Pickering.
There are other cycle routes too within the area such as a Coast & Forest circular (32 miles), the Dalby Forest Loop (14.5 miles) and road routes combining the beauties of the historic Castle Howard (of Brideshead Revisited fame) and Nunnington Hall (23 miles) or Leavening Brown & Kirkham Gorge (19 miles).  Such routes can easily be linked to the North York Moors Cycle Trail and provide a pleasant offshoot giving different views on the area. 
Read the full article in our Spring 2021 issue today!
By Angela Youngman