Khazana, Saliha Mahmood Ahmed
Tikki, bite-sized potato croquettes, are eaten throughout north India and Pakistan. They really are incredibly moreish. The addition of kidney beans gives these little morsels of delight an added textural dimension as well as giving an amazing pale pink hue to the croquette mix. They are totally wonderful served as a canapé or light starter.
SERVES 4
FOR THE TIKKI BITES
450g mashed Maris Piper potatoes 1 x 400g tin red kidney beans, rinsed and drained
2 teaspoons anardana (pomegranate powder)
1 teaspoon cumin seeds, dry-roasted and coarsely ground
4 tablespoons finely chopped fresh coriander
1 red chilli, finely diced
1 tablespoon melted butter
1 egg yolk
75g plain flour
1 beaten egg
100g breadcrumbs
Vegetable oil, for deep-frying
Salt, to taste
FOR THE RELISH
2 ripe tomatoes
1⁄2 green chilli
1⁄2 bunch of fresh coriander Juice 1⁄2 lemon
1 teaspoon caster sugar Salt, to taste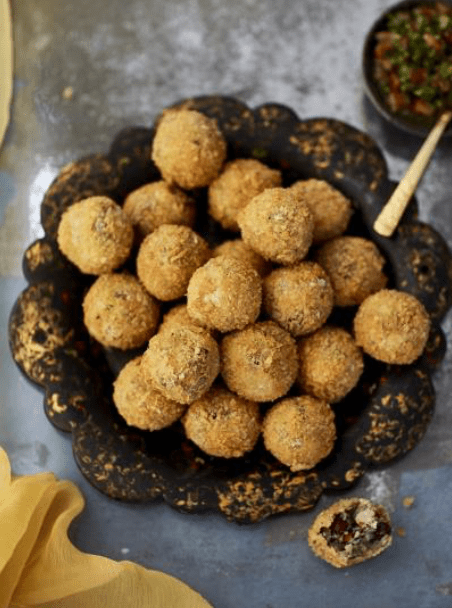 Put the mashed potato, drained kidney beans, anardana, cumin seeds, chopped coriander, chilli, melted butter and egg yolk into a large bowl. Add salt to taste and then mash the mixture with a fork until the spices are well combined and some of the kidney beans have broken up. Transfer the mixture to the fridge and allow to rest for 1 hour.
Rub a little oil onto your hands. Take walnut-sized portions of the mixture and then roll them into small rounds. Place on a greased plate or tray and chill for a further 15–20 minutes (this will make them much easier to crumb). Meanwhile, make the relish. Put all the ingredients into a food processor or blender and blitz to a coarse purée.
Put the flour, beaten egg and breadcrumbs into separate bowls.
Roll the tikki bites in the flour, followed by the egg and then the breadcrumbs until all the bites are coated.
Heat the vegetable oil in a large pan or deep fryer until a pinch of breadcrumbs sizzles in the hot oil. Deep-fry the tikki bites in batches until they are golden brown, about 3 minutes. Remove from the pan with a slotted spoon and drain on kitchen paper while you cook the next batch.
Serve the tikkis while they are still warm with the green relish on the side.