Words: Angela Youngman
Jumping off a cliff into the ocean for the sheer fun of it, or surfing through some of the biggest waves you can imagine creates some really exhilarating and memorable sports experiences. Surprisingly, you do not have to travel far to do so.
All you need to do is head for the coast–or certain inland destinations–to enjoy some of the best water sports activities to be found anywhere in the world. For anyone wanting a challenge, to push themselves to the utmost and enjoy a water sports holiday, the UKis the perfect choice. Canoeing, kayaking,swimming andsailing have long been popular activities,but now an even wider range of activities, such as Coasteering and surfing,are becoming common. Coasteering has to be one of the most exhilarating–and nerve wrecking–sports you can undertake. Basically you jump off a cliff into the sea, then navigate your way around the coastline swimming and clambering over rocks until you reach a beach.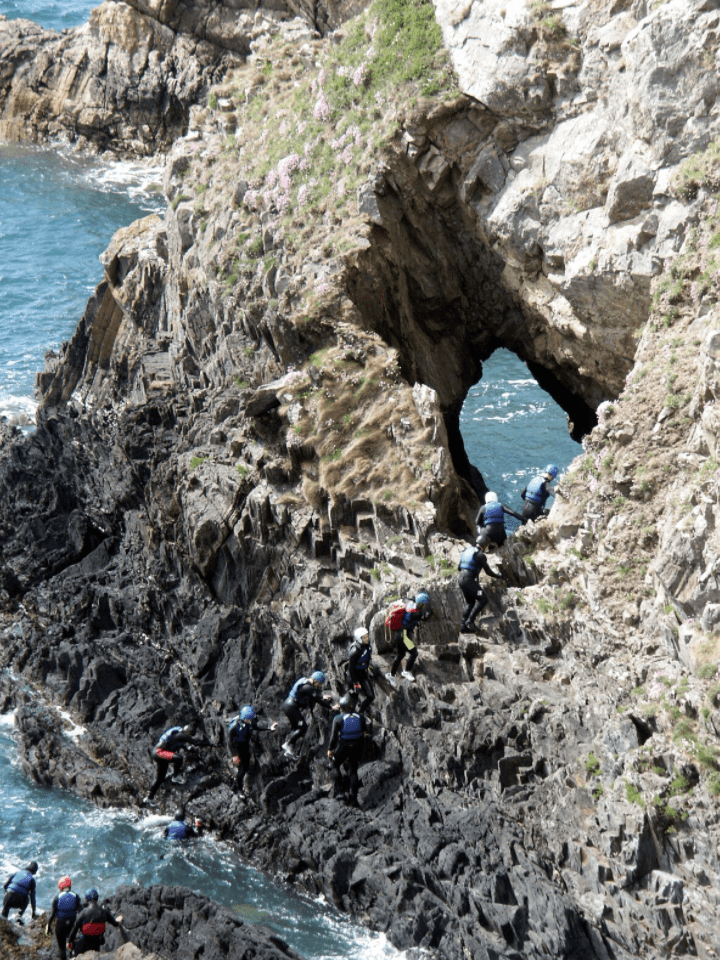 It is a sport which originated in the UK back in the1990's as part of team building adventure activities. Coasteering quickly proved popular and more and more centres started offering courses, from Cornwall all the way up to Scotland. Coasteering is mostly found on the west coast simply because that is where the cliffs and rocks are most suitable. Popular locations for Coasteering experiences include Abereiddy Bay, Pembrokeshire,Hoy Island in Anglesey, Three Cliffs Bay on the Gower Peninsula near Swansea, Greve De Lecq in Jersey, Horwick in Northumberland, Dancing ledges in Dorset, Mullion Cove, Cornwall and the Isle of Seil on the West Coast of Scotland.
It is best undertaken as a group activity. You can book on to sessions,or if you have a large group, you may be able to arrange a private guided coasteering journey. Having a professional guide is essential. Participants need to wear wetsuits, buoyancy aids and a helmet–all equipment that is provided by the various coasteering centres.
Over at Haverfordwest in Pembrokeshire, Preseli Ventures is one of the leading coasteering operators."There are no seasonal constraints on coasteering. All specialist kit is provided,including winter wetsuits, wet-suit socks and even gloves in the chillier months so you are toasty warm. Coasteering takes place in a variety of locations on the Pembrokeshire coastline to take account of swell winds and tides throughout the year," says Ruth Jenkins of Preseli Venture.
There can be little doubt that coasteering has to be one of the most dramatic watersports possible. It certainly takes you out of your comfort zone. Just jumping off a cliff into the sea below takes a lot of courage. Following the jump, you can find yourself exploring sea caves, clambering over rocks,climbing through natural rock arches,or swimming alongside passing Atlantic Grey seals. You might even find yourself passing through rocky areas where the waves constantly swirl upwards, creating an experience described as'almost like being in a washing machine!' according to Celtic Quest Coasteering.
Surfing can be equally challenging, especially for the experienced surfer.Head for Newquay, Cornwall for some of the best surf spots in the country.Described as the capital of British Surfing, it has great surfing beaches–and lots of centres where you can take lessons to gain or improve skills. You can often watch some of the best surfers in the world in action on beaches like Sennen Cove, Praa Sands, Porthleven, Fistral, St Agnes or Watergate Bay. There is no shortage of potential locations to try surfing, especially on coastlines facing towards the Atlantic or the North Sea. The Isles of Lewis and Harris enjoy some of the most consistent surfing waves throughout Northern Europe. It is also an area where the sea temperatures are reasonable, even in the autumn, due to the proximity of the Gulf Stream. Over on the East Coast, Saltburn in Yorkshire is one of the favoured surfing locations. The area on either side of the town's 600 foot Victorian Pier offers some of the most challenging reef breaks on the UK coastline, making it popular with experienced surfers.Wales is another popular surfing location. Beaches such as Rhossili on the Gower Peninsula near Swansea,or Porthcawl Beach in South Wales offer surfing conditions suitable for all abilities. Experienced surfers often headover to North Wales to try out their skills against the waves crashing onto the shores of the shingle beaches on the Llyn Peninsula;such as Hell's Mouth at Porth Neigwl.
Consistent surfing all year round can be enjoyed at SurfSnowdonia, an inland centre based at the Adventure Parc Snowdonia in Dolgarrog. This is where the world's first inland surfing lake was created back in 2015. Depending on where you choose to surf across the lake, you can encounter varying wave heights. Some are suitable for total beginners, while others are much more extreme. By far the most challenging of all surfing locations is on the Severn Bore.
Surfing the Bore is something that is only recommended for highly skilled,experienced surfers as the waves can be enormous. The Severn Bore is a spectacular natural phenomenon, which periodically whizzes up the River Severn estuary. Some years there can be up to 60 bores on this stretch of the river. It is basically a huge tidal wave that surges up the river, an area which has the second highest tidal range in the world. Sometimes the Borecan reach heights of up to 50 feet,depending on tidal conditions. As the estuary narrows the wave is funneled into an increasingly narrow channel,which creates theBore itself. At Avonmouth, the estuary measures 5 miles across,narrowing to just one mile and by the time it reaches Lydney & Sharpness.
From Minsterworth to Gloucester, the river is just a hundred yards across.As a result, surfing the Bore offers avery challenging experience. It has been known to move at a speed of up to 16,or more,miles per hour, with the most common heights being around 25 feet. Definitely not for the faint hearted!