Malta packs a big historical punch. There are many very good reasons to visit Malta – it has a great climate, beautiful architecture, good value accommodation, a low crime rate, accessible countryside, widely spoken English, many restaurants, friendly people, an ancient heritage, a lively nightclub scene and driving on the left.
This rocky Mediterranean island has been inhabited for at least 7000 years – during the period from 3500 BC to 2500 BC, Malta was home to one of the most sophisticated civilisations on the planet.
Valletta
Malta's capital city Valletta is where you can see the Maltese government housed at the historic Grandmaster's Palace. Here you can admire exquisite Baroque architecture and Italian artwork inside St John's Co-Cathedral and take in views of Grand Harbour from the terraced Upper Barrakka Gardens which is a beautiful public park whose terrace offers panoramic views of Grand Harbour and the old towns of Sendlea and Vittoriosa.
Valletta is steeped with interesting history and heritage, from the 1500s until the present day. Malta's capital city containing some of the country's richest heritage. Here you can see all of the main attractions, landmarks and monuments of this fantastic.
After soaking up the scenery, walk to St John's Co-Cathedral where you can see famed Italian artist Michelangelo Caravaggio work.
The Maltese history, architecture, art and culture — not to mention the beautiful island scenery is not to be missed.
Gozo
Gozo is known to provide a tranquil haven for a tempo and scene change. The charm of Malta's sister Island is immediately apparent; it's greener, more rural and smaller, with life's rhythms dictated by the seasons, fishing and agriculture.
St Julians
Malta ranks as one of the smallest countries in the world. St Julian's is a bustling town on Malta's eastern coast. It's a small place that comes with 4 different areas – all within a few minutes' walk of each other. That means you can enjoy authentic Maltese cooking at a waterfront restaurant in Spinola Bay, then move across to Paceville for the buzziest nightlife on the island. There are shops across the board, plus a little beach with a rare patch of sand.
Comino
Comino's biggest attraction is the Blue Lagoon, a sheltered cove between the western end of the island and the uninhabited islet of Cominotto (Kemmunett in Malti).
It's incredibly beautiful with a white-sand seabed and gorgeous clear waters.
The blue is so intense it's as if you've stepped into an over-saturated postcard. The southern end of the lagoon is roped off to keep boats out; there is top-notch swimming and snorkelling here, plus you can swim over to Cominotto.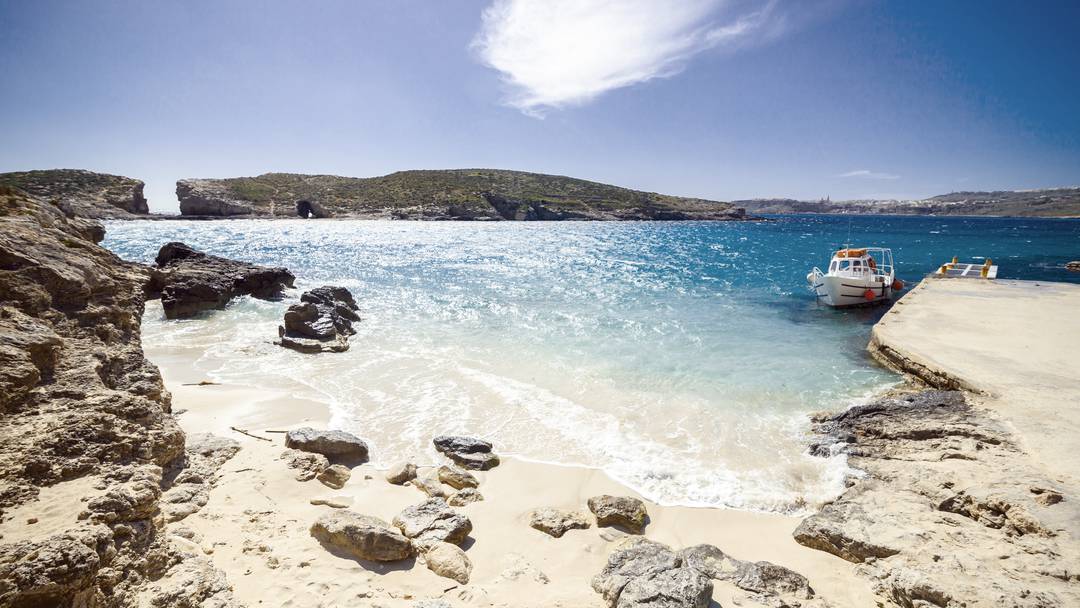 It's busiest daily between around 10am and 4pm; if you're staying at a hotel, of course, you can enjoy the lagoon in relative peace in the early morning and late afternoons with friends and family.
The exposed rocky ledges surrounding the cove make the are look secure and safe. There are public toilets and a few kiosks selling cool drinks, ice creams and snacks (e.g sandwiches).
If you want to visit a beautiful Mosque on Malta, visit Paola in Malta.