Launched for the first time in 2020, South Asian Heritage Month (SAHM) is all about celebrating, commemorating and educating others about how South Asians contributed to the growth of the UK. Running from July 18 to August 17, the month focuses on the pioneering efforts and successes of people from Afghanistan, Bangladesh, Nepal, Bhutan, India, Sri Lanka and Pakistan.
This year, SAHM's theme is journeys of empire. With this in mind, there will also be a focus on the 75th anniversary of the independence of India as well as the 50th anniversary of the expulsion of Ugandan Asians by Idi Amin. With the events of the previous two years taking place online, this year will be different from the previous two with events taking place in person.
Why Is This Month So Important?
With over 4 million South Asians in the UK, SAHM contributes to the British South Asian narrative by raising awareness about the history, heritage, culture and accomplishments of South Asians in the UK. With microaggression and racism still rife in today's society, the month of events intends to unite people in the UK by shedding light on diversity, multiculturalism and integration.
Journeys of Empire – Theme of 2022
The theme for this year is all about the journeys of previous empires. Whether it's the Mughal, British, Duranni or Vijayanagar, the history of each empire packs within it stories of everyday people who fled to East Asia, Africa and of course, the UK. Whilst that is the main overarching theme of this year's heritage month, there will also be a reminder about the partition in India and the expulsion of Ugandan Asians by Idi Amin.
What Kinds of Events Will be Taking Place?
This year will see 31 events taking place over the course of 31 days focusing on history, family, health, and most importantly, the journeys of empires. With films, comedy clubs and quiz nights planned throughout the month, it will reach a broader audience with its fun and interactive events. For a full list of events – click here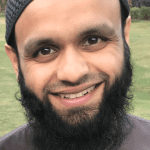 Juber Ahmed is our Digital Editor and travel enthusiast with a keen interest in Islamic history and heritage. He travels with his wife to various places around the world and writes about his experiences.
Juber's favourite Quote...
"The World Is a Book and Those Who Do Not Travel Read Only One Page" [Saint Augustine]