Who'd have thought that one day, some of the greatest leaders of the UK were going to be Muslims?
Today, figures such as Humza Yousaf, Sadiq Khan and Anas Sarwar occupy some of the highest offices in the UK.
Humza Yousaf
Just recently, Humza Yousaf has become the first person from a South Asian background to lead Scotland's highest office. Referring to this as a "source of pride", London Mayor Sadiq Khan is just another remarkable figure who has gone above and beyond to represent Muslims in the capital.
Humza Yousaf's election was astonishing as he saw himself beat the likes of Kate Forbes and Ash Regan, whilst also replacing Nicola Sturgeon.
Elected as Scotland's new First Minister, Yousaf has officially become the first person from an ethnic minority background to lead Scotland's highest office.
In a report by London World, London Mayor Sadiq Khan mentioned, "The fact that you can have the First Minister of Scotland, somebody who's an ethnic minority, somebody who is an Asian minority, somebody who is a Muslim from Pakistani heritage is a source of pride to me."
Anas Sarwar
Prior to being the leader of the Scottish Labour Party and MSP for Glasgow, Anas Sarwar worked as a dentist in the NHS for five years. Elected as an MP in 2010, he fast rose to prominence when he was elected to the Scottish Parliament as MSP for Glasgow in 2016 and 2021.
Sarwar has come a long way since then by challenging the narrative in the UK. Not only did he tackle the staffing crisis in the health service, Sarwar also established the Scottish Parliament's Cross-Party Group on Tackling Islamophobia and led a campaign against hatred and intolerance.
Migrant Parents
Despite being children of migrants, these British Muslims have come a long way in proving that anyone can make it! With Humza Yousaf leading Scotland, Sadiq Khan as the Mayor of London and Anas Sarwar serving as the leader of the Scottish Labour Party, the three have successfully accomplished something their migrant parents would have never imagined possible. After all, when their migrant parents arrived in the UK, they had no idea that such an accomplishment was even possible. Despite this, all their parents supported them, with Sarwar and Yousaf even making it to the same private school in Glasgow.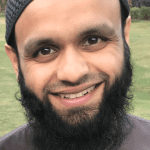 Juber Ahmed is our Digital Editor and travel enthusiast with a keen interest in Islamic history and heritage. He travels with his wife to various places around the world and writes about his experiences.
 
Juber's favourite Quote...
"The World Is a Book and Those Who Do Not Travel Read Only One Page" [Saint Augustine]