In an age of discrimination, lack of awareness and stigma attached to the concept of mental health, it is always refreshing to have weeks and months dedicated to such concerns. 
Mental Health Awareness Week 2023 will be running from 15th May to 21st May; this time, the official theme is anxiety.
There are many reasons why people end up with anxiety, with one of the most devastating in this day and age being the cost of living crisis. From relying on food banks to choosing between food and warmth, many people in the UK are struggling in a way they have never done before.
The Truth About Anxiety
The reality is, definitions for anxiety are evolving, as the matter is still being properly understood as we go along. Whilst occasional anxiety occurs throughout daily life as we worry about relationships, health and money, anxiety disorders go beyond worry or fear that is temporary. In fact, it begins to dominate your daily life, to the point that it affects the productivity of basic things such as how you work, how you socialise and how you cope with concerns and problems.
Despite this, there is still a huge misunderstanding about anxiety, which is why Mental Health Awareness Week is a great place to start.
The idea is to challenge the statements such as 'oh, it's just anxiety'. It's also about challenging demeaning and undermining statements such as, ' anxiety just means worrying'. With there being a stigma attached to anxiety and with many people truly misunderstanding the deep meaning and consequences, Mental Health Awareness Week will hopefully challenge this notion and address what living with anxiety really means.
Anxiety Stats
According to Champion Health, research tells us the following:
Research tells us that anxiety is only increasing throughout the UK, which is why the stats are pretty concerning.
Why is Anxiety The Theme This Year?
Director of England at the Mental Health Foundation, Alexa Knight mentions the reason why anxiety is the theme in 2023. She said:
"We've chosen anxiety as the Mental Health Awareness Week theme this year to kickstart a nationwide conversation, encouraging people to share their own experiences and any helpful ideas on how they manage anxiety."
How Can You Get Involved?
There are many ways you can help out.
Learn More
There are many resources out there published by experts who have collated all the information you need. Not only will it help in clearing a few misunderstandings about anxiety, but reading and learning will also allow you to be more tolerant and appreciative of how difficult things can be for those with anxiety. Once you've learnt enough, you can also share information with others through workshops or Zoom conferences. To explore resources, click here.
Donate
There's so much more work that can be done when it comes to Mental Health. By donating towards charities that deal with this sort of problem, you are helping vital work to be carried out. Whatever the size of your donation, it all goes towards helping charities understand anxiety better and finding ways to help people cope. Donate now.
Fundraise
There are so many ways to do this. You could cook or bake and sell to friends and family. You could also get involved in a charity hike or a run to raise some funds. To find out more, click here.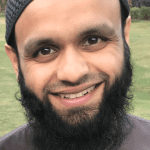 Juber Ahmed is our Digital Editor and travel enthusiast with a keen interest in Islamic history and heritage. He travels with his wife to various places around the world and writes about his experiences.
 
Juber's favourite Quote...
"The World Is a Book and Those Who Do Not Travel Read Only One Page" [Saint Augustine]