Strategically located on the Arabian Gulf, Abu Dhabi is home to an array of some of the most breathtaking beaches in the UAE. Whilst the capital is home to the iconic Ferrari World and Sheikh Zayed Mosque, the city is also home to dozens of beaches where you can relax and beat the heat!
Whether you're looking to sink into a good book, unwind with the family or simply go swimming, the beaches of Abu Dhabi are ready for you! Get beyond the looming skyscrapers and iconic architecture, and find some peace away from the city at one of Abu Dhabi's golden sandy beaches.
If you're looking for the perfect beach, here's a list of four of the best beaches to visit in the capital of UAE.
Al Hudayriat Beach
Opened to the public in 2018, this beach is the go-to spot for families and sports enthusiasts. Reaching the beach through the impressive Hudayriat Beach, the island is a must-visit for those looking to escape the city. With walking trails, bike routes and courts for football, tennis and basketball, the 600 m-long beach is also an ideal spot for kayaking and surfing.   Once you've built up an appetite, stop at one of the food trucks for some mouthwatering street food! 
Al Bateen Beach
Located at a close distance from Al Hudayriat Beach, this awesome stretch of sand has a more humble feel. Although it gets crowded on the weekends with picnic lovers, the picturesque Blue Flag beach stretching for 800 metres has a rather quiet atmosphere. With calm waters, fishing activities and kids play areas, Al Bateen Beach is usually busy with locals. For some, this is great, as it gives you a true feeling of local life and allows for some peace and quiet away from the bustle of the city.
Cornich Beach
Visited by locals and tourists, Cornich Beach is the pumping heart of Abu Dhabi. Spotless, well-maintained and equipped with activities for kayaking and cycling, the beautiful beach is a great place to get views of the city's skyline. With clear blue waters and soft white sand, the beach is also home to gorgeous gardens and benches for a quick scenic getaway! What's more, with swaying palm trees scattered along the promenade, the beach is perfect for those perfect Instagram pics! And as always, Cornich Beach is also home to a kid's play area, which makes the beach a great option for a great family getaway. 
Mirfa Beach
Whilst Mirfa Beach may be located an hour and a half away from Abu Dhabi, it'll all be worth the drive when you lay your eyes on the secluded beach. Perfect for those looking for a village setting, Mirfa Beach has been acclaimed as a well-kept secret by Visit Abu Dhabi. With its laid-back atmosphere and small crowds, pearl diving and fishing are ongoing activities here. What's more, the beach is also home to the annual Al Gharbia Watersports Festival which is why many people flock here during the ten-day festival in April.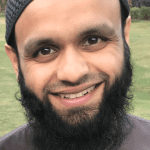 Juber Ahmed is our Digital Editor and travel enthusiast with a keen interest in Islamic history and heritage. He travels with his wife to various places around the world and writes about his experiences.
 
Juber's favourite Quote...
"The World Is a Book and Those Who Do Not Travel Read Only One Page" [Saint Augustine]