The 15th night of Sha'ban is undoubtedly special, with many hadith and reports existing to prove that.
Also referred to as Laylatul Bara'at and Shab-e-Barat, this night is meritorious for many reasons. Firstly, this is the night in which Allah forgives many of His servants in one go and Allah's divine mercy meets the people of the earth. In one narration, the Prophet ﷺ said, "This is the night of the half of Sha'ban. Allah Almighty looks upon His slaves on this night and forgives those who seek forgiveness and bestows His mercy upon those who pray for mercy but keeps those who have malice (against a Muslim) as they were before, (and does not forgive them unless they relieve themselves from malice)." [Bayhaqi]
So, what can you do to take advantage of the blessings of this night?
Firstly, attempt to stay awake for as long as you can engaging in nafl Salah. If you don't normally have a practice of performing Tahajjud prayers, perform two units of optional prayers on this night. If you do, try adding two or four extra units to your regular practice.
Recite the Qur'an as much as you can. Whether you have not looked at the Qur'an in a long time or you do everyday, spend this night doing that little bit extra.
Engage in dhikr and tasbeeh. There are many adhkar one can engage in such as saying Alhamdulillah or SubhanAllah. You can even engage in sending durood (salutaions) upon Prophet ﷺ.
Efforts should be made to strive on this night and stay awake by being engaged in acts of worship for as long as possible. However, if one is unable to stay awake for a lengthy period, select a portion of the night in which to do your worship.
Whatever the case, it is highly advisable to spend some moments performing extra worship during this night. Use this night to ask Allah to fulfil your needs in both worlds and to ease the suffering of the masses throughout the world. Use this moment of Du'a to ask Allah anything you'd like.
This night is a profound night and one which holds huge amounts of significance for those that value it. Don't miss the opportunity to do what you can on this night and be sure to ask Allah to allow us to transition into Ramadhan seamlessly.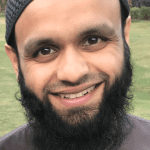 Juber Ahmed is our Digital Editor and travel enthusiast with a keen interest in Islamic history and heritage. He travels with his wife to various places around the world and writes about his experiences.
 
Juber's favourite Quote...
"The World Is a Book and Those Who Do Not Travel Read Only One Page" [Saint Augustine]