Khazana, Saliha Mahmood Ahmed
Lavash is an incredibly versatile Persian flatbread that is usually used to make light wraps and rolls. I wrap fillets of sea bass in it and roast the bread parcels until they are golden on the outside
and crunchy in texture. This is a really quick and easy supper for the family or guests.
SERVES 4
4 pieces of lavash bread
50g softened butter
Good pinch of saffron threads 1 garlic clove, finely grated
1 red chilli, finely chopped
4 x 120g skinless sea bass fillets, about 1cm thick
2 sliced spring onions, thinly sliced 4 teaspoons finely chopped fresh coriander
Olive oil
Salt, to taste
Preheat the oven to 200°C (180°C fan), gas mark 6.
Trim each piece of lavash bread to create four squares around 20 x 20cm. Use a fork to mix the saffron, garlic and red chilli into the softened butter.
Season the sea bass fillets with salt and place each one onto a square of lavash bread. Spread the saffron-chilli butter over the sea bass fillets and sprinkle with a few spring onions and some coriander. Carefully bring each side of the lavash over the sea bass so that the fish is completely enclosed inside the flatbread.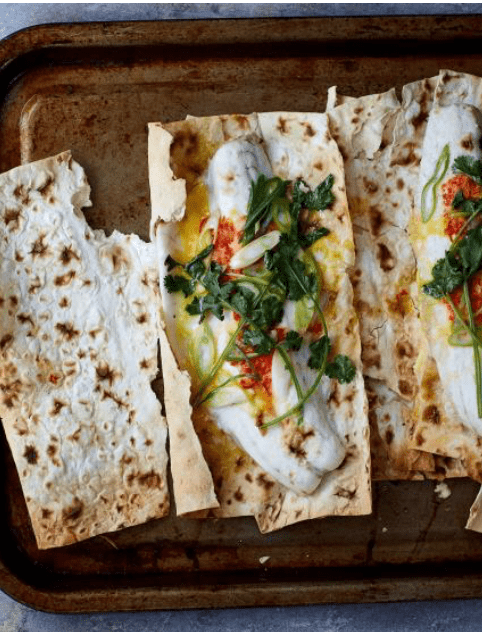 Place the prepared fish parcels onto a baking tray and rub olive oil all over them. Bake for about 12 minutes, or until the fish is cooked through and the bread is golden. Open out the fish parcel to reveal the herb and saffron baked fish and crispy lavash bread. Serve immediately.