Khazana, Saliha Mahmood Ahmed
SERVES 4
300ml water
6 tablespoons demerara sugar
5 tablespoons rose water
80ml lemon juice
Pink food colouring (optional) 8–12 ice cubes
100g lemon sorbet
Chilled sparkling water, to top up Fresh rose petals, to decorate
Put the measured water and demerara sugar into a pan and place over a high heat. Stir well to dissolve the sugar and bring the mixture to the boil, then lower the heat and simmer until the mixture has reduced down to the consistency of a sticky syrup, such as honey or maple syrup. Be careful to not let the sugar syrup caramelise and try not to stir too often as this may cause the sugar to crystallise.
Allow the sugar syrup to cool and then add the rose water, lemon juice and a few drops of pink food colouring, if liked.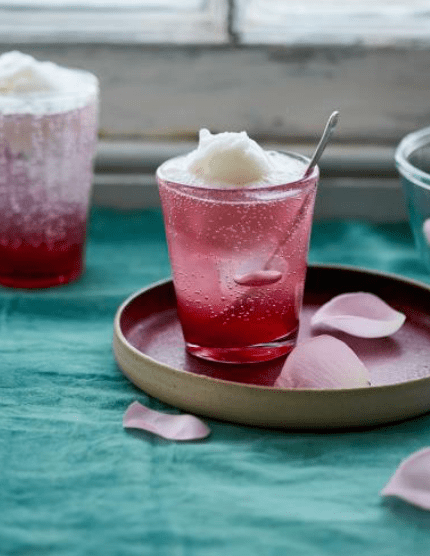 Pour the cooled lemon and rose syrup equally into four tall glasses. Add a few ice cubes and a scoop of lemon sorbet to each glass. Top up each glass with cold sparkling water, decorate with a few fresh rose petals, as pictured opposite, and serve immediately.