Word: Tahira Khan
Located in trendy Shoreditch, this gem has a range of delicious American Urban cuisine and lots of Soul Food created from Mexican and Korean influences. I was offered halal, vegan, vegetarian and gluten free options, ranging from classic to fusion dishes. The interior is splashed with street vibrant art and graffiti influenced by the 70's, 80's and 90's.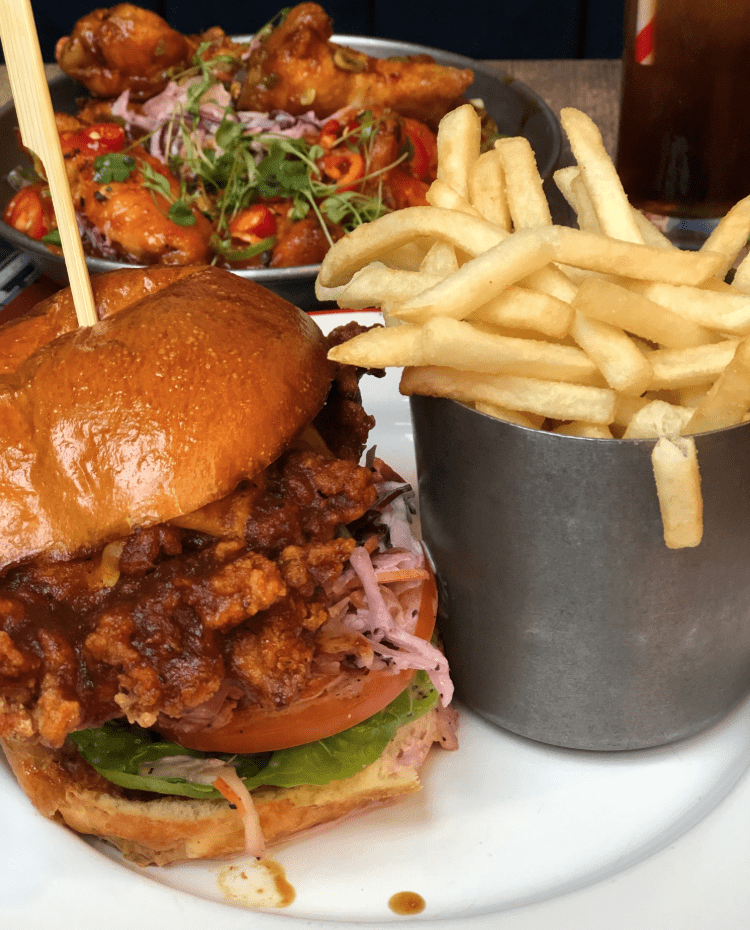 The artist named 'Tizer' has become one of the well regarded street painters in the capital, but the quirky art displays were a favourite feature, especially the chandelier crafted from coke bottles. This decor is ever evolving as new artists are brought in to update it and place their own signature on the restaurant's walls. The place is split between two floors; the ground floor acts as a drinking spot where the music will take over and the DJs turn the lower bar into a dancing zone. Amongst the quintessential American menu, I tried a number of snacking options like wings, served with a range of dips, as well as the sassy jackfruit tacos, soft shell crab, blackened Cajun popcorn shrimp and Mexican nachos with classic jalapenos.
The scrumptious hearty chicken burger and sweet potato fries took me the longest to get through, and afterwards I needed at least half an hour to make space for the home-made cookie dough dessert. Harlem Soul is a first of its kind in London, becoming the all-day spot for Londoners. For a real taste of the USA you don't need to look any further, this place merges the soul of the USA into urban London perfectly.
Address: 205 City Rd, Hoxton, London EC1V 1JN