So you want to be successful? Check out our range of book's below, which can help you do just that. If you have recently read a good book which has inspired you in work and life, please do comment below so we can feature it next month. Happy reading!
Purple Cow: Transform Your Business by Being Remarkable by Seth Godin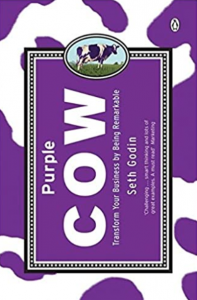 You're either a Purple Cow or you're not. You're either remarkable or invisible. Make your choice.
What do Apple, Starbucks, Dyson and Pret a Manger have in common? How do they achieve spectacular growth, leaving behind former tried-and-true brands to gasp their last? The old checklist of P's used by marketers – Pricing, Promotion, Publicity – aren't working anymore. The golden age of advertising is over. It's time to add a new P – the Purple Cow.
Purple Cow describes something phenomenal, something counterintuitive and exciting and flat-out unbelievable. In his new bestseller, Seth Godin urges you to put a Purple Cow into everything you build, and everything you do, to create something truly noticeable. It's a manifesto for anyone who wants to help create products and services that are worth marketing in the first place – £6.15 via Amazon
You Are a Badass at Making Money: Master the Mindset of Wealth by Jen Sincero – Hardover £21,80 via Amazon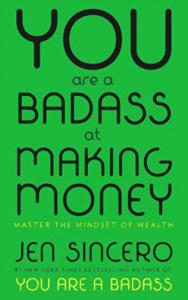 How Successful people Think: Change Your Thinking, Change Your Life by John C. Maxwell – £8.14 hardcopy via Amazon
Gather successful people from all walks of life-what would they have in common? The way they think! Now you can think as they do and revolutionize your work and life!

A Wall Street Journal bestseller, HOW SUCCESSFUL PEOPLE THINK is the perfect, compact read for today's fast-paced world. America's leadership expert John C. Maxwell will teach you how to be more creative and when to question popular thinking. You'll learn how to capture the big picture while focusing your thinking. You'll find out how to tap into your creative potential, develop shared ideas, and derive lessons from the past to better understand the future. With these eleven keys to more effective thinking, you'll clearly see the path to personal success.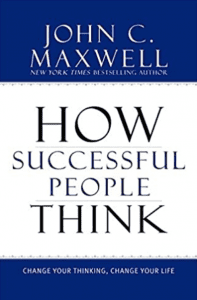 The perfect, compact read for today's fast-paced world, How Successful People Think (derived from Maxwell's previous book, Thinking for a Change) guides readers through the 11 secrets successful people know. Arranged in an easy-to-follow format, America's leadership expert John C. Maxwell will teach readers how to expand their thinking and achieve their dreams.
The 11 keys to successful thinking include:
Big-Picture Thinking – seeing the world beyond your own needs and how that leads to great ideas
Focused Thinking – removing mental clutter and distractions to realize your full potential
Creative Thinking – thinking in unique ways and making breakthroughs
Shared Thinking – working with others to compound results
Reflective Thinking – looking at the past to gain a better understanding of the future.
How to Win Friends and Influence People by Dale Carnegie, £6.99 paperback via Amazon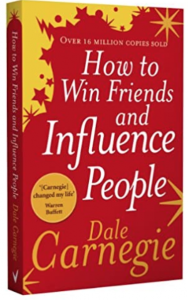 The most famous confidence-boosting book ever published; with sales of over 16 million copies worldwide
Millions of people around the world have improved their lives based on the teachings of Dale Carnegie. In How to Win Friends and Influence People, he offers practical advice and techniques, in his exuberant and conversational style, for how to get out of a mental rut and make life more rewarding.
His advice has stood the test of time and will teach you how to:
– make friends quickly and easily
– increase your popularity
– persuade people to follow your way of thinking
– enable you to win new clients and customers
– become a better speaker
– boost enthusiasm among your colleagues
This classic book will turn your relationships around and improve your interactions with everyone in your life.
Dale Carnegie, known as 'the arch-priest of the art of making friends', pioneered the development of personal business skills, self-confidence and motivational techniques. His books – most notably How to Win Friends and Influence People – have sold tens of millions worldwide and, even in today's changing climate, they remain as popular as ever.
Principles: Life and Work by Ray Dalio – £16.15 hard copy via Amazon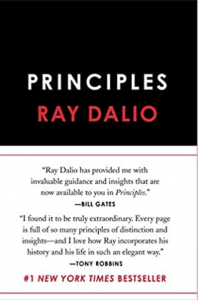 Ray Dalio, one of the world's most successful investors and entrepreneurs, shares the unconventional principles that he's developed, refined, and used over the past forty years to create unique results in both life and business—and which any person or organization can adopt to help achieve their goals.
In 1975, Ray Dalio founded an investment firm, Bridgewater Associates, out of his two-bedroom apartment in New York City. Forty years later, Bridgewater has made more money for its clients than any other hedge fund in history and grown into the fifth most important private company in the United States, according to Fortune magazine. Dalio himself has been named to Time magazine's list of the 100 most influential people in the world. Along the way, Dalio discovered a set of unique principles that have led to Bridgewater's exceptionally effective culture, which he describes as "an idea meritocracy that strives to achieve meaningful work and meaningful relationships through radical transparency." It is these principles, and not anything special about Dalio—who grew up an ordinary kid in a middle-class Long Island neighborhood—that he believes are the reason behind his success.
In Principles, Dalio shares what he's learned over the course of his remarkable career. He argues that life, management, economics, and investing can all be systemized into rules and understood like machines. The book's hundreds of practical lessons, which are built around his cornerstones of "radical truth" and "radical transparency," include Dalio laying out the most effective ways for individuals and organizations to make decisions, approach challenges, and build strong teams. He also describes the innovative tools the firm uses to bring an idea meritocracy to life, such as creating "baseball cards" for all employees that distill their strengths and weaknesses, and employing computerized decision-making systems to make believability-weighted decisions. While the book brims with novel ideas for organizations and institutions, Principles also offers a clear, straightforward approach to decision-making that Dalio believes anyone can apply, no matter what they're seeking to achieve.
Here, from a man who has been called both "the Steve Jobs of investing" and "the philosopher king of the financial universe" (CIO magazine), is a rare opportunity to gain proven advice unlike anything you'll find in the conventional business press.