For many of us, working from home has become part of our lifestyles thanks to the pandemic. For others, working from home may have been a part and parcel of their lives even before the pandemic. Whilst working from home undoubtedly has its fair share of advantages, it can get quite bothersome when it comes to food, eating and nutrition.
It's not just about what you eat, but also about when and where you eat. It's about enjoying what you eat. The last thing you want is to be staring at an Excel spreadsheet while eating one of your favourite meals without realising what you're doing. 
And don't worry! You're not alone. Thousands of remote workers face these issues daily as their work life gets in the way of managing their nutrition and health. 
So, if you're looking to do better and eat mindfully whilst doing everything from home, keep on reading as we list some of the best ways to do this.
Space Matters
Don't eat at your desk! Full stop! By eating at your desk, you're almost enforcing upon yourself the idea of being distracted whilst you try and enjoy a meal. It's highly recommended that you create some separate space to eat your meals so that your mind can focus on the food when you sit down for lunch.
Focus on Your Food
Being mindful is all about appreciating, realising and identifying what is happening at any given moment. Try and be conscious of what is in front of you by really tasting as opposed to simply eating. Appreciate the smell, taste, colour and texture of the food. Doing this will help you enjoy your food and will also help in calming your nerves. 
Eat Snacks Regularly
Being in front of the computer is demanding to say the least. That is why it is highly recommended to eat smaller portions of snacks. We're not talking about junk food of any kind though. Snack on apples, bananas, cheese, nuts or even a granola bar. If you must eat crisps, eat a few, leave them alone and then go back to them sometime later to control binging all the way through. 
Don't Mistake Thirst For Hunger
Trust me, this is very easy to do! Many people end up eating as they think that their thirst is hunger. This mainly happens because the signals for thirst are weaker than those for hunger. According to some clinical studies, 37% of people mistake thirst for hunger because thirst signals are weak. So, next time you 'think' you're hungry, it may just be that you need a drink of water. 
Plan Ahead
Some of us may hate this tip, but it really is one of the most effective ways to eat mindfully when doing everything from home. Take the weekend to plan for the week and make a note of what you can eat and drink throughout the day and evening. This way, you'll feel less stressed about what to cook and what to buy, as you'll be prepared for the week ahead of you. What's more, this prevents wasting time when shopping and also when finding something to eat whilst you're trying to fit in a quick 20-minute lunch away from the monitor.  
Try a Different Place
If you feel that none of these tips is working for you, try mixing things up by changing your environment. As a remote worker, you have the liberty to work from wherever you want, so why confine this to your home? Spend less than £5 on a hot (or cold!) drink and you could spend all day in a cafe. You may find that the library works for you. Some people like to travel and be somewhere completely foreign. Find whatever works for you and hopefully, the change in scenery should improve your eating habits and nutrition.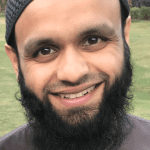 Juber Ahmed is our Digital Editor and travel enthusiast with a keen interest in Islamic history and heritage. He travels with his wife to various places around the world and writes about his experiences.
 
Juber's favourite Quote...
"The World Is a Book and Those Who Do Not Travel Read Only One Page" [Saint Augustine]