Wherever you choose to go in the UK, you're sure to find a museum. From art galleries to science museums, the UK packs a punch when it comes to discovering the best a museum has to offer.
In a recent survey, over 4000 visitors were asked about their visits and thoughts on museums and art galleries in the UK, and the below were found to be the top five:
St Fagans National Museum of History, Cardiff
This open-air museum is the ideal place to visit if you want to learn about Wales through domestic architecture. Recreating how Welsh people lived in the past, a huge number of buildings have been constructed on the 100-acre site that represents historical periods.
Beamish: The Living Museum of the North, County Durham
Beamish is another fine example of an interesting open-air museum which covers 300 acres. With many restored buildings, this museum sits around 10 miles south of Newcastle. One of the most underrated museums in the UK, Beamish beautifully displays parts of a 1900s town, with a bakery, school and even a Co-op. If you want to learn how people lived in this part of the UK, Beamish is the place to visit.
National Railway Museum, York
Train travel is always interesting, but the National Railway Museum takes things to a new level. Did you know that the National Railway Museum in York is the world's biggest railway museum? And the best part is that it's completely free to visit! With enough space to walk around at your own pace, here you can explore Mallard (the fastest steam engine), the only Shinkansen bullet train outside Japan, and the silk-lined carriages of Royal trains.
Royal Air Force (RAF) Museum Cosford, Shropshire
Did you know that the RAF Museum in Shropshire houses the world's oldest Spitfire? The Spitfire was used during World War 2 and can travel at high speeds of 440 miles per hour. But that's not all you'll find here! You'll also find a Dornier Do 17 and Britain's V Bombers from the Cold War era including the Vulcan, Victor and Valiant. With interactive displays, a flight simulator and personal stories from RAF pilots, the RAF Museum in Shropshire is the best place to dive right in and learn more about these awesome planes and their pilots.
National Museum of Scotland, Edinburgh
The National Museum of Scotland is a great place to wander around and imagine as you marvel at the many diverse collections of discovery. From nature to art and design to science and technology, this museum has it all. The museum sits inside the striking Victorian building and it's been around for 150 years! With thousands of amazing objects across multiple galleries, it's no wonder why this is the UK's most popular attraction outside of London.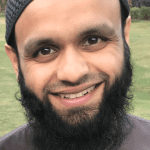 Juber Ahmed is our Digital Editor and travel enthusiast with a keen interest in Islamic history and heritage. He travels with his wife to various places around the world and writes about his experiences.
 
Juber's favourite Quote...
"The World Is a Book and Those Who Do Not Travel Read Only One Page" [Saint Augustine]