Fans have taken this opportunity to let Palestinian flags fly high. As the world watches the games, be it in person or live on TV, many fans in the stadiums have worked together to bring awareness to a cause that is most often neglected. There's a whole heap of actions outside the stadiums too as many Palestinians and advocates mark their presence by waving flags.
Speaking to Al Jazeera, many Palestinians said that the tournament has given them a chance to raise awareness over the Israeli occupation, as well as to highlight Palestinian culture and history.
Arabs from other neighbouring countries have also adopted a similar approach. To show their solidarity, Qataris have been joining Palestinians in waving the flag.
According to the Bangkok Post, Palestinian flags are flying everywhere. Qataris have gone a step further by hanging the Palestinian flag next to their own national emblem and hanging them from their vehicles. What's more, many can be seen in the VIP area wearing armbands that show the Palestinian keffiyeh headdress.
For those waving the Palestinian flag, its all about raising awareness. "Some foreigners do not know the Palestinian flag and ask us about it," Yahya Abu Hantash, a 33-year-old Palestinian living in Doha, told AFP.
Qatar has forever been against the occupation and has spoken for the Palestinian cause for years. Due to this, and the fact that the world's attention would be on Qatar during the World Cup, the Palestinian community took full advantage.
Raising Awareness
"People from all over the world are here in Qatar and when they see us dressed like this they come up to us and ask where we are from, since Palestine is not participating in the World Cup," Bader, a Palestinian based in Qatar, told Al Jazeera. He added, "They know about Israel but not about Palestine. There was no Israel until it occupied Palestine."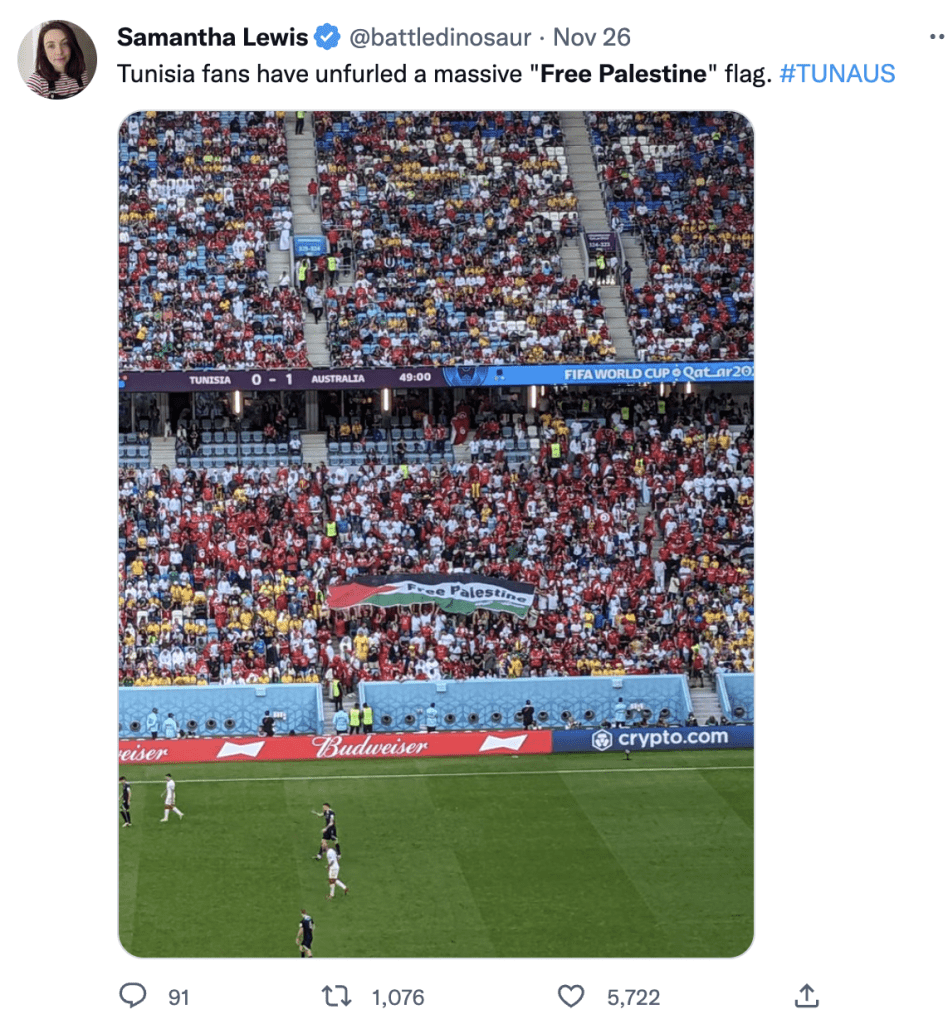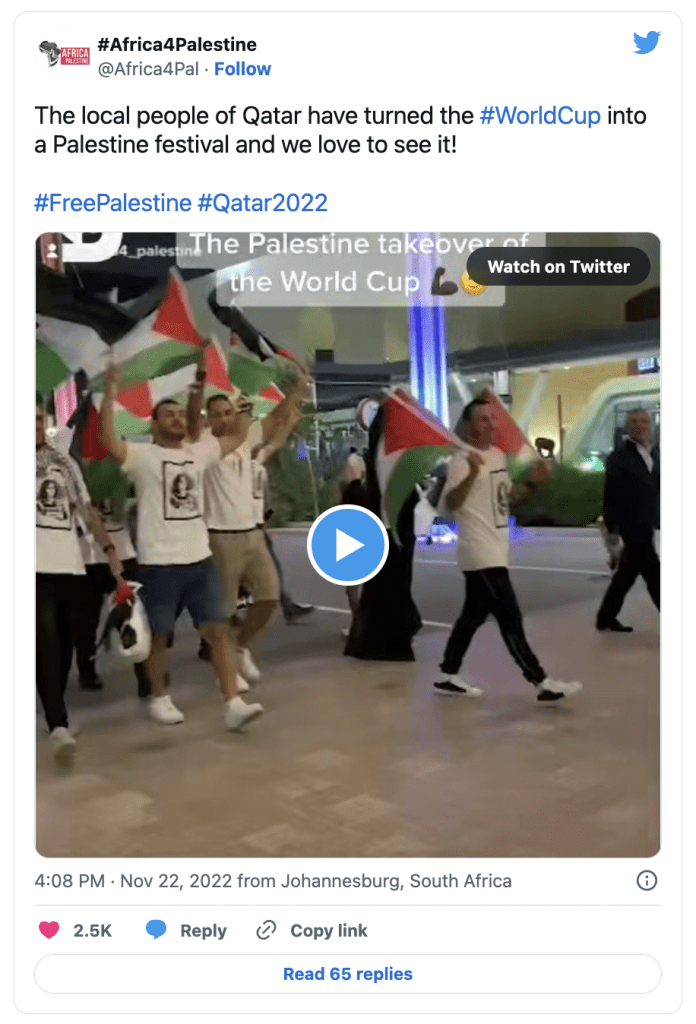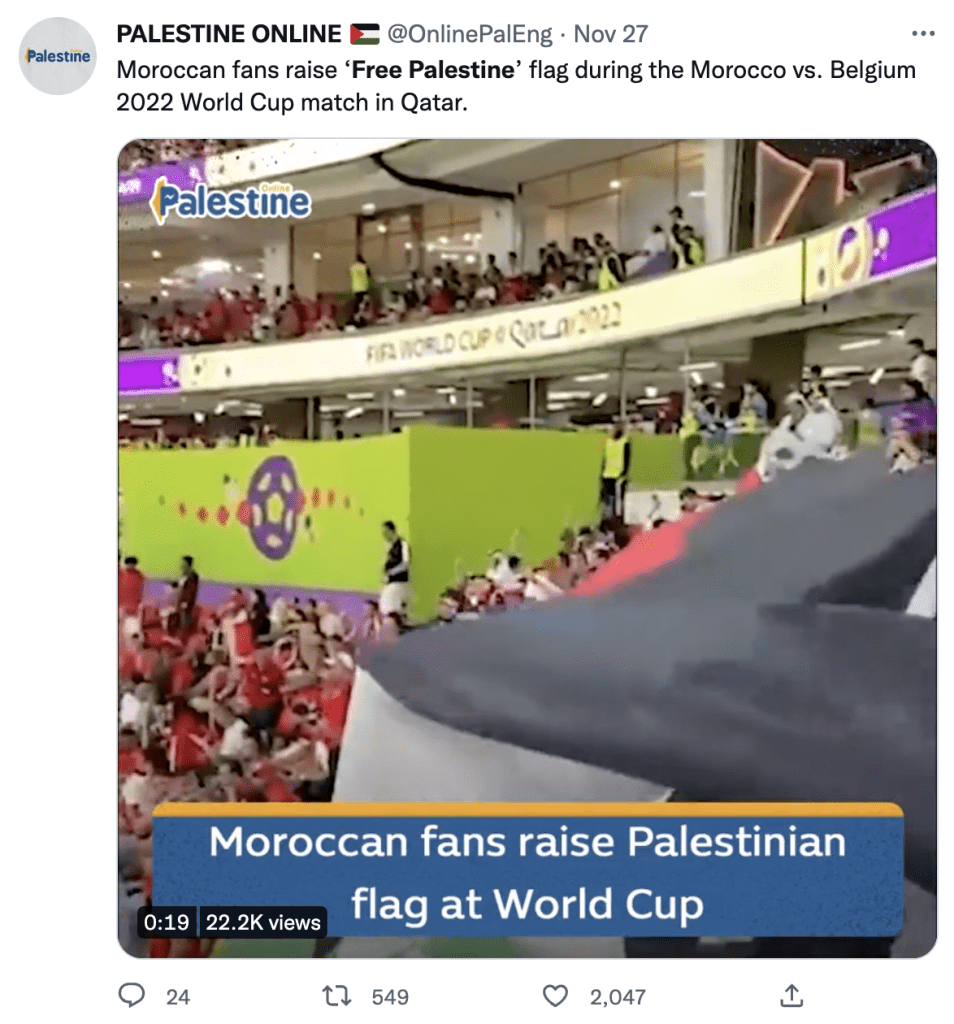 Many have taken to social media to express their thoughts and solidarity with the Palestinian people and their cause. But it is those who are on the ground who have initiated the noise that is now making its way around social media. 
One such Palestinian that was hugely affected by this is Asma Jaber. With a keffiyeh draped across her shoulders, she told Al Jazeera, "To be able to show our identity openly and with pride is a unique feeling for Palestinians". "I can't put into words how I feel when I see my flag being raised by so many people who are not from Palestine," she also added.
Emotionally moved by the efforts of many waving the flags, despite what country they represent, Jaber said, "It's as if all these people from around the world are saying, 'We love you, we know you exist, and we are by your side.'"
Main Image Credit: WAFA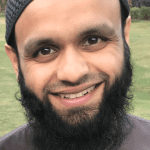 Juber Ahmed is our Digital Editor and travel enthusiast with a keen interest in Islamic history and heritage. He travels with his wife to various places around the world and writes about his experiences.
 
Juber's favourite Quote...
"The World Is a Book and Those Who Do Not Travel Read Only One Page" [Saint Augustine]