For a long time now, King Charles III has been known to admire, respect and appreciate the values of Islam and Muslims. Speaking positively about the many features of the religion, King Charles III has always been a great advocate of religious pluralism by engaging in many interfaith activities.
Following the death of his mother on Thursday 9th September, King Charles was proclaimed monarch in a traditional accession ceremony. 
As well as being the patron of the Oxford Centre for Islamic Studies, King Charles III has also made apparent his interest in studying the Qur'an. In Prince Charles III's biography titled Charles at Seventy – Thoughts, Hopes & Dreams, Robert Jobs (author) reveals some of the King's deep thoughts about Islam and Muslims. Not only did he oppose the war in Iraq, but King Charles III also disagreed with niqab bans and showed sympathy for Palestinians.
Over the past 30 years, King Charles III gave many speeches in which he portrayed his admiration and deep respect for the religion. In many instances, he made clear that Christianity can learn a great deal from Islam.
Here's a list of quotes about Islam and Muslims from his speeches over the last several decades.
King Charles III and Islamic Spain
Whilst delivering a speech at the Oxford Centre for Islamic Studies in 1993, King Charles III spoke about how we can learn from the legacy of Muslims in Andalusia.
"The medieval Islamic world, from Central Asia to the shores of the Atlantic, was a world where scholars and men of learning flourished. But because we have tended to see Islam as the enemy of the West, as an alien culture, society and system of belief, we have tended to ignore or erase its great relevance to our own history. For example, we have underestimated the importance of 800 years of Islamic society and culture in Spain between the 8th and 15th centuries. The contribution of Muslim Spain to the preservation of classical learning during the Dark Ages, and to the first flowerings of the Renaissance, has long been recognised. But Islamic Spain was much more than a mere larder where Hellenistic knowledge was kept for later consumption by the emerging modern Western world. Not only did Muslim Spain gather and preserve the intellectual content of ancient Greek and Roman civilisation, it also interpreted and expanded upon that civilisation, and made a vital contribution of its own in so many fields of human endeavour – in science, astronomy, mathematics, algebra (itself an Arabic word), law, history, medicine, pharmacology, optics, agriculture, architecture, theology, music. Averroes and Avenzoor, like their counterparts Avicenna and Rhazes in the East, contributed to the study and practice of medicine in ways from which Europe benefited for centuries afterwards."
The West Can Learn From Islam
In 1996, King Charles III gave a speech in Wilton Park titled 'A Sense of the Sacred: Building Bridges Between Islam and the West.' Discussing the importance of collaborating, many parts of his speech also emphasisedreintegrating what the modern world has fragmented.
"I start from the belief that Islamic civilisation at its best, like many of the religions of the East – Judaism, Hinduism, Jainism and Buddhism – has an important message for the West in the way it has retained a more integrated and integral view of the sanctity of the world around us. I feel that we in the West could be helped to rediscover those roots of our own understanding by an appreciation of the Islamic tradition's deep respect for the timeless traditions of the natural order. I believe that process could help in the task of bringing our two faiths closer together. It could also help us in the West to rethink, and for the better, our practical stewardship of man and his environment – in fields like healthcare, the natural environment and agriculture, as well as in architecture and urban planning."
Celebrating The Success of Muslims
In the official opening of the new Markfield Institute of Higher Education building, King Charles III reminded the audience of the previous Muslim generation.
"The presence of Muslims in academia, public office and the higher echelons of our society is thus not something new, but it is something to be celebrated. And we might also pause, perhaps, to remember the hundreds of Muslims who died in the service of the Crown in two world wars. The Merchant Navy Memorials on Tower Hill in London, for example, provide ample evidence of those brave Muslim men who gave their lives on board British ships. Given such a heritage, ladies and gentlemen, I am delighted to be here at the official opening of the new Markfield Institute of Higher Education building."
King Charles III and Ramadan
In April 2022, the King spoke passionately about Ramadan and the many sacrifices Muslims make in this month. 
"Ramadan provides time to reflect on one's own blessings and to give gratitude for them. One of the greatest ways of showing gratitude in Islam, I understand, is by being of service to those less fortunate in our society. The generosity of spirit and kind-hearted hospitality of Muslims does not cease to astound me and I am sure that as we enter more uncertain times, with many now struggling to cope with increasing challenges, the Muslim community will again be a source of immense charitable giving this Ramadan."
Main Image Credit: Rumman Amin (Unsplash) & Dan Marsh (Flickr)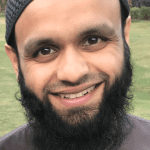 Juber Ahmed is our Digital Editor and travel enthusiast with a keen interest in Islamic history and heritage. He travels with his wife to various places around the world and writes about his experiences.
 
Juber's favourite Quote...
"The World Is a Book and Those Who Do Not Travel Read Only One Page" [Saint Augustine]