Ramadan through the generations with TV presenter Natasha Asghar, radio presenter Anisa Nasir and youtuber Super Saf.
With each passing generation, Ramadan has changed over the years. From large family gettogethers to spending quality time with loved ones, from the more traditional Aisha samosas to burger patties from Tahira and balancing work with fasting – Ramadan has evolved with the changing times.
Acknowledging this shift and ensuring the community gets all they need for the holy month under one roof, Asda has been leading the way with their extensive Ramadan range, catering to both the younger and older generations.  Bringing to light some of the experiences of observing Ramadan, we spoke to celebrities and influencers who shared their journey with us.
From Wales to London – Natasha Asghar
TV personality, seen on Zee TV, B4U Network and currently on Colors TV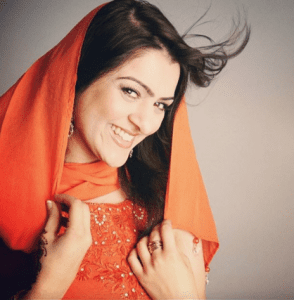 Today Natasha Asghar is a prominent Muslim TV personality but when growing up in Wales, her family was one of the few Muslims in Newport. "When I was younger my mum didn't like me fasting because there were very few Muslims around and people didn't really understand what Ramadan and Islam was about. So now kids get school holidays for Eid and Diwali but as that time there wasn't much awareness."
Recounting preparing for Ramadan, her mum Dr Firdaus Asghar said: "I remember when Natasha was growing up we had only two shops where we could buy Asian food from and it was difficult to get halal meat as most people didn't know what it is."
However, now things have changed and Natasha reflects: "Today you have a wide range of halal products on sale, and supermarkets like Asda have made things convenient for everyone. I remember last year when I was coming back and forth from Wales I would stop by at the supermarket on the M25 and pick up all my Iftar food and go home and not worry about anything."
Asda's continuous expansion of their Ramadan range has made it a lot more easier and relevant for the mother-daughter duo, and it gets even better with all the Ramadan offers, Dr Asghar adds: "Earlier I would make samosas and shami kebabs from scratch but now everything is available readymade like the Humza charcoal kebabs which helps when we have our gettogethers. However, I still make things like papdi chaat and dahi wade from scratch using Natural bio yogurt, because Natasha loves it."
Adding in, Natasha said: "So, while there will be fruits for my dad and khajur for my cousins, mum always cooks up some savoury chaats for me!"
From childhood to now, the journey of Ramadan; from food to spirituality – Super Saf
Youtuber and filmmaker, Super Saf is one of UK's largest Tech influencers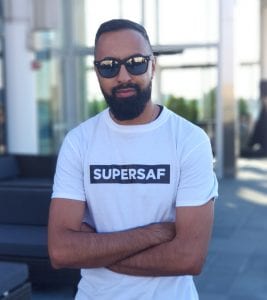 When Super Saf was growing up Ramadan was always a fun time with family gettogethers and amazing food. However, as he grew older it became more of a time to reflect, be charitable and detoxify.
Having grown up in the UK, the one thing he has observed is the positive move in the way people have started perceiving Ramadan. "In the past when I would fast a lot of my colleagues wouldn't be aware of it and their reaction would be 'Oh you can't even drink water!'. But now since there have been a lot more conversations around Ramadan amongst the wider population a lot more people have started understanding it." Just going into his local supermarket and seeing the Ramadan aisle sent a positive feeling. "I remember the first time I saw it, I took a picture and sent it to my family and friends. It's a very homely feeling."
In Saf's house preparations begin weeks before hand, with his mum deciding on a timetable for the 30 days and while she would stock up the kitchen, Saf would prepare by controlling his meal portions and eat less so he would be ready for when the fasting begins.
"While growing up Ramadan would be all about lots of fried stuff like samosas and pakoras but now I am trying to move towards a healthier lifestyle so it is more about grilled meats and lots of vegetables and fruits like watermelons and satsumas, but occasionally I can't say no to a fried samosa."
Changes over generations – Anisa Nasir
Radio presenter with Lyca Radio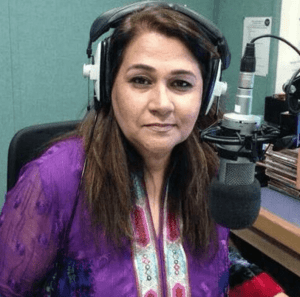 Having grown up in a close-knit family, for Anisa, Ramadan is about togetherness along with introspection and self-reflection. "Ramadan is a special month for my family, where we come together for Iftari and prayer. As our lives have become busier, it is the one thing I have made sure that I pass on to my three children – continuing the tradition, so they understand the meaning of Ramadan."
Working at a radio station, Anisa has a busy routine but she still makes it a point to make chaats, samosas and pakoras at home for the whole family. "I remember years ago, we had to plan beforehand because it wasn't easy getting all the desi ingredients, but now it has become so much easier with supermarkets such as Asda stocking up everything. Now I can just drive back home from work and pick up all I need on the way."
For Anisa life is constantly changing and with the increase in Sehri and Iftari options, the change is good. "My mother cooked everything from scratch, for me it's a mixture of scratch cooking and buying readymade food such as Aisha's Samosas or Gino's chicken nuggets, while my daughter buys everything from the supermarket."