Discover mysterious enchanted trees bathed in blues, pinks and purples, cascades of light flowing like waterfalls, seas rippling down long grassy expanses, walk through tunnels of starlight and watch fairies dance in hidden corners. Discover silk flower lanterns, flickering flames in fire gardens, and huge feathers floating into the sky or a flock of sparkling cheerful robins.
Word: Angela Youngman
Landscapes are lit with vistas of ethereal, magical white light or dramatic colours sweeping across like rainbows. Huge silver stars explode into colour, and larger than life flowers seem to dance in non-existent breezes to the tune of gentle background music. Watch giant projections flash across the front of buildings, telling stories or following abstract patterns.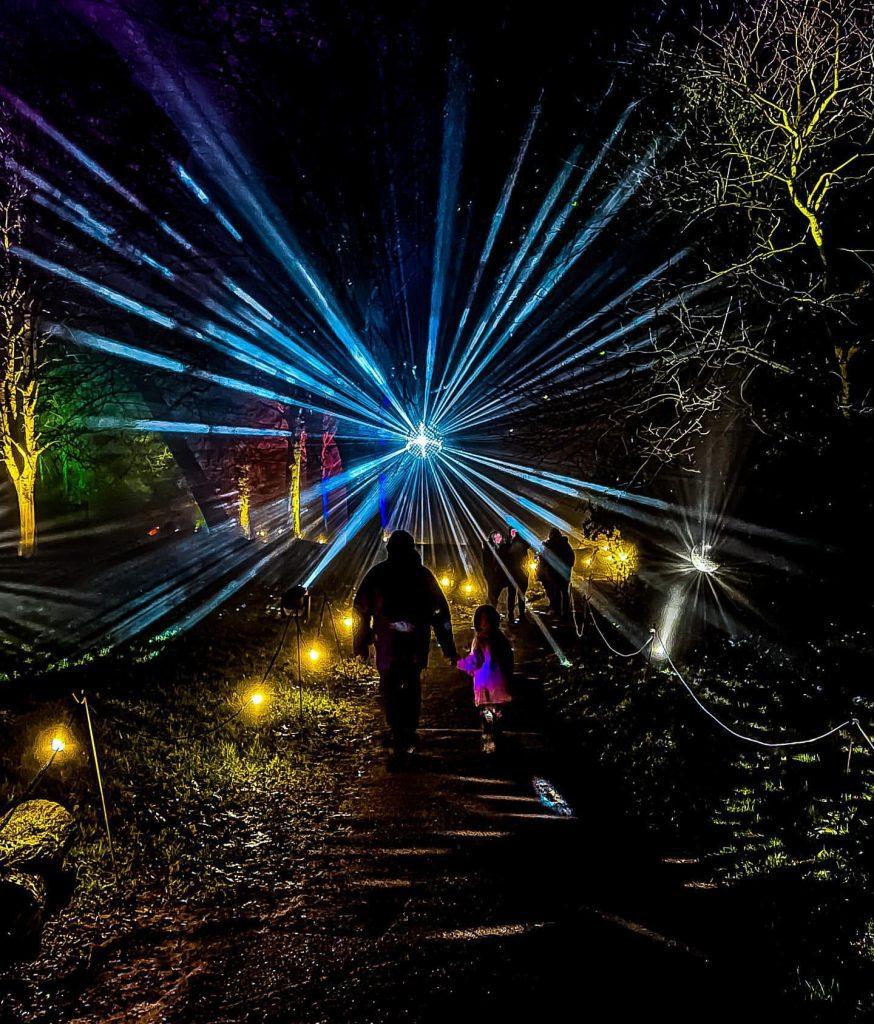 Every location is different. Chester Zoo for example has countless lantern lit installations complete with orang-utans, lions, dolphins, woolly mammoths and birds while at Heaton Park a laser garden filled with tiny beams of light offer an ever changing vista. See the sky turn liquid at Bedgebury, or discover a path of twinkling mirrored hearts at Leeds Castle.
Ickworth aims for a magical experience through its historic stumpery where upturned tree stumps filled with ferns and plants take on an otherworldly appearance.
Alnwick Castle is well known for its Harry Potter links, but strolling through the gardens, past the castle and into the forest brings new features to life in colourful projections especially when you reach the magical village of Lilidorei where the argumentative magical clans collaborate in a spectacular son et lumiere. Down at Blenheim Palace, visitors can explore the outdoor light trail as well as discovering the fairytale of Sleeping Beauty complete with toad, potions and fluttering fairies in the state rooms.
In London, there is a unique opportunity to discover the Tower of London by night. Specialist immersive light storytellers Luxmuralis have taken over the White Tower, bathing it in countless changing images telling the story of monarchs, crowns and coronations over the centuries. Finish the visit with a look at the magnificent Crown Jewels, including those used at Westminster Abbey earlier this year to crown King Charles III.
Luxmuralis have also contributed two immersive interior light displays to the elegant Georgian Holkham Hall where Lady Leicester sets out to bring the outside in using greenery from around the estate combined with spellbinding, innovative room displays all lit by purely by candlelight. Sit in the chapel and experience the lights of Luxmuralis or walk through a snowy landscaped gallery to the accompaniment of magical lights.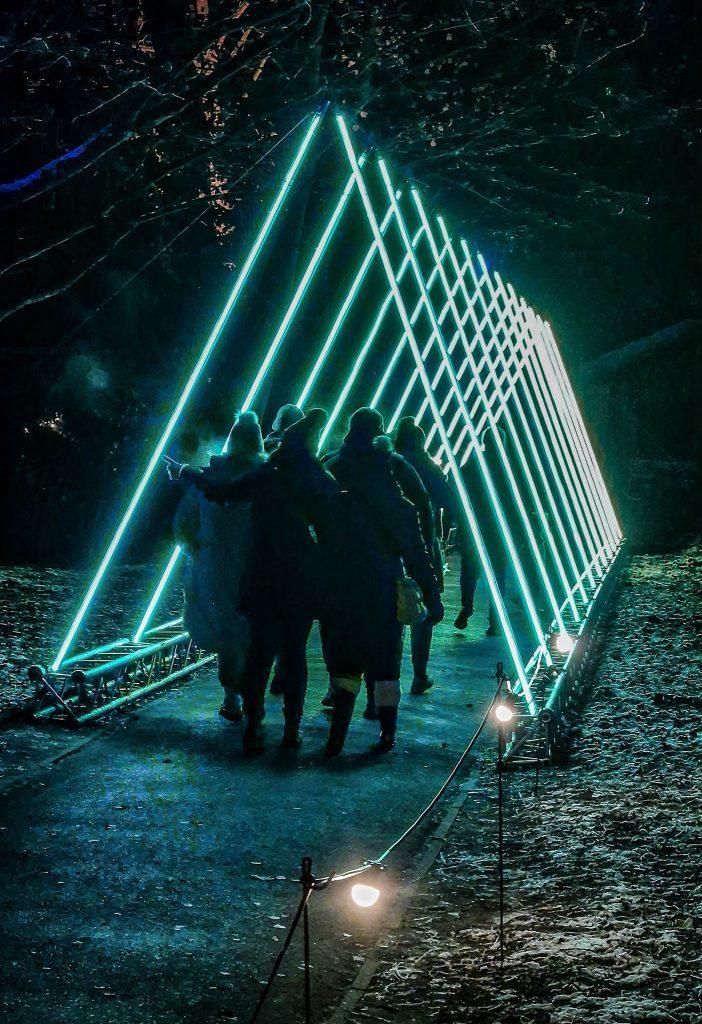 No two trails are the ever the same, even if you have visited one on a previous year, it will totally different another year incorporating totally new installations and designs.
Almost all the trails are outdoor, so it is wise to wrap up warmly although the presence of hot drinks and toasting marshmallows over a fire pit help take away the chill. Torches are not needed, as paths are easily identifiable. Strolling through the Sandringham woods on the Royal Estate in North Norfolk, visitors are guided by a trail of twinkling white lights through a series of installations creating a very magical woodland experience.
Booking in advance is essential as this avoids congestion and makes sure everyone can really enjoy the experience. The main exception to this is Durham's bi-annual Lumiere, which takes place this year. Everything is totally free, but you may have to queue to enter the historic heart of the city, which can get very congested. All the installations are scattered around Durham flickering across the facades of buildings, turning the river into streams of light or interactive projections. Arrive early to fully enjoy the experience and be prepared for a very long walk through the streets!