Cancun is the usual honeymooning destination in Mexico, but the Pacific Coast is one place that has so much more to over active and cultured couples of today. Complete with intimate strolls, cinematic backdrops and atmospheric dining, Puerto Vallarta, in the state of Jalisco, and Riviera Nayarit, in the state of Nayarit are two destinations couples do not want to miss! With temperatures as high as 27°C throughout February, these resort cities are perfect for exploring the warmth of Mexico's Pacific Coast.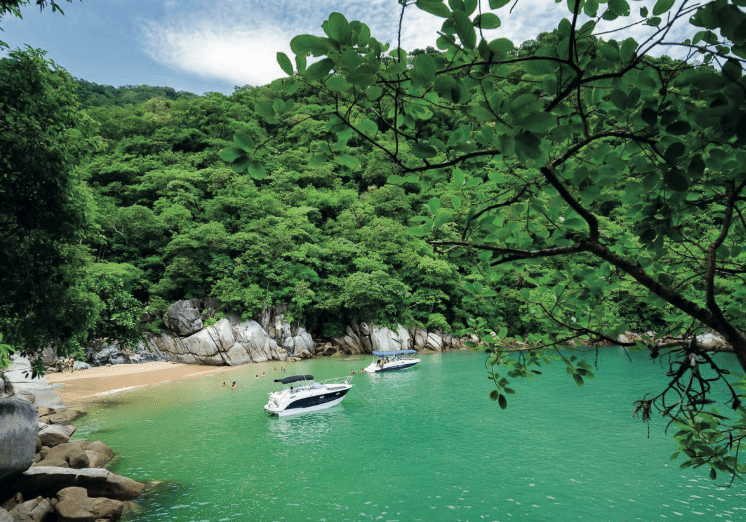 Undiscovered beauty on the Banderas Bay
Feel as though you have the whole place to yourselves in Yelapa, and watch the sunrise on the beautifully bareboned beach. Then venture upward and cool off in the waterfall. Visit intimate and cosy Colomitos Beach, which is ideal for swimming, kayaking, snorkelling and diving. On your journey there take a hike through the tropical jungle and meet some animals along the way! Another o the beaten track beach is Quimixto Beach, where you can take a romantic horse ride to the beautiful waterfalls from. The best hotels for couples in the area include both the Casitas Maraika and Hotelito Mio in Playa Caballo, and the Xinalani in Quimixto.
Dine and play in Zona Romántica
Playa Los Muertos is the most popular and most visited beach in Puerto Vallarta. It is known for its restaurants, where you can enjoy dinner for two, along with a view of Los Muertos Pier. The shoreline offers ample opportunities to Jet Ski, parasail and windsurf, as well as land sports such as volleyball. You can get there from many parts of Puerto Vallarta by bus and taxi, or catch a ride directly from the airport. Just don't forget your camera!
Picnic at Las Amapas
This small beach is located a little south of Puerto Vallarta's Romantic region, away from the crowds of the Old Town. There are no services at Las Amapas, so it's an all-time favourite beach for couples seeking peace and privacy. Visit the original seahorse statue at Las Pilitas; then continue up past El Púlpito and have a picnic on the "hidden beach" of Las Amapas: Here, the waves are soft and gentle, and the sand a pale yellow. e beach itself is well-kept, and there are several palm trees o ering shade in which to cuddle.
Take a romantic seaside stroll along El Malecón
El Malecón is a mile-long boardwalk and the heart and soul of Puerto Vallarta. Walk along the waterfront promenade hand in hand and see the impressive statues, street artists and vendors. Go for a sunset stroll or get your party on when the promenade turns into a buzzing hotspot for nightlife. Pop into one of the lovely cafes or restaurants along the way, serving everything from home-style cooking to gourmet cuisine.
Experience heart-pumping adventures
Enjoy both the famous Banderas Bay pink and gold sunset and deep blue Pacific Ocean on a three-hour Private Sunset Sailing excursion. e French-made, luxury sailing yacht features plump deck cushions, a-list service, plenty of premium refreshments and hors d'oeuvres. Take pleasure in the sight of the Sierra Madre jungle (what an adrenaline rush!) from above. Catch an aerial view of Los Arcos Natural Preserve. Fly at high speeds on Mexico's longest and fastest "Superman" zip line. You book the Extreme Zip Line Canopy Tour with Vallarta Adventures or, in Riviera Nayarit's communities such as Punta de Mita, Sayulita and Lo de Marcos; explore jungles, beaches and towns on horseback or quad bike with Rancho Mi Chaparrita in Sayulita or San Pancho!
Indulge in spa heaven
Spa experiences are all the rage in Puerto Vallarta and Riviera Nayarit, and there are many for couples to choose from. Enjoy the lavish wellness retreats, alongside premier facilities, yoga, meditation workshops and nature. To enjoy a combination of the latest hydrotherapy technologies and traditional indigenous treatments, head to Secrets Spa by Pevonia in central Puerto Vallarta. For eco-friendly treatments in Riviera Nayarit, the Four Seasons Apuane Spa incorporates nutrient-rich plants and healing mineral waters.
Admire the art of Bucerías
Love is an emotion that goes hand in hand with art, and the Riviera Nayarit's Bucerías is the place to find it. While you are there, you'll inevitably fall for its cobblestone streets, brightly coloured homes and tranquil beaches.
Spend the day on white sand beaches and in turquoise waters
Explore one of Riviera Nayarit's UNESCO Biosphere Reserve islands, Las Islas Marietas, by catamaran and through snorkelling and swimming. From December to March, humpback whales come to Banderas Bay to mate and bear their young, whilst dolphin encounters are possible all year round. ere are many day trips departing from different locations in Banderas Bay, or you can take a shorter trip from Punta de Mita on board a luxury yacht. Don't miss "Lovers Beach"; a natural wonder, hidden below the island's surface.
Soak up romantic vibes in Riviera Nayarit ́s boho- chic towns
Many people visit in order to soak up the hippie vibes of love, peace and nature of Sayulita, but you'll also nd a cosmopolitan scene, luring surfers from across the globe. Sur ng is one of the main attractions of this traditional shing village.
Explore Riviera Nayarit's rich ecosystem
Cuddle up in a boat as you admire the beauty of Riviera Nayarit's rivers, lagoons and marshes. You can book many different tours to learn all about the region's diverse ecosystem. To discover this alongside rural towns and historic ruins, visit La Tovara River. Or take a trip to El Quelele Lagoon, a nature reserve where you can see crocodiles in their natural habitat and participate in turtle release programs.
Mexico's Pacific Coast By Tahira Khan