Europe's biggest-ever Eid celebration will be returning to Westfield London from Saturday 29th April to Monday 1st May 2023. For Muslims, this is great news, as this will be the fourth year such an event will be taking place and will serve as a chance to come together to rejoice.
The best part about having events in a place like this is that it gives Muslims and non-Muslims a chance to come together and experience an often neglected part of Islam. What's more, with the setting being one of the world's largest shopping and leisure destinations, it will allow many to witness the diversity of Islam and Muslims.
Earlier this year, the world's biggest pre-Ramadhan shopping festival was organised by Algebra Festivals. It's only been two months and they are back with another superb event showcasing halal food, fun activities and above all, an atmosphere of pure joy!
Waleed Jahangir, Managing Director at Algebra Festivals commented: "We've felt a great sense of belonging at Westfield London for the last few years and are excited to bring back the London Eid Festival for its fourth year. With its ever-growing success, the event offers a plethora of activities and enjoyment for the thousands of people celebrating Eid this year. "
"The event continues to grow and, this year will be our biggest festival to date and will feature brand new brands and experiences. We're so grateful to Westfield for once again partnering with us and embracing Eid and our community at the centre."
Celebrating the end of Ramadhan, Europe's biggest Eid celebration will be taking place in the Atrium and Westfield Square. It is estimated that over 220,000 visitors are due to attend over the course of the weekend, which means that Westfield will witness one of the busiest weekends ever.
Katie Wyle, General Manager at Westfield London commented: "The Muslim community is incredibly important to Westfield London, and we are honoured to welcome the return of the London Eid Festival. The event has grown to become a major highlight in our cultural events calendar, and we look forward to once again welcoming families and individuals of Muslim faith, as well as wider communities, to participate in a marvellous celebration of good will and unity."
What's Happening at Westfield Square
There will be a range of activities including henna artists and face painters at everyone's disposal. The Halal Food Festival is back serving a wide range of cuisines from Pakistan, North Africa and the Middle East.
With a children's play area, parents need not worry about finding a safe place to let their kids loose. The Met Police will also be on the ground to ensure everyone's safety.
There will also be live entertainment, cookery demos, many food stalls, an Islamic art gallery display, Eid shopping stalls and a cricket simulator sponsored by World Remit.
To find out more, including location and dates, visit the Eid Festival London website.
Main Image Credit: Eid Festival London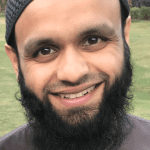 Juber Ahmed is our Digital Editor and travel enthusiast with a keen interest in Islamic history and heritage. He travels with his wife to various places around the world and writes about his experiences.
Juber's favourite Quote...
"The World Is a Book and Those Who Do Not Travel Read Only One Page" [Saint Augustine]