World Mental Health Day (10th October) is a dedicated day for all of us to gather and be supportive while discussing mental health. What's more, it's a wonderful opportunity to let everyone know that everybody's mental health is important and that talking to others is not something to be ashamed of.
This year's theme for World Mental Health Day will shed light on the fact that 'mental health is a universal human right'. By addressing the many inequalities that exist in mental health, the aim is to create an awareness and understanding that mental health matters should be dealt with responsibly and in a way that is equal for everyone.
For this reason, this year, we focus on an individual who is going above and beyond to highlight the importance of mental health when it comes to the matter being a universal human right.
Mohammed Sbahuddin Rafiuddin, 32, from Watford, Hertfordshire, a trainee human rights lawyer is launching an innovative new campaign to have "sound mental health" recognised as a basic human right.
Drawing on his decade's worth of mental health struggles, Mohammed hopes to inspire global change so that everyone has the right to be protected from known harm to mental health and to access quality and affordable care.
Drawing upon his own journey of resilience, Mohammed's mission is to empower individuals battling mental illness by offering them specialised support, guidance, and insights. He is determined to ensure that no one surrenders in their fight against mental illness, thereby reducing the tragic toll it takes on lives.
The campaign is undoubtedly bold and a passionate one, as the campaign has a mission to have sound mental health enshrined as an Article in the Human Rights Act in the same way as a right to privacy or right to a fair trial is.
It has a three-step mental health mission: empowerment, improved care, education and awareness.
Mohammed hopes that the campaign will eventually lead to a long-term five-point mental health action plan which includes: the right to sound mental health for all, increased funding for mental health research, enhanced funding for mental health services, more public health campaigns to provide awareness into mental health illnesses and symptoms, and the reduction of stigma in all communities.
This is why he said, "Together, we can rewrite the narrative surrounding mental health and ensure that no one is left behind in their battle for a life of sound mental health."
Mohammed, who is specialising in human rights law, with a focus on mental health law, is finally set to qualify as a lawyer next spring having battled mental health issues for a decade.
Opening up about his experience, he said, "My own experience has left me stronger and I'm determined to fight for a future where society is free from the confines of judgment and stigma associated with mental illness."
He also added, "I want every human – regardless of their background – to have the opportunity to lead a mentally healthy and fulfilling life and feel good about doing so."
Mohammed's Battle With Mental Health
Mohammed began to suffer from depression and anxiety just as he was coming to the end of his law degree. Sadly, this eventually spiralled into psychosis. The condition was so severe that it took over his life, keeping him a prisoner in his own home for 10 years, seven of those bedbound due to its severity. 
The worst part was that the GP did not give him any relief. In the early stages of his struggle, after finally plucking up the courage to seek help, Mohammed says his mental health crisis was dismissed by a GP as "just stress".
Commenting on the experience, he said, "I battled for a diagnosis and saw seven different therapists, spent my 30th birthday in a mental health ward and was taking four different prescription medications a day just to stay alive."
Mohammed has, with the help of extensive therapy, medication, and his own self-belief, overcome his mental illness and is living a happy, healthy, and fulfilling life and has worked with charities including Mind, Rethink Mental Illness, and Humanity First, and for the NHS as an Expert by Experience.
He is now determined to help others with this new campaign which he hopes will challenge stigma, save lives, and influence politicians to allocate more funding to mental health services.
Mohammed said, "My therapist once said to me, 'wouldn't it be great if people treated their mental illness the same way they would treat an illness of their eyes, or ears, or leg?'
"While a lot has changed in the past decade, we're still struggling to treat our mental health the same as other physical conditions, and the lack of funding for mental health research and mental health services is a huge part of that," he also added. 
Dr G. Borghini, a Consultant Psychiatrist from NHS Hertfordshire, who worked with Mohammed for a number of years, said: "Mohammed's story is truly inspirational, and he is an extremely resilient and determined individual. He has a talent and passion to help others particularly those that are suffering from mental illness like he did.
"I applaud him for using his own personal experience in facing and overcoming severe mental illness after struggling for over 10 years to shine a much-needed light on mental health. I fully support Mohammed's Mental Health Campaign and hope we can break the stigma around Mental Health."
Mohammed envisions a future where mental health patients receive enhanced care and support through collaborations with mental health professionals, including psychiatrists, nurses, therapists, and policymakers. By advocating for increased funding and better support for caregivers like family, friends, and loved ones, he aims to uplift the entire mental health ecosystem.
His biggest worry at the moment is how taboo the topic of mental health is within the Asian community. This is why he said,  "Within the Asian community, mental illness is not spoken about. When I was first suffering with my illnesses, I didn't know a single person in my community who would publicly speak about mental health, and that hasn't really changed a great deal."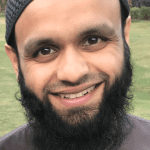 Juber Ahmed is our Digital Editor and travel enthusiast with a keen interest in Islamic history and heritage. He travels with his wife to various places around the world and writes about his experiences.
 
Juber's favourite Quote...
"The World Is a Book and Those Who Do Not Travel Read Only One Page" [Saint Augustine]