Now, more than ever, self-defence has become a necessity for all women not just muslim women. As a martial artist for over 12 years, I regularly hold self-defence seminars and classes to teach the basics in self-defence.
With the hate crimes against muslims rising in the last year, unfortunately women have become easy targets. Here are some simple yet effective techniques to defend yourself:
1. ALWAYS be aware of your surroundings! If it is dark outside, do not wear your earphones or have your mobile phone on display. Always be aware of everything around you.
2. Use your VOICE! Scream and shout as loud as you can. This is the best tool you can use to attract attention.
3. Hijab grab/hair grab
With the first hand, grab the hand the attacker has grabbed your hijab with, and place the other hand slightly below. Step back quickly and take that hand with you behind the attackers back. As you push the arm up towards the back of the attacker, push your foot into the back of the knee which will cause the attacker to fall.
4. Neck grab
As soon as you feel the arms coming towards your neck, have your guard up & keep the arm and wrist strong. If the attacker grabs your neck with both hands, bring your arms in through the hold and straight out breaking his hold. Or if the attackers throat is easy to reach, poke with your index finger and middle finger twice, very hard.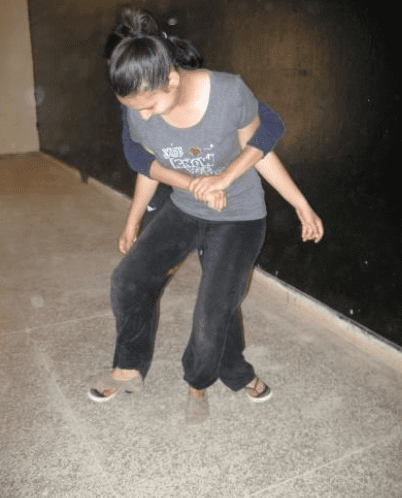 5. Grab from behind, bear hug escape
Stamp on attackers toes hard, try and find a finger from his grip and bend it back to loosen the grip fast.
These methods are simple & great for a quick escape!
For more self-defence, martial arts and general fitness please check out my Instagram and Facebook on Pink Diamond Fitness!
by Hasina Rahman
Owner of Pink Diamond Fitness & Personal Training