Stress is a widespread phenomenon, which is why the idea of 'managing stress' has become a highly sought-after skill.
In an age of technology, developers have exhausted themselves in inventing ideas for the perfect app. An area that has enhanced over the recent years has been stress relief and management apps. Whilst some are not worth our time (due to high costs and poor development), others have proven remarkably successful. Make the right move now by downloading one of these apps to manage your stress. It may take some time to get used to them, but it's worth every second as the apps have proven quite successful in recent years.
Calm
This app does what it says by taking you on a journey to a calmer mind. With its many features, users will find themselves feeling calmer after using the app. With guided meditations, stretching exercises, progress markers and features to promote sleep, the app lives up to its name.
The Mindfulness App
With over 300 options for practising meditation, the Mindfulness App takes stress management to another level. Whether you're a beginner or advanced meditator, you'll find something that works for you. The timings for the meditations range between 3 mins to 99 minutes allowing you to choose what works for you. You can also sign up for their premium subscription which gives you unlimited access to guided meditations and regularly updated content.
Happify
Using positive-thinking activities, the app makes you realise that you have more control over your happiness than you might realize. With exercises to manage negative thoughts and reduce stress, the app helps you set specific goals to become more grateful and content.
Personal Zen
This one is for those who love to game on their phones. This app is a simple one, yet it's proven very effective. All it consists of is a happy and angry face in a garden and your only job is to keep up with the happy face. The game essentially trains your mind to focus on happier moments and not dwell on the sad moments in your life. The best part is that it only takes several minutes to play!
Headspace
This app is one of the best in the market to help with meditation. Perfect for beginners, the app trains you to focus on the moment and meditate effectively. The free version allows 10 free 10-minute sessions and to fully upgrade, it only costs £9.99 per month for longer sessions. If you're someone who is constantly on the move, the app also has shorter versions of its meditation practises. Whether you're looking to focus, meditate, relax or sleep, Headspace will be there for you.
Main Image Credit: Dawit (Unsplash)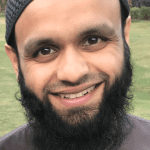 Juber Ahmed is our Digital Editor and travel enthusiast with a keen interest in Islamic history and heritage. He travels with his wife to various places around the world and writes about his experiences.
 
Juber's favourite Quote...
"The World Is a Book and Those Who Do Not Travel Read Only One Page" [Saint Augustine]