The Islamic new year is upon us! With Muharram being the first Islamic month as well as a sacred month, there are many ways of taking advantage. Muslim scholars of the past have placed a great emphasis on increasing goods deeds, fasting, glorifying God and giving to charity within this sacred month. What's more, according to a prophetic tradition, the most virtuous fast after the month of Ramadhan is in the month of Muharram.
When a new month commences in Islam, it is recommended to recite the following duʿa. This is also the case when a new year commences with the month of Muharram:
اللَّهُمَّ أَدْخِلْهُ عَلَيْنَا بِالأَمْنِ وَالإيمَانِ وَالسَّلامَةِ وَالإِسْلامِ وَرِضْوَانٍ مِنَ الرَّحْمَنِ وَجِوَارٍ مِنَ الشَّيْطَانِ
O Allah, bring it (the month) upon us with security, Iman (faith), safety, Islam, the pleasure of The Compassionate [Allah] and protection from Shaytan. [Bagawi]
This was a supplication that the Companions memorised and would recite it like they recited the Qur'an.
There is an additional duʿa which can be recited when a new moon is sighted for each lunar month as well as at the beginning of the new Islamic year:
اللَّهُمَّ أَهْلِلْهُ عَلَيْنَا بِالْيُمْنِ وَالإِيمَانِ وَالسَّلاَمَةِ وَالإِسْلاَمِ رَبِّي وَرَبُّكَ اللهُ
O Allah, bring it upon us with blessing, faith, safety and Islam. My Lord and your Lord is Allah.
This was an invocation which was recited by the Prophet Muhammad ﷺ himself when he would witness the new moon.
Main Image Credit – Rizki Yulian – Unsplash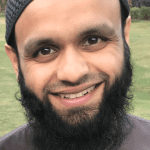 Juber Ahmed is our Digital Editor and travel enthusiast with a keen interest in Islamic history and heritage. He travels with his wife to various places around the world and writes about his experiences.
 
Juber's favourite Quote...
"The World Is a Book and Those Who Do Not Travel Read Only One Page" [Saint Augustine]