Pearls of Islam: In the limelight
I'm going to talk about two things- women and creativity in Islam. With regards to women, the idea that their primary role is within the home appears to be spreading. Without devaluing the importance of a woman in the home, this should, in no way, stop her from maintaining a positive identity in society; being an inspirational role model or playing an active role in community development. When considering creativity in Islam, minimal creative avenues are utilised; to instil Islamic principles; to convey an engaging portrayal of Islamic heritage; or to promote interfaith cohesion. Battling stereotypes are two young African Caribbean Muslimahs' who go by the name of 'Pearls of Islam'.
Pearls of Islam are an acoustic dynamic duo who perform traditional Islamic songs, rap, poetry and spoken word in Arabic and English, with the use of Darbouk, Djembe, guitar and Daff. They were established in 2005, under the management of Mecca to Medina, and perform in front of Muslims and non-Muslims alike. The intention behind each composition is to ignite the love of God; His religion; His Prophet; and those who follow Him, in the heart of the listener. The duo has travelled from the Netherlands; to Switzerland; to Germany; and to Norway, enthusiastically spreading a message of divine love.
How did Pearls of Islam start up?
"We first started Pearls of Islam about ten years ago; it was not something we set out to form – we fell into it. It was tradition to perform nasheeds every Eid and share some poetry. On one of the Eid events, a bunch of the brothers were really impressed with our poetry and from there we were invited to do the same poem, called 'the Muslim woman' at another event. From there some more people saw us and they invited us to different events and so forth. From there we realised we enjoyed it, even though it was nerve wrecking, and it was nice to be able to share something that people could relate to. So eventually it turned into something a little more formal. Initially there were five of us, and then it went down to three… and Pearls of Islam was set up. It does take a lot of commitment and it's not easy, but it's given us the opportunity as individuals to spiritually grow, personally enhance ourselves and connect with so many different people from all races, faiths and backgrounds. This has been a huge and blessed experience, and it's all from Allah. The support we get from our family, parents and teachers around us is one of the crucial parts of Pearls of Islam, moving forward and keeping together."
Being women, do you ever feel hesitant to go on stage?
"I think it's normal and healthy to be nervous about going on stage, especially if you're doing an art performance, because it's a little bit of yourself that you're sharing with an audience. Even if it's a traditional nasheed or poem, it's still very personal. So the majority of the times we have been very nervous about going on stage and I guess in addition to that is the nerves of being Muslim women. There's differing opinions when it comes to Muslim women being on stage and, for a while, when we initially started, that was a big concern for us; but I think a lot of it was down to us, the people. The non-Muslim audiences have never had any nervousness about them, in fact they are very intrigued about what these Muslim women are about to say. Unfortunately the idea of Muslim women being oppressed and silent is very current because of what's going on in the media, what they see and some misunderstandings. With the Muslim community we are very nervous about it, and they are very apprehensive about female presence on stage. However, when they see us perform they realise it is by no means un-Islamic. We are reciting nasheeds. Everything we are reciting and doing is a reminder for us of the love of the Prophet Muhammad (peace be upon him) and the love of Allah, glory be upon Him. This puts them at ease and it helps us a lot to realise that this is a beautiful art form and it goes beyond the nervousness because it is so beautiful."
How important is creativity?
"Creativity is that it is an integral part of us as individuals, souls and humans and how we connect to the world, the Creator and the cosmos. Creativity is very important and is needed in our society. This is why we set up the Rabbani project organisation. It is based on the idea that creativity is such a powerful vehicle to spread a message, and everyone will agree with this. It is just about the message you choose to spread with that creativity, and that is why, for some people, creativity is a grey area, as the message is negative and destructive. Historically within Islam we can see that creativity was important in spreading Islam and preserving traditions. This was done through different art forms that are used within the Islamic tradition to praise Allah and His beloved Prophet. The importance of creativity is reminded to us when people approach us and say our work helped them to be more focused in their prayers or to come back to Islam. As humans, our sense of beauty is powerful. If where we look we see beauty, it reminds us of the source of beauty, which is Allah. This is why positive creativity should be supported."
What advice would you give to British Muslimah's?
"For those who are struggling to find that balance between British values and the Islamic principles, the most important thing for us is to seek knowledge. The lack of knowledge is the most destructive thing in the Muslim community. We must do this, as we will raise the next generation irrespective of gender. We have a lot of access to real knowledge from authentic sources, such as that from Al-Ghazali. When we study, we also need to share. A lot of Muslims have a lot of knowledge but when it comes to sharing it we become shy. . Sakina studied with a lot of female teachers in Syria. One of the teachers taught a book about the female companions of the Prophet, peace be upon Him, but made her promise that the knowledge would be passed on. So with this intention, the Ladies of Light tour was initiated in 2009 and we started doing events. This brings together the aspect of creativity and the importance of knowledge. The more knowledge you seek, the more you realise the beauty of Islam. It also supports women who are on the platform and this is my third piece of advice- recognise proper scholars and support them regardless of their gender."
I love this duo and the work they do. I pray that Allah, glory be upon Him, increases their rank in this life and the next. I also pray that Allah, glory be upon Him, opens our hearts and fills them with His love.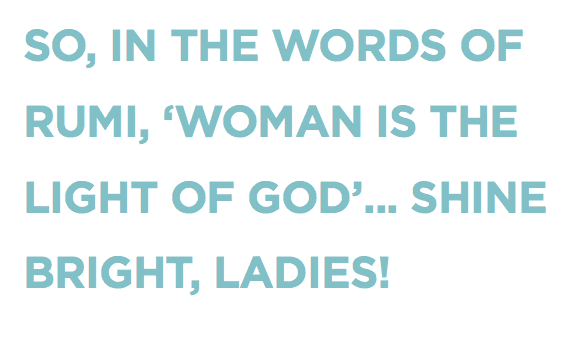 By Huma Baig