All-you-can-eat buffets always bring out the fat kid in me. This inner child set out to compare the well- established Royal Nawaab in Manchester with its recently opened branch in the capital city of London.
Manchester
Manchester is home to Nawaab – a premier buffet restaurant and banqueting venue for over ten years. There is plenty of parking at a short distance from the actual restaurant, attended to by a member of staff.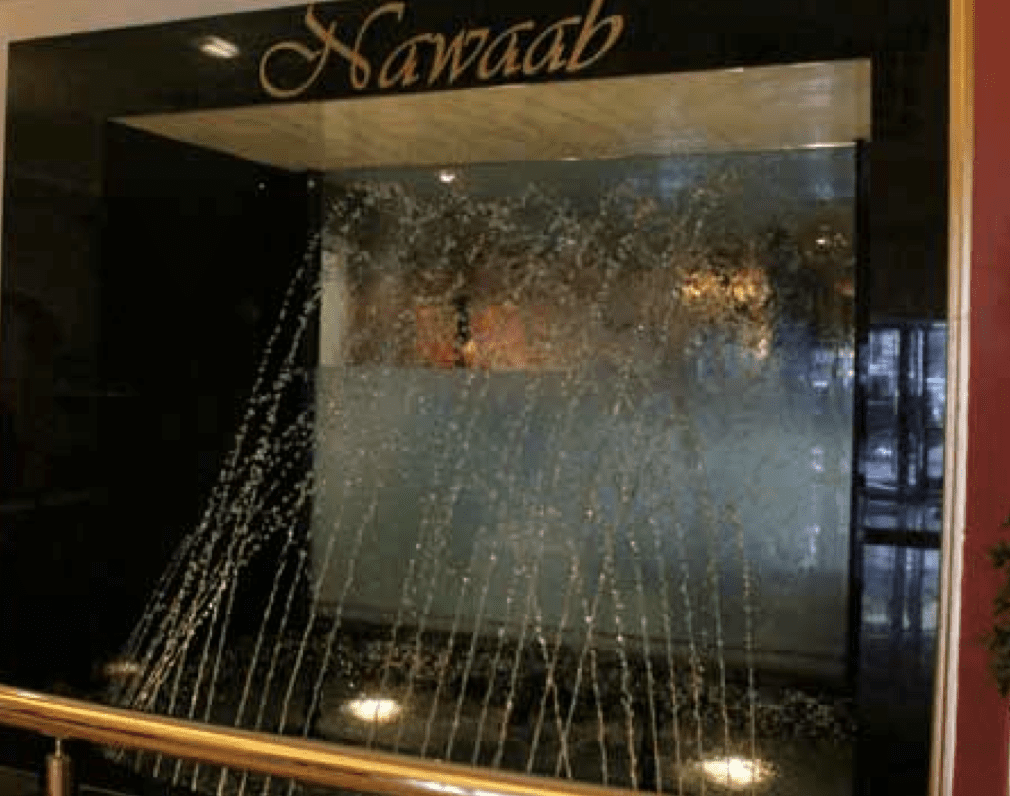 The faux-marble entrance welcomes everyone to affordable luxury, as the fragrance of the glorious food tickles your taste buds. The front hall is elegantly decorated with images of bollywood stars from bygoneeras, and has a comfortable yet large seating area. The water feature is an eye catcher for many visitors who are waiting for family or friends to arrive and this serves as a beautiful backdrop for photographs. Much to my relief, the toilets were clean, well-kept and regularly checked.
The manchester experience
Nawaabs Manchester is a busy restaurant that provides a large variety of tasty dishes from around the world; catering for all tastes at an award winning standard. Their speciality, however, is in indian cuisine. So, if you're a 'Desi' who is away from the homeland and craving home-cooked delicacies- nawaabs can help you out. all the food is Halal and no alcohol is served at this buffet restaurant. The best part of the deal is the affordable price of £15.95 per adult, excluding drinks, and £7.00 for children between 4 and 11 years old.
as soon as we entered we were swiftly greeted by a member of staff asking how many were dining and were quickly escorted to a table. Visitors formed long queues to experiment with food combinations which they wouldn't otherwise have done in a standard mono-cuisine restaurant. Their meat dishes are exceptional, and you can see fresh dishes being made through the open fronted kitchen.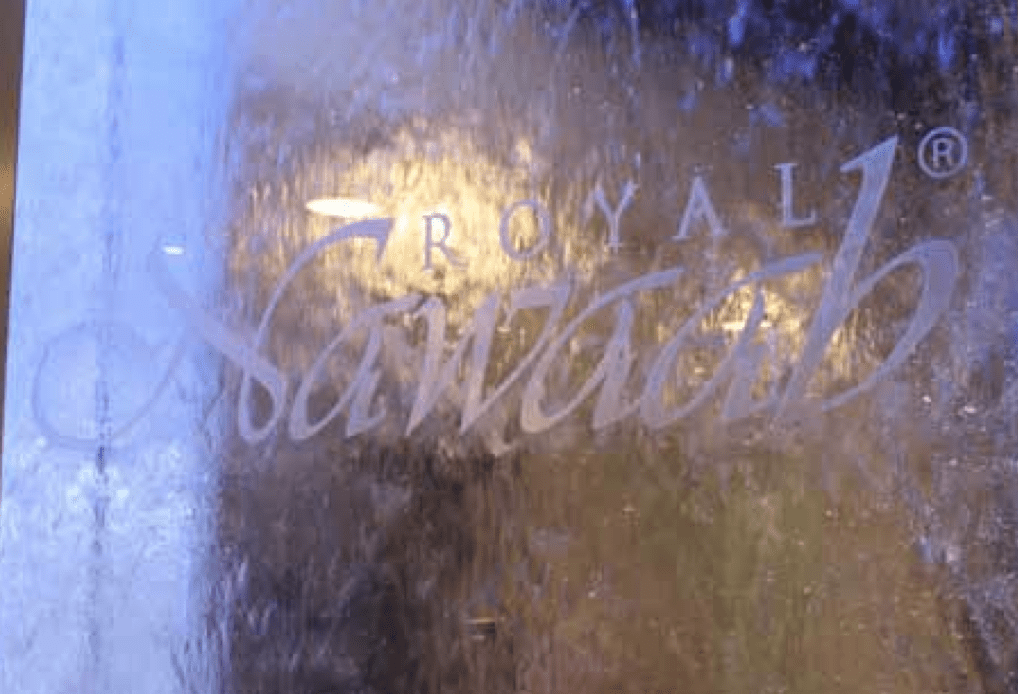 The buffet style dining naturally meant that my plate was full of carefully balanced mismatched morsels of food. i enjoyed the starters but the freshly made chapli kebab was exceptionally.
Tender whilst the pakoras were, much to my surprise, not too oily. each dish in the main course brought many idle taste buds to life; especially the national pakistani dishes – nihari and Haleem.
The lamb curry, however, was not up to the standard of the other dishes. Small milk based balls, deep-fried in sugar syrup, known as gulab jaman, that were served with vanilla ice cream, rounded off the meal pleasantly.
So, delicious food; comfortable atmosphere; friendly staff; and good value for money would rate nawaabs Manchester at a high 9 out of 10 for me. it would be nicer if the seats were not so tightly packed and it offered a little more privacy, leg room and space for children in high chairs. but, does the new branch in london match up to this standard?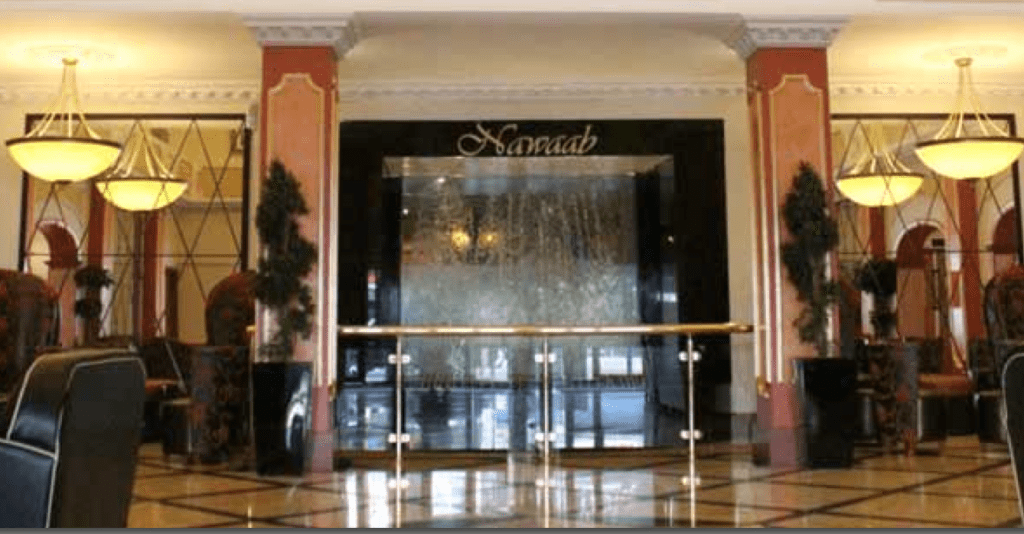 The London Experience
The rectangular dining area itself is spacious, with smart décor and the layout is well organised. The food is displayed over two perpendicular walls and offers sixty different types of dish, so the variety was just as broad as Nawaab Manchester. They also adopt the same Halal meat concept, no alcohol policy and a large number of dishes from international cuisine. it caters for all your eatery needs but at a higher price than its sister branch. From Monday to Thursday adults are charged £17.95 and £8.00 for children.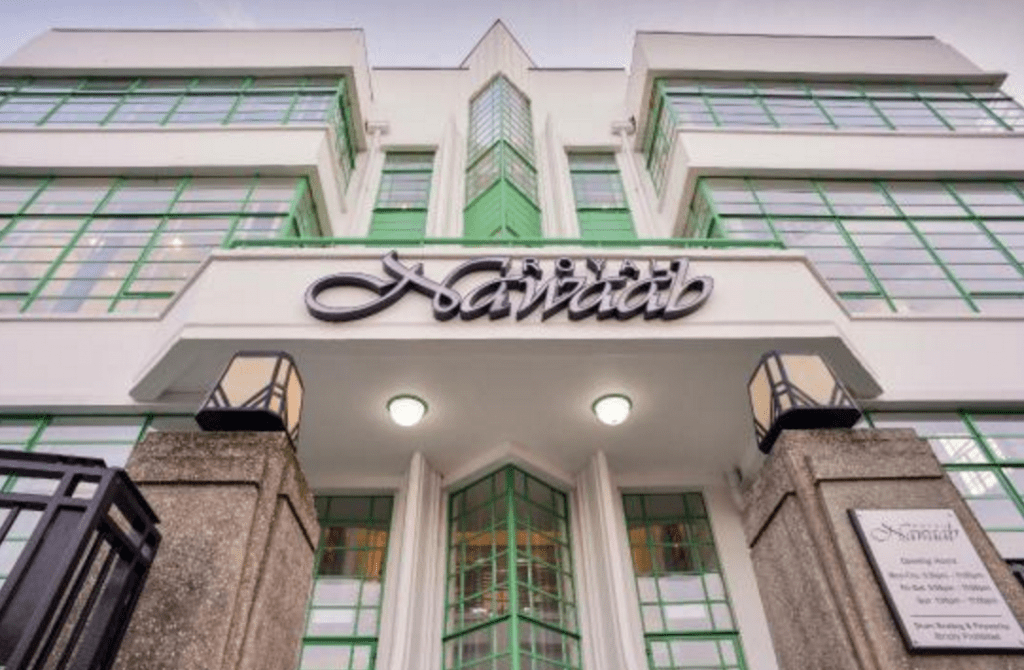 of the same group as above. Whereas from Friday to Sunday adult prices are £19.95 and children's cost £10.00 per head.
The entrance of Nawaab london is not as spacious as the Manchester branch, but the visitors are welcomed by a beautiful large crystal chandelier, before the smartly dressed staff direct you to the waiting area. The innovative buzzer service in the waiting area means that staff do not need to shout customers' names, instead they ring the buzzer for the visitors who are next to be seated. a prayer room facility is also available nearby.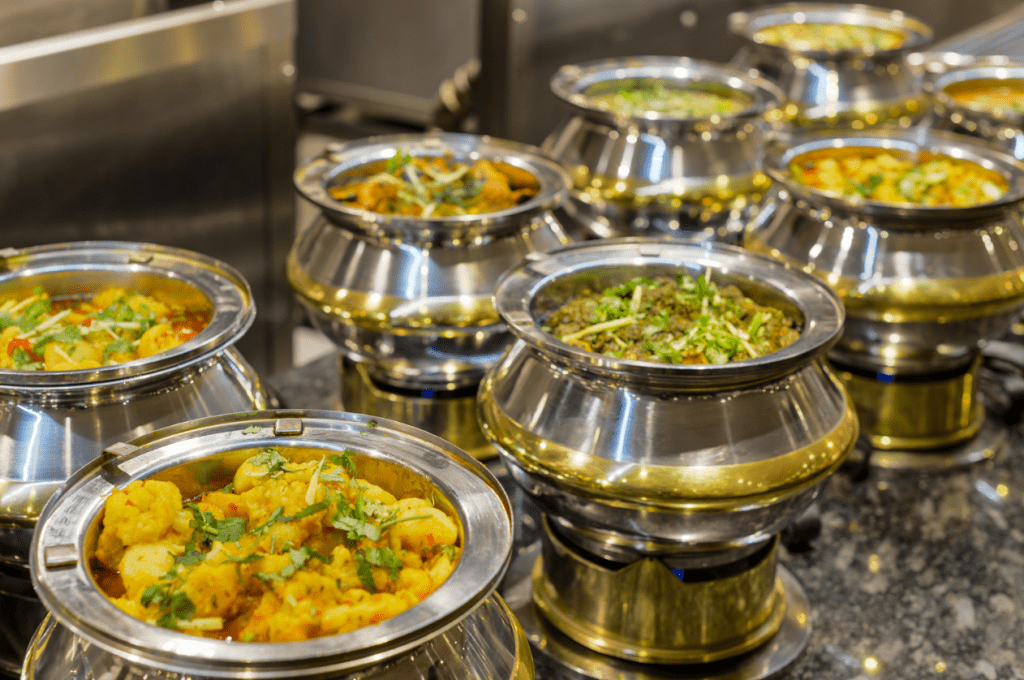 Behind the counter, chefs are constantly preparing and serving a supply of freshly cooked food, enabling food replenishment to be efficient. amongst the starters, the flavoursome seekh kebab was cooked to perfection; and the lamb chops were tender and a decent size, which was impressive for a buffet restaurant.
The meat dishes were still exceptional at this branch, as were the national pakistani dishes. i can safely say the namkin gosht and the Madras chicken curry were my favourites, and left me shamelessly licking my fingers. in contrast to Manchester Nawaab, the lamb curry was delicious and had a nice spicy punch to it.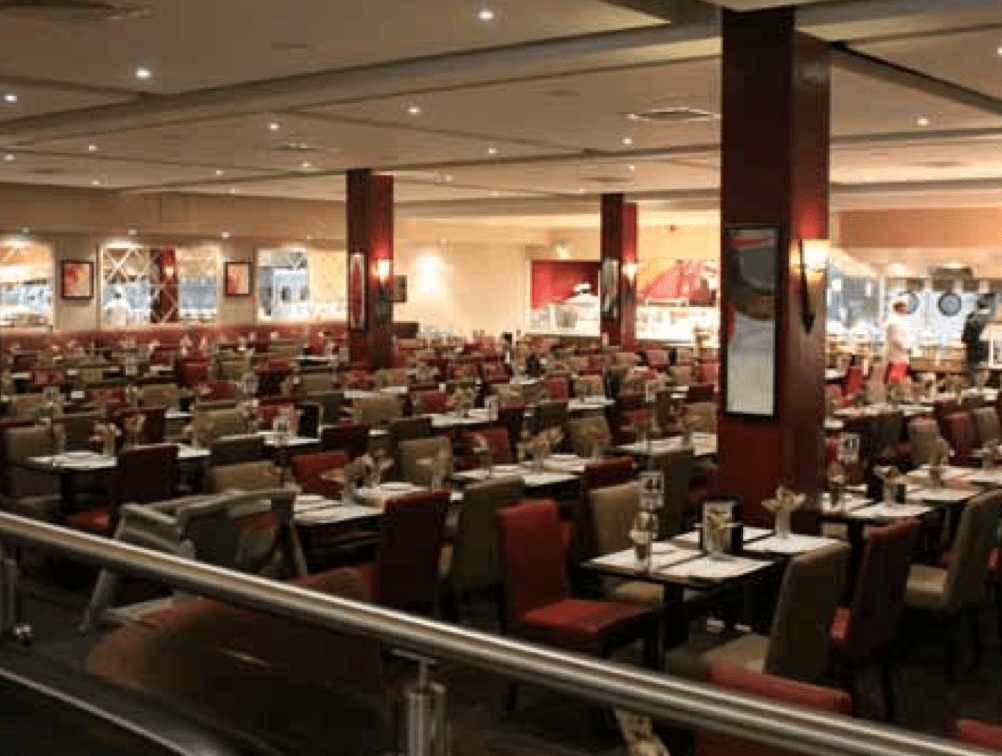 I was disappointed with the desserts: The only one i liked was the Halwa – a punjabi semolina pudding – as the level of sweetness was just right and the texture was perfect.
As i was let down by the desserts but loved the savoury food options, and the welcoming atmosphere, i would conclude that it upholds the award-winning standard of its primary branch.
The staff were polite but meals were priced more expensively than at its sister branch, especially for children. However, contextualising in the area of London, this was averagely priced. i was a little disappointed to hear that you can only stay for a maximum of two hours in the peak times of 6pm to 8pm. all in all, i would rate the Nawaab London 8 out of 10… after all, i am serious about my sweet tooth.
By Huma Baig