Renowned as a leading artist of his time, Nasser Al Yousif (d. 2006) was known for his impressive artistic expressions of Bahraini life, culture, architecture and landscapes. With over forty years of experience in the field, Al Yousif eventually lost his sight, but that did not prevent him from working on his passion. In his linoleum prints, Al Yousif was still able to capture the life and landscapes of Bahrain uniquely.
Born in 1940, Muharraq-native Al Yousif was known as a passionate artist who not only pioneered modern art but also led the way in the country's art movement. At the time, Bahrain had very few resources when it came to fine art, which for Al Yousif was a huge advantage. Attempting to fill that void, he and his contemporaries began introducing a more infused type of fine art; traditional and modern. 
Al Yousif was interested in art since he was a young child. In his early twenties, he would stroll through the many traditional markets, gardens and harbours of Bahrain to capture what he believed to be quintessential Muharraq. It seems that for Al Yousif, there was no better way to portray the splendour of one's country than to draw it. With no technology at his disposal, Al Yousif relied heavily on his talent and tools to bring Bahrain to life. 
Localising Art
 Al Yousif's art served to remind many that came after him of the importance of staring and contemplating. After all, if an artist spends much of his time on one canvas expressing his perception of a landscape, it is so viewers can appreciate the perception. With Bahrain being a country that is often neglected as part of the Arabian Gulf, it seems that Al Yousif attempted to express a view of Bahrain that was both confident and ageless. 
Whilst the Arabian Gulf region may be advancing in many ways, some believe that endeavours such as that of Al Yousif's would give new impetus to authentic growth. With globalisation becoming widespread, localising art is becoming more and more scarce. This, according to Arie Amaya-Akkermans, is 'one of the explanations for the cultural crisis that plagues the identity of local artistic production, perhaps not in terms of galleries, collectors and exhibitions but in the making sense of local space (what is one's own?) and appropriating it.'
Triumph of Insight – Never Giving Up
In the hour-long documentary film titled, Triumph of Insight, Al Yousif was interviewed about his life and works. The documentary presents to viewers that Al Yousif would not give up easily; though he lost his sight, he never lost sight of his passion. Even after losing his vision in 1994, the dedicated artist presents to viewers that insight is far more important for artists than sight. 
As part of the interview, he mentioned, "I have enormous experience in fine arts, extending to more than 40 years. And when I lost my sight, the feasibility that I had for art remained. I cannot give it up!"
Main Image Credit: Albareh Art Gallery & Barjeel Art Foundation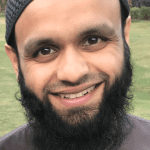 Juber Ahmed is our Digital Editor and travel enthusiast with a keen interest in Islamic history and heritage. He travels with his wife to various places around the world and writes about his experiences.
 
Juber's favourite Quote...
"The World Is a Book and Those Who Do Not Travel Read Only One Page" [Saint Augustine]