Compared to 30 years ago, herbal teas have become a common go-to drink of choice for many of us, and for good reason. There's no denying it; drinking certain types of herbal tea is extremely good for your body and mind. For thousands of years, humans have resorted to tea as a remedy for their many maladies. What's more, with the constant development of the diverse range of herbal teas, today we have access to thousands of different types of herbal teas made from a variety of tea plant leaves.
But there remains a problem. With so many different varieties to choose from, it can become tedious to find what works best for overall good health.
This article clarifies things by sharing details of four of the best herbal teas you should start drinking today.
Green Tea – Overall Health and Energy
There's no complete list of herbal teas without mentioning green tea. Known for its health benefits for thousands of years, green tea has helped us in so many ways. Coming highly recommended by doctors, nutritionists and health experts, green tea can go a long way in burning fat, improving cognitive abilities and managing blood sugar levels. Green tea is no ordinary drink and don't let its simple name mislead you. High in polyphenols – which help protect the body – and filled with natural stimulants, green tea enhances brain function and boosts metabolism in a way that other herbal drinks fail to do so.
Lemon and Ginger – For When You're Ill
The infusion of both lemon and ginger has fast become a popular choice for many, thanks to its variety of health benefits. One of the greatest health benefits is that this tea will boost your immune system. With high levels of vitamin C, the tea will undoubtedly produce more white blood cells which are integral for fighting infections and other illnesses. Lemon and ginger can also reduce inflammation and help manage diabetes. What's more, Lemon and ginger – as many know – is the best companion drink for when you're feeling under the weather.
Chamomile – To Sleep Better
Relieving ailments such as muscle spasms, insomnia, and inflammation, Chamomile tea is notably known to help one relax and unwind as it's known as a mild sedative. In fact, it's for this very reason that Chamomile is used within essential oils when doing aromatherapy. The tea is regarded by many to be a powerful sleep-inducer as its aroma and taste go a long way in ensuring that sleep quality is improved.
Peppermint – Digestion and Fresher Breath
As well as being one of the most refreshing herbal drinks out there, peppermint tea comes with some incredibly fascinating health benefits. Used in medicine and food for hundreds of years, the calorie-free and caffeine-free mint plants can help with digestive problems and fresher breath when brewed well. What's more, peppermint tea can also help with weight loss as well as ridding your body of any harmful bacteria and food-borne pathogens.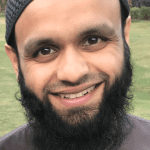 Juber Ahmed is our Digital Editor and travel enthusiast with a keen interest in Islamic history and heritage. He travels with his wife to various places around the world and writes about his experiences.
 
Juber's favourite Quote...
"The World Is a Book and Those Who Do Not Travel Read Only One Page" [Saint Augustine]