According to a recent report by Middle East Eye, British Muslims are suffering more than ever to feed their families as the costs of essentials rise exponentially.
Muslim charities such as Muslim Aid and Human Appeal are for the first time ever having to deal with a huge demand of people in need of food. In Tower Hamlets – one of the poorest boroughs in London – 56% of the children are living in poverty as of 2021. Home to a large population of Somali and Bangladeshi Muslims, many are now depending on food banks and the East London Mosque's Maryam Centre to break their fast.
Whilst this comes as a shock to many, it is not surprising considering the fact that costs of food essentials in Britain are rising at a rate never witnessed before. What's more, with energy prices rising at an alarming amount of 66.7%, many families with children are finding it harder than ever to choose between staying warm or feeding their kids.
It is for this reason that 19% of British Muslims are now having to resort to food banks, with many of them also submitting applications to the National Zakat Foundation for its 'hardship fund'.
Compared to many years ago, this is the first time British Muslims are depending on NGOs and food banks to feed themselves this Ramadhan.
East London Mosque's Food Bank
In 2020, ELM set up a food bank to assist Muslims and non-Muslims who had lost their jobs due to the pandemic. However, the recipients have now slightly changed to include many more people who are simply suffering from the unprecedented rise in the costs of food.
To put things in context, Sufia Alam of the Maryam Centre at ELM told Middle East Eye, 'Having worked in Tower Hamlets for thirty years, I have never seen anything like this level of poverty'.
This is the first time that the Maryam Centre has seen such high numbers, with over a thousand people flocking here to break their fast every day, compared to around 500 last year. Alam went on to say, "On the first day of Ramadan, we ran out of food, with my volunteers running into the nearby Tesco to buy sandwiches for people so they could break their fast."
Increased Demand During The Easter Break
The two-week easter break will be coinciding with the final weeks of Ramadhan this year, which means that many will be coming to break their fast with their children.
"We know during the Easter break, more and more people will be coming to the mosque for iftar and food because their kids will be at home and not at school where they will get at least one decent meal," Alam told Middle East Eye.
"The only hope we have is that people give as much as they can to help those in the community who are less fortunate, otherwise it will only get worse."
Main Image Credit: (ELM/Salman Farsi) MEE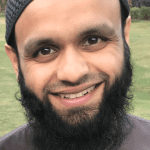 Juber Ahmed is our Digital Editor and travel enthusiast with a keen interest in Islamic history and heritage. He travels with his wife to various places around the world and writes about his experiences.
 
Juber's favourite Quote...
"The World Is a Book and Those Who Do Not Travel Read Only One Page" [Saint Augustine]