It's quite common to see our wallets becoming rather thin when shopping for Eid gifts for the family, which is why many of us are seeking out new and creative ways to gift this Eid without compromising on quality. If you're wanting to start a new gift-giving tradition in the family by saving money and using your imagination, these fun and amazing ways to create DIY Eid gifts will inspire you!
Pop Up Cards
Giving someone a regular card is always a nice way of telling them you care. But why not make their experience a little more thrilling by making them a pop-up card! Not only is it a great chance to put your creative skills to use, but it also adds to the experience of opening a card. There's a range of ways to create a pop-up card, though the most important thing to remember is to leave things to your imagination. Click here for some inspiration!
Pass the Parcel
Remember the days when playing Pass the Parcel was a thing? This one isn't a gift, but a great way to surprise your family by bringing back the concept of playing games on Eid! What's more, preparing for the game requires very less equipment. All you'll need is a small amount of sellotape, a couple of rolls of wrapping paper, some small packets of sweets (or any treat you would like to put inside the wraps) and that's pretty much it! This is undoubtedly a wonderful way to bring the family together and spread joy!
Personal Quality Jars
This is an easy gift to make and will take someone by surprise! If you have any spare jam, honey or pickle jars at home, give them a good wash and start decorating. You can use paint, glitter, stickers and any other accessories you fancy. The next part is really simple. Start by cutting paper into small pieces and note down pleasant comments about the person you're gifting on each of the small pieces. Finally, place the small pieces of paper into the jars and there you have it! To make it suitable for gifting, place them in gift boxes or place them into gift bags.
Chocolate Covered Stuffed Dates
This is also a great gift to give someone who has a sweet tooth. Whilst dates are not so popular on Eid day, why not Purchase Medjool dates and slice them open to remove the pit and fill them with various things such as nuts, Nutella, and peanut butter. This transforms the dates into a mouth-watering treat! You can also cover the dates in melted chocolate and add toppings such as sprinkles or drizzled white chocolate. To add that personal touch, place the dates inside a personalised box to transform the gift into something extra special!
Canvas Art Ideas!
Instead of designing your canvas online ready to be delivered to your house, why not buy paint and a blank canvas and use your creativity to come up with something entirely different. You can use templates or dive right in with your painting skills if you're feeling confident. Whatever the case, it's a great way of getting the family involved and having some fun along the way!
Personalised Candleholders
Candleholders are not only a great accessory, but can also be used to decorate many parts of the house. What's more, they are gifts that can be given to anyone thanks to the choice you have when it comes to designing them. Simply paint empty glass jars at home with pretty designs and give them a final touch by placing them into attractive gift boxes. 
Sweet cones
This one is quite popular at weddings! But that doesn't mean they can't be gifted on Eid. Purchase plastic cones and fill them with an assortment of sweets. Finally, wrap the top with some string or ribbon. There you have it! The perfect gift for kids and adults!  
Main Image Credit: Aqsa Art & Craft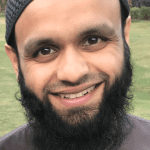 Juber Ahmed is our Digital Editor and travel enthusiast with a keen interest in Islamic history and heritage. He travels with his wife to various places around the world and writes about his experiences.
 
Juber's favourite Quote...
"The World Is a Book and Those Who Do Not Travel Read Only One Page" [Saint Augustine]