Hong Kong is way more than just a glamorous city! In this bustling and thriving city, you'll find history, culture, mouthwatering street food and most importantly, the imposing skyscrapers that surround you!
If you've dreamt of visiting the many markets of Hong Kong as well as its many nature reserves, you'll be glad to know that the Hong Kong Tourism Board is now giving away free round-trip plane tickets! Yes, it's true! These tickets will be entirely free!
So How Does it Work?
Well, you will have to enter your name into a flight-ticket lottery system which can be found on the Hong Kong Airport Website. This can be done from May 9 which is when the system will open to those living in the UK.
Initially, free flight tickets were offered to those living in Southeast Asia and then in April to those living in mainland China. But now the tourism board in Hong Kong have swiftly moved to the third part of this campaign which consists of getting UK tourists involved.
The tourism board have announced that it will all work on a 'first come, first serve' basis, which is why it's worth mentioning that winning is not guaranteed.
If you do win, you will be provided with a round-trip economy-class flight, but you will have to make up any extra costs such as fees and taxes.
Winners will be contacted on May 15.
Why Give Away Free Tickers?
The main reason for doing so is that tourism has been rather inactive and slow since the borders opened to all in January. Being one of the latest countries to end COVID-related travel rules, many visitors had already opted to visit one of the surrounding countries in the region such as Malaysia, Vietnam and Thailand.
Things are about to change though. With its new 'Hello Hong Kong' plan, the tourism board hopes that giving away 500,000 free round-trip airline tickets will help in reviving tourism in the city!
Whilst there is no guarantee that this will give Hong Kong the tourism boost it needs, it sure will entice many visitors to get involved and apply for free tickets. That itself might just be the main reason for returning this remarkable city to the state it was before the pandemic.
If you'd like to apply, you can do so from May 9.
Click here to enter your name into the free round-trip airline ticket lottery to stand a chance to win!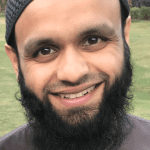 Juber Ahmed is our Digital Editor and travel enthusiast with a keen interest in Islamic history and heritage. He travels with his wife to various places around the world and writes about his experiences.
 
Juber's favourite Quote...
"The World Is a Book and Those Who Do Not Travel Read Only One Page" [Saint Augustine]