The wedding itself may be classed as the best gift a man can receive, yet it's only right to gift him something special and unique. Whether you're the bride, family or friend of the groom, finding that extra special something can sometimes be a tough endeavour! I mean, it's such a joyous occasion so how do you make sure your gift matches the tone of the wedding?
You can choose from all sorts of gifts, but you want to ask yourself the pertinent question – do you want to gift something he can use or something he can simply remember you by? You may even want to gift him something he can use and remember you by.
To narrow things down, we've compiled a list of five of the best gifts you can give a Muslim groom on his special day.
Wedding Scrapbook
This one requires a little preparation beforehand, but we promise it'll be worth it! The idea is simple! You buy a blank scrapbook and simply write a short message on the first page on the wedding day. As time goes on, the husband and wife can write in the book, stick polaroid pictures inside and do anything else they feel is worth remembering within their marriage. In years to come, they can look back at this and wonder over their cherished moments together!
Personalised Frame
Nowadays Etsy offers a wide range of wedding gifts and I'm sure we can all agree, they are awesome! From personalised tags to personalised clothing, Etsy is the place to go for anything personalised. We recommend a personalised frame. But not just any personalised frame! Make this one special. Make it about the bride and groom and add cute and loving messages within the frame. You could maybe add a hadith or Qur'anic verse on the frame too.
Gift Boxes and Hampers
These are probably one of the best gifts you can buy for the groom. Packed with all sorts of useful bits and bobs, hampers and gift boxes are a great way to show that you care. The best part is that you can add what you want in there, making it special in its own way. We recommend an Islamic hamper which could consist of things like two prayer mats, prayer beads, perfume ('itr), a thobe, a kufi and so much more.
Men's Grooming Kit
Men love grooming kits and regardless of how many times they'll receive this, it never gets old or impractical. Men's grooming kits consist of things like trimming scissors, beard shampoo, beard oil, comb, and hair balm. With all the essentials within a beautiful pre-packed gift box, grooming kits are ideal gifts for that special day. Search men's grooming kits online and you'll find a wide range of items on offer.
Sunnah Box
We recommend you have a look at the Sunnah Box created by Muslim Box Co. Their carefully crafted box is crammed with all the essential Islamic grooming items such as miswaaks, black seed oil and a delectable fragrance. Each item within the box has been hand-picked by Muslim Box Co, making it a truly special gift. With products in there that have been mentioned in the hadith, the Sunnah Box is also a great way to follow in the footsteps of the Prophet ﷺ and revive small Sunnahs that are often neglected.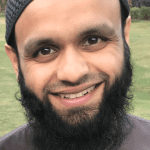 Juber Ahmed is our Digital Editor and travel enthusiast with a keen interest in Islamic history and heritage. He travels with his wife to various places around the world and writes about his experiences.
 
Juber's favourite Quote...
"The World Is a Book and Those Who Do Not Travel Read Only One Page" [Saint Augustine]